The Year of the Underdog: 2012 New York Mets Spring Training Preview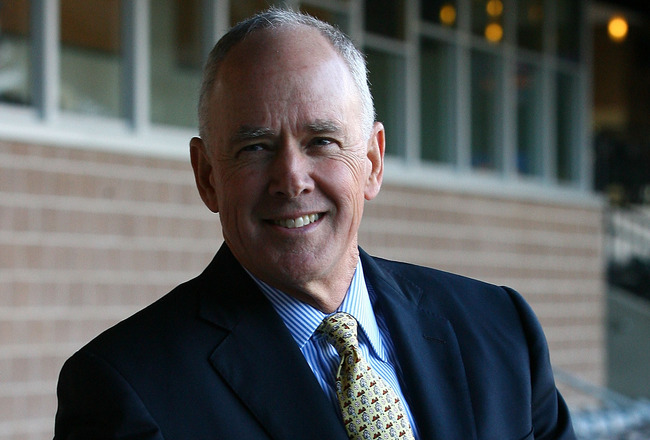 Mets GM Sandy Alderson is optimistic about the 2012 Mets
Andrew Burton/Getty Images
On the eve of the first official game of Spring Training—I don't count intrasquad games because there is nothing fun about watching your team beat up on each other—it's time to be optimistic about your baseball team. For baseball fans, March is the month of eternal optimism. Every team in baseball is tied for first place and famous phrases such as "That's why they play the games" and "Championships aren't won on paper" are uttered so much it can make your head spin.
Most Mets fans are viewing the 2012 season as a rebuilding year, and given the offseason the Mets had it would be hard to argue with them.
The team really made no effort to re-sign Jose Reyes, a homegrown talent who spent nine years with the organization and has been labeled by many baseball experts as one of the most dynamic players in the game. They didn't go out and sign a superstar to take the place of Carlos Beltran.
Tons of money was freed up when Oliver Perez, Luis Castillo and Francisco Rodriguez came off the books, only to be replaced by a couple of journeyman relief pitchers and a middle infielder whose last name brings back bad memories.
Management looks at the offseason very differently. It is their job to look at the team not as fans, but as parents. They are looking out for the team's future, something that championship-hungry fans never do. The Mets have lost a ton of money over the last couple of seasons. The New York Times reported that the team lost $50 million in 2010.
Also, management has to acknowledge the piano hanging over the heads of the Wilpon family, a lawsuit by the Bernie Madoff trustees that could cripple Mets ownership and possibly put them in a position where they would have to sell the franchise.
That is cause for concern no matter what market you are playing in. Clearly, management decided that handing out $100-$150 million contracts was not in the best interest of the Mets moving forward and it would be hard to argue against that point.
If you listen to Sandy Alderson, he would have you believe that Mets may not look like a championship team on paper, but they are not going to be as bad as some have predicted. Alderson would have you believe that if everything breaks right, the Mets could be right in the thick of a wild-card race come September.
So who should we believe? A frustrated, bitter fan base who utter the phrase "You Gotta Believe" with an eye roll and a shrug of the shoulders; or a GM who tells you "I'm a baseball man, you have to trust me"?
The best way to do it is to break down the team position-by-position and cut through all the blind cynicism/optimism. Here we go.
First Base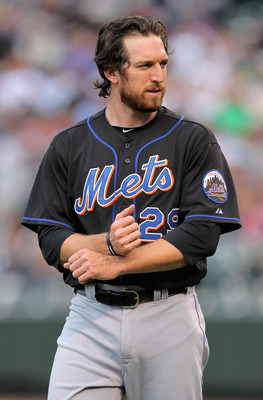 Ike Davis and the Mets were handed possibly devastating news on Saturday
Doug Pensinger/Getty Images
What exactly is Valley Fever?
To put it simply, it is a lung infection. It is contracted mostly in the Southwest when fungus from construction and agricultural areas goes airborne. Rarely do people who have Valley Fever experience any symptoms. It is very common for people living in the Southwest to contract this disease. If you live in the desert southwest, the chances of contracting Valley Fever is 1 out of 33. Pretty scary.
But what exactly does this mean for Ike Davis?
It could mean nothing. According to Ike, he hasn't experienced any flu-like symptoms or extreme fatigue, but the Mets aren't taking any chances. While they await the results of Davis' blood work, they will be extra cautious with their first baseman. The Mets don't want Davis to end up like Conor Jackson, a former Diamondbacks prospect who contracted the disease and was never the same.
For those of you worried about Ike, less than one percent of people infected with Valley Fever actually die from it, so the only real thing to worry about here is Ike's career, which in hindsight is not nearly as important as his life.
What does this mean for the Mets at first base?
A lot of Lucas Duda, unless Ike's blood work comes back with good news. Duda played a lot of first base last season after Davis was lost for the year with an ankle injury.
Management and the coaching staff love Duda. Not just for his power from the left side of the plate, but for his ability to hit both right-and-left-handed pitchers while maintaining a solid on base percentage. Duda has the potential to turn a lot of heads this season and the Mets are counting on it.
Duda is going to be a key component to replacing the production of Carlos Beltran and it'll take more than impressive batting practice sessions to pull that off.
In a perfect world, the Mets would have both Davis and Duda in the same lineup sandwiched between David Wright. If all goes well, this can still be a realistic scenario come April 5th.
Second Base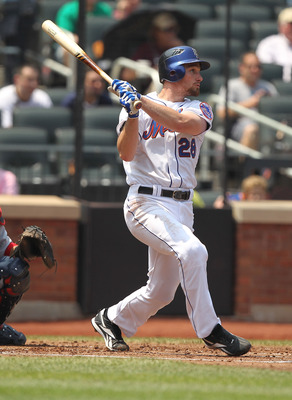 Everyone knows Murphy can hit, but can he show enough range at second base to justify a starting role.
Al Bello/Getty Images
Second base is Daniel Murphy's next stop as he continues to fight off predictions that he'll end up as a DH in the American League.
Murphy has tried the outfield and first base with minimal to little success. He showed some decent range at second base last season but looked really awkward turning double plays. Murphy has guts and he showed them by hanging in on a lot of tough double plays, but he has also showed that his inexperience at the position can get himself seriously injured.
Murphy was lost for the season last year when he tore the MCL in his left knee when he was spiked by the Braves' Jose Constanza. Nobody criticized Constanza for dirty play because it was agreed upon by most baseball people that Murphy was out of position on the double play and was at fault for the collision.
How often do you hear that?
Most of the time when an infielder is injured on a double play and lost for the season there will be an uproar over dirty play by the runner. Not in this case. Not one person criticized Constanza for dirty play, that's how obvious it was that Murphy was to blame.
There is no question that Murphy can slug. At the time of the injury, Murphy was fifth in the league in hitting with his .320 batting average. This wasn't some useless May stat—Murphy was fifth in the league during the month of August and was showing no signs of slowing down.
The question is, can he be the Mets' full-time second baseman or should they trade him to an AL team while he still has value?
Murphy is a workhorse. He is constantly out on the field trying to get better defensively, so that is encouraging. The truth is, the Mets are going to have to deal with his defense because they can't afford to lose his bat. They aren't in a position to be trading away inexpensive players who have the potential to finish in the top 10 in hitting.
The team should be concerned with the top of the order. The loss of Jose Reyes leaves a glaring hole in the leadoff spot. It'll be impossible to replace that type of production in one offseason.
Andres Torres will be called upon to bat leadoff, but nobody sounds too excited about that. Torres has been called a sixth outfielder by some scouts and almost nobody would mention him and Reyes in the same breath.
The only way to ease the pain of that lost production is to get a lot out of the second-place hitter. Murphy has the potential to be one of the best second-place hitters in the NL, so he'll be at second base come opening day.
You can bet that Terry Collins will be holding his breath every time Murphy goes to turn a double play, but that's why the Mets held on to Justin Turner. You can expect to see a lot of Turner at second base in the late innings this year even if it means costing Murphy an at-bat.
Collins is a manager who stresses fundamentals. He's not the type of manager who is going to let a late-inning error cost his team a game. Turner proved last season that he can handle the bat while making some dazzling plays in the field.
Unless Murphy really shows everyone that he's turned the page this season, I'd expect seven innings of Murphy and two innings of Turner.
Third Base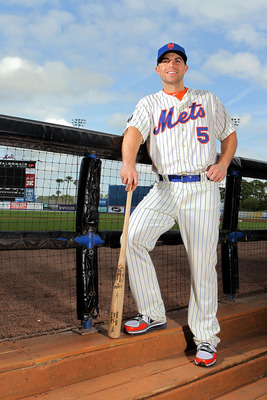 Will 2012 be Wright's final year in New York?
Marc Serota/Getty Images
Wright would like to pretend that 2011 never happened. He saw his average dip to a career-low .254 while driving in only 61 runs. He also had a dreadful year in the field, making 19 errors. That is only one below his career high. The alarming statistic is that he made 19 errors in 102 games and made 20 errors in 2010 in 156 games.
I'll cut Wright some slack—he only played in 102 games because of a fractured lower back. A back injury can be the most painful and debilitating injury a person can sustain, let alone an athlete. The fact that Wright came back from the injury and was somewhat productive is a real testament to the type of player he is.
I'm a Wright fan. Not because he reminds me of the type of guy you want as the face of the franchise. I'm a fan of him because I truly believe he wants to win in New York. He isn't one of those athletes who goes around avoiding questions about the future. Wright flat out tells everyone that he wants to make it work with the Mets and given the state of the franchise, I feel that making that stance public is admirable.
Has his production slipped?
Absolutely. His fielding and strikeouts are a major issue. But do you believe that Wright is working as hard as he can to improve those parts of his game?
I absolutely do. If Wright stays healthy we'll see a big year from him. Collins will probably bat him third in the order but I really feel the Mets could get more from him if they bat him cleanup.
Batting Wright between two left-handed power hitters like Davis and Duda will only create matchup problems for opposing clubs late in games. Wright absolutely destroys left-handed pitching. Wouldn't it be fun to watch opposing managers scramble to bring in a left-hander to face Davis only to be forced to pitch that same left-hander against Wright because Duda is right behind him?
Duda hits left-handers well but not nearly as well as he hits right-handers. The Mets are going to need an edge to stay competitive in the NL east. A balanced lineup that won't rely solely on Wright will give them that edge.
Most people will tell you that moving in the walls at Citi Field is the key to Wright's season. I don't agree with that position. Has Wright had a lot of success from going to the opposite field?
Yes he has. But opposing pitchers are busting Wright inside because he has become an impatient hitter over the last three seasons. How are you going to go the other way when pitchers are busting you inside every at-bat?
The key to Wright's season will be whether Davis and Duda can provide him with adequate protection. Wright needs to get back to being that high OBP player he once was.
Although it seems like a long time ago, Wright was once considered one of the better two strike-hitters in the game. Somewhere along the line he lost it, but he is still young enough to find it again. If he can pass some of the offensive pressure to Davis and Duda, he may find it this season.
The Mets will play 15 of their first 19 games against the NL East—if they struggle you can expect the Wright trade talks to heat up. Wright has been a class act when asked about the possibility of the Mets trading him away this season.
Reports are saying that the Mets would need to be offered a ton of prospects to move Wright this season. Given his contract situation, that type of offer isn't coming.
Wright has no trade value right now. He has a club option for next season that he would be able to void if he's traded. Rumors around baseball say that Wright would do just that. After the contract that Ryan Zimmerman got last week, he would be crazy not to test the open market this offseason.
Odds are Wright will be here for a long time, but after the way Alderson handled the Jose Reyes situation I would say that the only thing for sure with the Mets is that nothing is for sure.
Shortstop
Tejada has big shoes to fill
Jeff Curry/Getty Images
Nobody is expecting Ruben Tejada to be Jose Reyes, it just would not be fair. Tejada is only 22 years old and is going to be a work in progress. The Mets and their fans cannot expect Tejada to bring the same type of offensive production to the lineup that Reyes did.
It wouldn't be completely unfair to ask Tejada to step his defensive game up. If he is going to get a pass at the plate, then he should definitely face high expectations in the field. Reyes was a phenomenal defensive shortstop, but he had his brain lapses in the field that were often masked by a strong throwing arm.
Tejada doesn't have the same arm strength as Reyes but he does have the potential to be a smarter shortstop than Jose was. It'll be a process but the potential is definitely there. The Mets appear to be committed to Tejada as their everyday shortstop but brought in some insurance in case he shows his age early on.
I wouldn't be shocked if Collins platooned Tejada and Ronny Cedeno early on in the season. Cedeno's bat is more anemic than Tejada's, but he is a very talented shortstop who plays with the confidence they hope to see from Tejada when it's all said and done.
Given the Daniel Murphy situation at second base, it is imperative that the Mets have a shortstop who takes control up the middle and has the ability to form a strong double-play combination with Murphy. Signing Cedeno was needed because the Mets are asking a lot from Murphy and Tejada. Cedeno is going to give the Mets some stability up the middle.
Tejada will most likely face a lot of unfair comparisons from the fans and media early on in the season. Most of those comparisons are not going to be personal attacks against him, more like personal attacks at Mets ownership and upper management for not re-signing Reyes.
Tejada's greatest challenge this season will be taking that next step mentally. The baseball growth will take care of itself because the talent is there. Whether or not he can handle being Jose Reyes' replacement will determine whether he's built for New York.
Catcher
If Josh Thole plays the position like he did last year, the Mets will be searching for a catcher
Christopher Pasatieri/Getty Images
Josh Thole had an awful year behind the plate. After listening to some interviews with Thole, he certainly acknowledges that.
Thole lead the entire NL with 16 passed balls last season, he had only four in 2010. On top of that, Thole couldn't throw out a runner if his life depended on it. After an impressive 2010 season where he threw out 44 percent of runners, Thole only threw out 21 percent of would-be base stealers.
Thole attributes his forgettable season behind to plate to changing his catching stance several times during a game. In a recent interview, Thole stated that when going over tape he saw that he sometimes would have five different catching stances in one game. That could certainly lead to a lot of passed balls and stolen bases.
If there was one bright spot of last season, it was his work with RA Dickey and Dillon Gee. Dickey raves about Thole, and Gee had one of the best starts of any Mets rookie in recent memory. Aside from the defense, Thole is really going to need to form a relationship with Mike Pelfrey and Jon Niese if he is going to remain the starting back stop.
Pelfrey and Niese had meltdowns late in games last season and it's up to Thole to be that calming influence. It isn't Thole's fault that Pelfrey and Niese are head cases. However, it is his fault for not getting it under control.
A catcher needs to be able to handle the entire staff, not 50 percent of it. There has been a lot of praise for the work of Mike Nickeas this spring, but not much for Thole. Nickeas will probably lock up the backup job, but Thole's starting job is safe for now. Nickeas has absolutely no bat while Thole has shown that he could be a 25-30 doubles type player.
It'll be tough for Thole to replicate the awful season he had last year. There really is nowhere to go but up. The fact that Alderson didn't bring in a veteran like Pudge Rodriguez on a one-year deal shows that the Mets still believe Thole is the guy. Time will tell whether he can stay the guy.
Outfield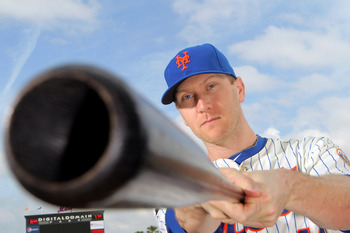 Jason Bay needs to earn his paycheck
Marc Serota/Getty Images
The Mets outfield will have a different look this year. They got a couple of new players too. Ownership finally succumbed to the pressure of the media and fans have decided to move in the walls at Citi Field in an attempt to get their right-handed power hitter going.
Jason Bay will no longer have any excuses made for him. It's time for Bay to earn his keep and the Mets need him more than ever. You can really tell how far Bay's stock has fallen when Lucas Duda's name is brought up more than his when talking about replacing Carlos Beltran's production.
Bay is an afterthought in the minds of management and the fanbase. He is viewed as the last remaining piece of an era where the Mets handed out contracts that totally backfired on them. I'm not ready to include Johan Santana in that conversation just yet.
There really is no explanation for Bay's drop off. Even the most experienced baseball people can't explain how Bay fell off the map so suddenly. The last excuse for Bay has finally been extinguished. The walls in Citi Field are now more friendly to his style of hitting.
Now it's time to step up or continue to be the most maligned player in New York—AJ Burnett plays in Pittsburgh now.
Angel Pagan was shipped off to San Francisco for Andres Torres. It's funny, most people said Pagan needed to be moved because he was a fourth outfielder. The Mets went ahead and moved him for a player that most people call a sixth outfielder. Very strange stuff.
However, Torres does have something that everyone else in the starting lineup does not have: a World Series ring. Torres was a huge contributor during the Giants' World Series run playing in an outfield that is just as difficult as Citi Field.
Torres could turn out to be the answer or he could turn out to be the sixth outfielder everyone says he is. The problem is that the Mets don't really have a center fielder who can take over if Torres struggles. They could go with Scott Hairston but he really isn't much of a defender. They could dig into the minors and call up Kirk Nieuwenhuis, but he's just as much a question mark as Torres is.
So the real question is, what happens if Torres falls on his face?
Right now, there is no suitable replacement. I never thought I'd say this, but it really made no sense to place Fernando Martinez on waivers. I know, I know, Martinez was really nothing but a disappointment but at least he was a body. Cesar Puello isn't close to the majors and after him there really is nobody coming through the farm.
They failed to bring in a quality backup this off season after an attempt to sign Rick Ankiel went nowhere. Can you really see the Mets turning to Hairston if Torres doesn't work out?
That's frightening. At this point it wouldn't be the craziest thing in the world if they tried to convince Mike Cameron out of retirement as an insurance policy. I kid, I kid. But not really.
With all the questions floating around left and center field, it certainly is nice to know that Lucas Duda doesn't have too many in right field. Duda showed tremendous potential last season and the Mets are going to need to see him build off of that potential if they are going to have any shot at competing in 2012.
Duda got off to one of the worst starts of any Mets rookie when he was first called up. There were concerns regarding his confidence and people wondered whether he was good enough to play at the big-league level. It's alarming when you hear about an athlete lacking confidence, but there's a small part of it that's refreshing.
Duda is a humble kid who respects the game and the players in it. He's not a big personality like a Bryce Harper, who is going to put himself in the HOF before he has 400 at bats. He understands how difficult it is to play this game.
Duda got over his confidence issues and wound up having a solid season, but the shy humble kid from Southern California is still present. There is something you have to love about the way Duda approached an at-bat. He's patient but he also takes his hacks. He's a a left-hander who crushes righties but isn't one-dimensional.
He hit a decent .274 against left-handers last year, which is something he'll definitely look to improve on going into 2012.
Given the new dimensions in right field, who knows the type of damage Duda will do. He had no problems hitting them out at the old Citi Field, so I'd expect a huge season from him if he stays healthy.
Starting Rotation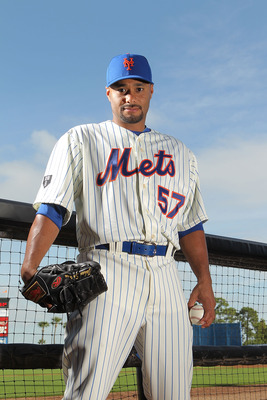 If Santana is healthy, the Mets will have a legitimate shot against anyone every fifth day
Marc Serota/Getty Images
Going into 2011, nobody expected Johan Santana to throw a pitch for the Mets. His injury wasn't your typical pitcher's injury and his timetable for return was met with a ton of skepticism. Those skeptics turned out to be right since Johan never threw an inning for the team in 2011.
After a few pain-free bullpen sessions it's starting to look like Santana will be ready for opening day 2012. The real question is, what type of Johan Santana will the Mets get?
Santana's success came from pin-point control with his fastball and burying hitters with a devastating change up. After a few bullpen sessions it appears the control is still there. The questions is, will his fastball be at the velocity needed to keep opposing hitters in front of that changeup. We'll know soon enough as Santana is scheduled to pitch in Tuesday's game.
If there is one thing you can count on from Santana, it's that he is going to be one of the most fierce competitors in the game. Nobody wants to win more than Johan and it'll definitely be great to have him back in the clubhouse. He is a Terry Collins-type of player.
Santana's competitive fire is going to give this team a huge boost this season. Johan paired with RA Dickey will do wonders for the two pitchers that will be under the microscope this season.
Mike Pelfrey and Jon Niese need to be the type of pitchers that they are capable of being. The stuff is there. From Pelfrey's hard-sinker to Niese's effortless delivery and nasty curveball, all the ingredients are in place for two successful starting pitchers. What's missing is the poise that Santana and Dickey bring out to the mound once every fifth day.
You could set your watch to a Mike Pelfrey meltdown last year. A couple of runners would get on base and Pelfrey would start with the licking of the hand and before you know it he'd balk or throw away a pick-off attempt. Then he'd hang a couple of sliders and the flood gates would open.
The same goes for Jon Niese as his tendency to fall in love with his cutter got him into trouble late in games. Niese abandoned his curveball in pressure situations last season and paid for it. There were innings last season that were painful to watch because Niese was drowning right before our eyes.
It was so tough to watch because he went from being a pitcher who looked so poised and ahead of his time in 2010 to a pitcher who really regressed in that department last year.
Having Santana back will be huge for these two. It's make-or-break time for Pelfrey while Niese probably still has some more rope left. Sooner or later these two are going to have to take that next step because it won't be long before management gets tired of waiting.
There are plenty of arms in the Mets system who will be ready to take the ball very soon. Matt Harvey has impressed just about everyone this spring and many have said he might be up with the big-league team by May or even sooner.
What's telling is that everyone has been praising his poise and makeup on the mound, which have been major criticisms for Pelfrey and Niese. Sounds like a message to me.
Also, don't forget about Jeurys Familia. He is slightly behind Harvey but could be ticketed for Citi Field as soon as July. There will also be a ton of buzz every time Zack Wheeler takes the mound.
The continued development of the Mets minor league starters is going to add more pressure to Pelfrey and Niese. If they can handle it, great. If not, there won't be much hesitation to give someone else a shot.
Bullpen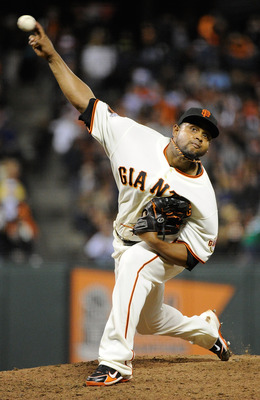 Ramon Ramirez should be closing out games for the Mets
Thearon W. Henderson/Getty Images
The Mets were 28th in the MLB with a 4.33 bullpen ERA and barely above the Astros for the worst in the NL. They were sixth in the NL with 24 blown saves. I think it's safe to say that a lot of the Mets losses last season can be attributed to a bullpen that couldn't get anyone out.
Bullpens are hit or miss. You rarely see any consistency from a team's bullpen year to year. The Braves' bullpen was widely considered one of the best in the game but they also led the NL with 26 blown saves. That's how strange bullpens in the MLB have become.
Sandy Alderson went out and revamped the back end of the Mets bullpen. Gone are the days of relying on Jason Isringhausen and Bobby Parnell to close out games. Terry Collins will now have his choice of either Frank Francisco or Jon Rauch when a save situation arrives. Francisco will go into the season as the team's closer, but nothing is set in stone. If he struggles I wouldn't be surprised if Rauch is given the reigns.
Ramon Ramirez may be the best option at closer. Collins will most likely use him in a seventh-inning role and occasionally have him set up. Stop and take a look at his numbers last year. What impresses me about closers is not high strikeout totals, it's their ability to get both right-handers and left-handers out. Ramirez does just that.
He was very good against right-handers, holding them to a .206 batting average last season. What stands out to me is that he held left-handers to a .250 batting average and did not allow a home run to one all a season. Lefties knocked Francisco around last season, batting .292 off him with five long balls.
Rauch was slightly better, only allowing a .267 batting average but he also allowed 12 walks. Just food for thought.
It'll be interesting to see if Collins decides to go with seven or eight pitchers in the bullpen given the uncertainty behind the number of innings to expect from Santana. I'm going to go ahead and say that he'll carry seven for now.
Francisco, Rauch, Ramirez and Tim Byrdak all have spots locked up. The remaining three spots will most likely go to Manny Acosta, Miguel Batista and another left-handed pitcher. Possibly Robert Carson but don't count out Chuck James as a sleeper.
That leaves guys like Bobby Parnell, D.J. Carrasco and Pedro Beato on the outside looking in. I could definitely see Beato down in the minors to continue his conversion to a starting pitcher. Carrasco will most likely be released—good riddance. Parnell on the other hand could sneak into Collins bullpen if Batista struggles in the spring or if they decide to carry eight guys in the pen.
Either way, expect the bullpen to be vastly improved from last season. If they can cut the blown saves stat in half, then they might be fighting for that second wild-card spot come September. That may sound too optimistic, but answer one question for me.
When it comes to the Mets, would anything really surprise you?
Keep Reading

New York Mets: Like this team?