Notre Dame Football: Pre-Spring Opponent Preview: USC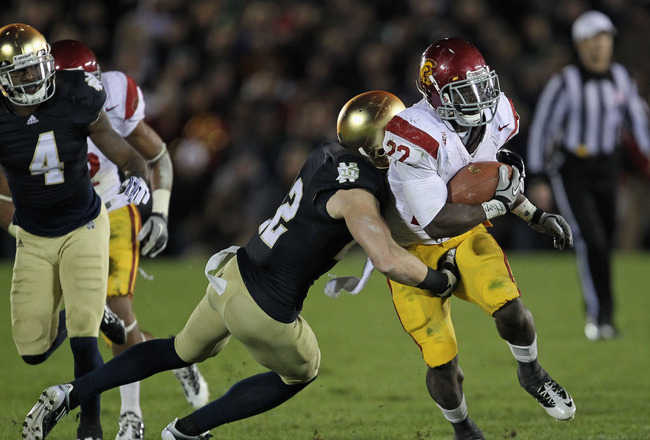 Jonathan Daniel/Getty Images
As spring practices commence around the nation, I'll be looking at each of Notre Dame's 12 opponents in the 2012 season and addressing some key questions and some potential breakout players.
This installment features Lane Kiffin and the USC Trojans, who, despite not being eligible for a bowl game, finished the 2011 season as one of the hottest teams in the country. They take the field for the first time on March 6, with their spring game coming on April 14.
Later this week, we'll look at two of Notre Dame's Big Ten foes, Purdue and Michigan.
Game Information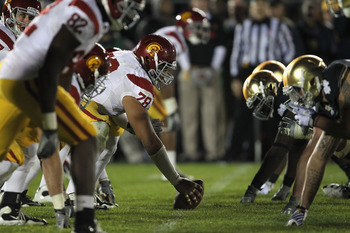 Jonathan Daniel/Getty Images
Date: Nov. 24
Location: Los Angeles Memorial Coliseum (Los Angeles, Calif.)
Last Meeting: USC 31, Notre Dame 17 (2011)
Last Meeting in Los Angeles: Notre Dame 20, USC 16 (2010)
Current Streak: USC: 1
2011 Recap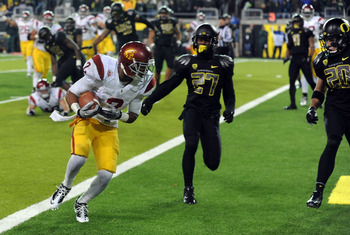 Steve Dykes/Getty Images
Record: 10-2 (7-2 Pac-12)
Bowl: None
Leading Passer: Matt Barkley (Jr.): 308-for-466, 3,528 yards, 39 TD, 7 INT
Leading Rusher: Curtis McNeal (Jr.): 145 rushes, 1,005 yards, 6 TD
Leading Receiver: Robert Woods (So.): 111 catches, 1,292 yards, 15 TD
Quarterback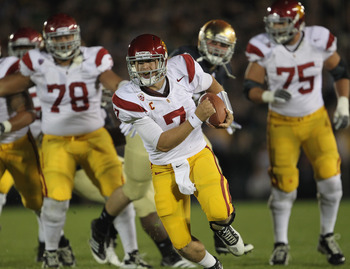 Jonathan Daniel/Getty Images
If there was one player who was snubbed from being a Heisman Trophy finalist, it was Trojans quarterback Matt Barkley. After an up-and-down 2010 season in which he missed two of the final three games, Barkley had a masterful junior campaign, leading USC to 10 wins, including a 31-17 win over Notre Dame in South Bend.
Barkley again displayed his commitment to the program by forgoing the NFL draft and returning to Los Angeles for his senior season. Two years ago, his loyalty to the Trojans never wavered when the program faced a coaching change and a two-year bowl ban
The lifelong Trojans fan has good size and arm strength, but what makes him the Heisman Trophy favorite heading into the fall are his accuracy, leadership and ability to throw on the run. With a plethora of weapons at his disposal, Barkley's final season could be his best yet.
Running Backs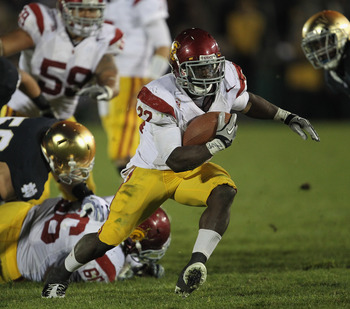 Jonathan Daniel/Getty Images
Marc Tyler, a high school teammate of Jimmy Clausen, was a prized recruit when he signed with the Trojans in 2007. He concluded a good-but-not-great career with 568 yards and four touchdowns last season after junior Curtis McNeal emerged as the team's best running back.
McNeal's breakout game came against Notre Dame, topping 100 yards for the first time in his career with 118 yards against the Irish. He followed that performance a week later with 148 yards and two touchdowns in an epic triple-overtime loss to Stanford.
The rising senior is a bit undersized at 5'7" and must stay healthy due to a lack of depth behind him. 5-star recruit Dillon Baxter was dismissed at midseason, and Amir Carlisle transferred to Notre Dame. USC has a history of using fullbacks in the passing game, and the next in line is redshirt freshman Soma Vainuku.
Receivers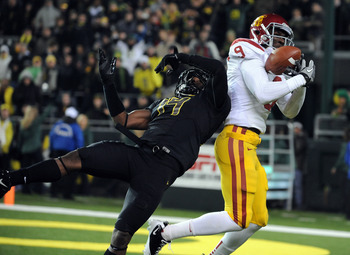 Steve Dykes/Getty Images
The Trojans have the best pair of receivers in the nation, and heading into the spring, it's not even close. Robert Woods had over 1,200 yards receiving as a sophomore last season, including 255 against Arizona and 119 and a pair of touchdowns at Notre Dame.
Like Barkley, Woods has decent size, but has great speed both as a deep threat and breaking in and out of routes. Marqise Lee was a major surprise as a freshman last season. He also topped 1,000 yards, including combining for over 400 yards in the Trojans' final two games. He averaged over 23 yards per catch in an upset of Oregon.
Top 2011 recruit George Farmer, rated higher than Lee coming out of high school, should contribute as well. The Trojans also add in true freshman Nelson Agholor. At tight end, USC will likely platoon a pair of redshirt sophomores. Randall Telfer is more of a pass-catching tight end, while Xavier Grimble is a better blocker.
Offensive Line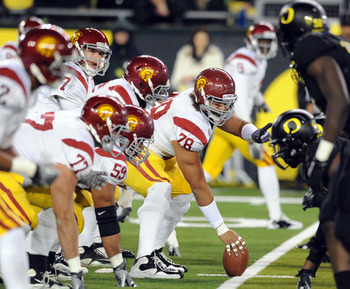 Steve Dykes/Getty Images
The Trojans' biggest loss from last season is up front, as All-American left tackle Matt Kalil's departure has left a major hole on Barkley's blindside. Kalil is expected to go in the top five of next month's NFL draft. Redshirt sophomore Nathan Guertler is Kalil's likely replacement.
Unfortunately for the Trojans' opponents, everyone else is back up front. Center Khaled Holmes took over last year for longtime starter Kristofer O'Dowd and promptly registered a second team All-Pac 12 season. He'll likely be the only senior starter in 2012.
Left guard Marcus Martin is a huge body at 340 pounds and was a surprise starter as a true freshman but showed great potential. The Trojans simply don't allow sacks, as Barkley was dropped only eight times last year. Suring up the left tackle spot is crucial, but this should be another outstanding offensive line.
Defensive Line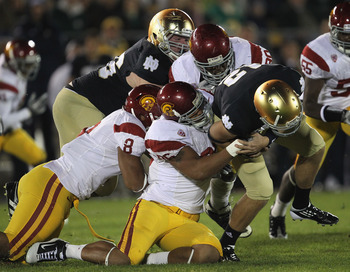 Jonathan Daniel/Getty Images
The biggest concern for USC is along the defensive front. Nick Perry was one of the best ends in the country last year, but he'll head to the NFL. His fellow bookend, Wes Horton, was a second team All-Pac 12 performer, but he'll now be on the radar of opponents as the only returning starter.
Senior Devon Kennard is expected to step in for Perry at the other end spot, but it will be nearly impossible to replace Perry's 9.5 sacks from a year ago. Starting tackles DaJohn Harris and Christian Tuopu also depart.
A pair of sophomores George Uko and J.R. Tavai will take over in the middle of the line. Uko had 11 tackles and 1.5 sacks in a reserve role last season. This unit has decent depth given the team's scholarship limitations, but the lack of elite talent makes this group a major question mark for the spring.
Linebackers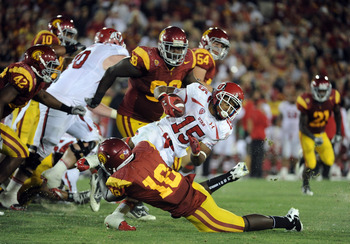 Harry How/Getty Images
What Marqise Lee was to the offense last year, that's what strongside linebacker Dion Bailey was to the defense. Both freshmen had breakout seasons in 2011. Bailey did have a redshirt year under his belt, but no one expected him to lead the team in tackles and have a pair of interceptions in his first year on the field.
Not far behind his classmate, Bailey, last year was weakside linebacker Hayes Pullard. The redshirt freshman tied Bailey for the team lead in tackles and also added four sacks. As more of a pass-rusher, Pullard is about 25 pounds heavier than Bailey, but Bailey's speed allows him to cover a large area of the field.
Chris Galippo departs from the middle of the linebacking corps, but he never quite lived up to the hype coming out of high school. Rising sophomore Lamar Dawson saw action last year as a backup, and he'll now be the starter in the middle. He has ideal size for a middle linebacker at 6'2", 235 pounds, but must avoid injuries that hampered him last year.
Defensive Backs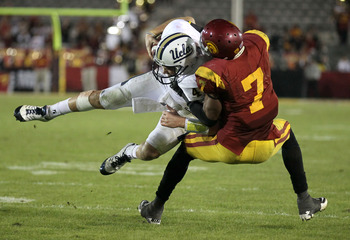 Stephen Dunn/Getty Images
The Trojans secondary struggled last year defending the pass after position coach Willie Mack Garza resigned just before the season. Kiffin has tried to fix that problem by adding former Nebraska assistant Marvin Sanders, who helped turn former Cornhusker cornerback Prince Amukamara into a first-round NFL draft pick in 2011.
All-Pac-12 cornerback Nickell Robey returns for his third year as a starter, and senior Isiah Wiley should be the starter on the opposite side despite a disappointing 2011 season. Robey returned an Andrew Luck interception for a touchdown last year against Stanford to give the Trojans the lead in the fourth quarter.
At free safety, T.J. McDonald turned down the NFL for a final season in Los Angeles. McDonald also received first team All-Pac-12 honors a year ago. Strong safety Jawanza Starling provided Notre Dame fans with one of the worst memories of the 2011 season, recovering a Dayne Crist fumble and returning it 80 yards to give the Trojans a 14-point lead just as the Irish were close to tying the game in the third quarter.
Special Teams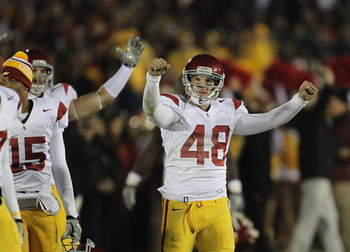 Jonathan Daniel/Getty Images
Kicking was a surprising strength for USC. The Trojans were left with freshman Andre Heidari to handle extra points and field goals. He promptly connected on all 50 extra points and 15 of 17 field goals. One of his misses was badly pushing a short field goal wide left at Notre Dame.
Punter Kyle Negrete also returns. The senior walk-on doesn't have a huge leg, but was very effective a year ago and has excellent placement.
The return game likely will be handled by Woods and Lee. They're the team's biggest playmakers, so it makes sense to have them on the field in potential big-play situations. Farmer also has the elite speed to be an effective returner.
Outlook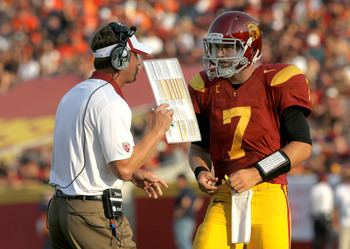 Stephen Dunn/Getty Images
Other than the defensive line, the Trojans are loaded for a run at the national championship at every other position. Depth will be a concern at most position as scholarship restrictions kick in, so health is an even bigger key for the Trojans than most teams.
Finding a definitive backup to McNeal at running back is a goal over the next six weeks. The defensive line will remain a question mark heading into the fall, as Perry's replacement won't be found overnight.
Keep an eye on Farmer as a potential breakout player. If he can become a consistent third option for Barkley, this offense will be unstoppable in the fall. This may not be the most talented team in the country, but at the moment, it's more complete than Alabama and LSU.
Keep Reading

Notre Dame Football: Like this team?