Dallas Cowboys Mock Draft 2012: Who Will They Take in the First Round?
March 4, 2012

Joe Robbins/Getty Images
It is that time of year, folks. Spring is upon us. The football season is behind us. And a fresh, new season of hope is before us.
It is an annual ritual. One team's fans celebrate their team's ascent to the glory of a world championship, while fans of the other 31 teams try to figure out which player should be taken in the first round of the NFL draft in order to catapult their team to the post-Super Bowl podium for the presentation of next year's Lombardi trophy.
Ah. Spring. Hope. And the eternal spring of hope.
So, who will it be for your Dallas Cowboys? They hold the 14th pick in the 2012 NFL draft. Upon whom will they spend it? Well, I have gone searching for the answer.
First, I went to Confucius. Confucius say, "Better a Diamond with a flaw than a pebble without."
That somehow made sense to me, but did not answer the burning question. So, I sought the wisdom of five other philosophers and forecasters of all things football.
Charean Williams of the Fort Worth Star-Telegram says that Jerry Jones and his merry band of brown-nosers will select David DeCastro (OG) out of Stanford. Williams states flatly, "Cowboys find the next Larry Allen."
I do not know about all of that, but if he is 50 percent of the next Larry Allen, he would be a darn good choice.
Walter Cherepinsky of walterfootball.com has the Cowboys taking Janoris Jenkins (CB) out of Northern Alabama.
Says the smartest Walter since Kronkite:
I've always had reservations about putting Janoris Jenkins in the first round because of his multiple arrests, but he seems to have turned his life around. He hasn't gotten into trouble at North Alabama, and he even recently told the media that he doesn't even hang around people who smoke weed anymore. It's an issue that he has four children already (all with baseborn last names of "Orange"), but it seems that as with Phil Taylor, getting kicked out of school served as a wake-up call for Jenkins.
Great! Another guy named Jenkins at cornerback and an outlaw to boot. Sounds like a perfect fit for the Jonestown Owlhoots.
Steve Wyche of NFL.com offers Dre Kirkpatrick (CB) of the national champion Alabama Crimson Tide for your consideration.
NFL.com offers the following analysis of Kirkpatrick:
Athletes like Kirkpatrick are able to defy the perception that taller skill players don't have the footwork and agility that shorter players do. Kirkpatrick will thrive initially within a zone scheme, where he can use his burst and length to cover ground and remain active in plays. He is so talented athletically that he could likely be tested early on an island in man coverage and excel, and he possesses the confidence and field presence necessary to take on such a task.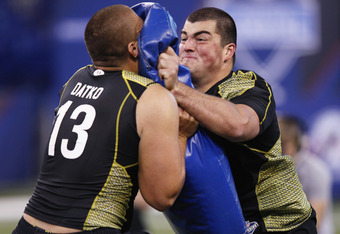 Joe Robbins/Getty Images
Dre might be just the ticket to spiff up an otherwise dreadful defensive backfield.
Rob Rang and Dane Brugler, a couple of household names of whom you have never heard, of CBSSports.com, agree with Wyche and say Dre Kirkpatrick will play for the Good Guys next season.
(I know I promised only five forecasters' predictions, but I am counting Rang and Brugler as one. Since they are on the same website and offered the same opinion, one of them seems superfluous to me. Just call it the Rang-Brugler prediction.)
Finally, we get to the widely read and well-respected NationalFootballPost.com, which has the Cowboys taking Peter Konz (C) out of Wisconsin at No. 14. Oddly enough, on the same page, they have Konz on their Big Board as the 15th-ranked player with the arrow pointing downward, indicating his stock is dropping.
The NFP offers the following analysis of the player they chose to be one of Jerry's Kids:
For a taller center showcases impressive flexibility, as he typically gains leverage on contact and uses his length to gain proper hand placement. Has some limitations because of his height and will allow defenders to get under him at times.

However, for the most part is able to quickly reset his hands, sink his hips and keep the inside of the pocket clean in pass protection.

Showcases an [sic] good snap through the hips in the run game, is routinely able to create a push inside and drive opposing nose tackles away from the play and/or seal. Looks like a "plus" run blocker in the NFL in more of an angle scheme.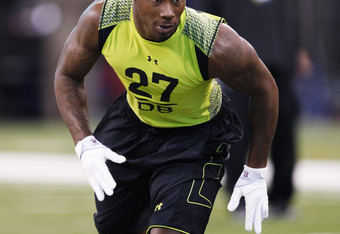 Joe Robbins/Getty Images
So, there you have it in a nutshell. What the experts are unanimously predicting for the Dallas Cowboys in the first round of the 2012 NFL draft.
I work for Allstate, and I predict "Mayhem."
I like my pick because I have seen what Jerry Jones can do. And I have learned what he cannot do.
But my ol' daddy, the Confucius of Texas, say, "Even blind hog find acorn every now and then."
Here's hoping...