MMA Opinion: 8 Ways to Make the Sport Better
No sport is perfect. Whether it's the BCS system in college football, overtime rules in the NFL, replay in the NBA or the role the MLB All-Star game plays in the World Series, they all have flaws. MMA is no different in that regard.
As fans of this fast growing sport, we want it to be the best that it can possibly be. So here are some ways we can improve this great sport.
8. Add Rules That Discourage Against Lay and Pray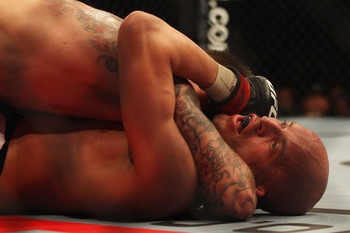 Mark Kolbe/Getty Images
In my eyes, a fight is a fight. If another guy suggestively rubs on your girl while you're in the club, will you turn around, take him down, then hold him on the ground for 15 minutes and declare yourself the winner? Of course not.
I'm all for wrestling being a big part of the sport, but just holding a guy down without causing damage should be strongly discouraged. After all, it's a fight!
I love to see a great grappling match as much as anybody, but what I don't want to see is point wrestling. Add an eight-second rule where if no damage occurs they have to stand, then encourage the judges to not weigh that heavily.
After all, if it doesn't help you win to just lay on somebody, then it will discourage the act all together.
7. Have Monitors for the Judges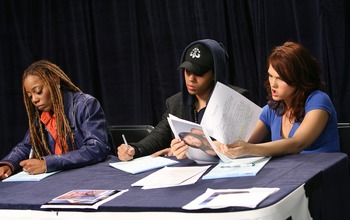 Michael Buckner/Getty Images
Depending on where in the Octagon the fight takes place, the vantage point of the judges can become absolutely critical in how they score a fight. There have been times when the scores are read aloud and there's a collective, "How did they come up with that score?" question.
The only way to fix the issue is to have monitors cage-side so that the judges can have the best vantage point of the action. If given a better view of the fight, they can better judge the fight.
6. Give Judges Access to Compustrike or Fightmetric Stats Between Rounds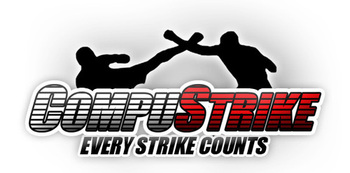 One thing that MMA judging is truly lacking is a sense of what's truly going on in the ring in terms of what's being landed and what's not. A fighter can throw punches in bunches and make it look pretty, ala Manny Pacquiao, but if not much is landing it may be much ado about nothing.
Problem is, fighters like Freddy Garcia get rounds for this kind of approach and maybe that could change if the judges have a better sense of who's landing what with complete stats.
5. Clarify Judging Criteria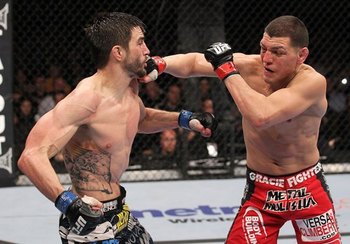 We've all seen Mike Goldberg at the beginning of UFC broadcasts when he says that fights will be judged on effective striking, effective grappling and Octagon control.
But what exactly does that mean?
What's effective to you may not be effective to me. Take for instance the Condit vs. Diaz fight. Is effective striking when you move a guy around and stalk him, or is it when you're moving away side to side and picking your spots?
Is taking the center of the cage for 90 percent of the fight considered a dominance of Octagon control?
These are questions that shouldn't just be left up to the imagination or the interpretation of the judge in question, but it should be completely explained.
4. Fight Night Weigh-Ins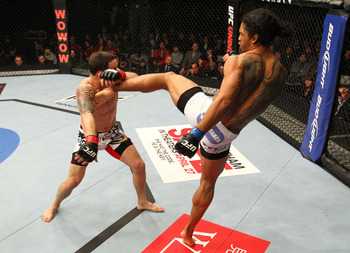 At UFC 144, we saw a lightweight championship fight that was pretty much a 155-lb Frank Edgar verse a 168-lb Ben Henderson. What resulted is Frankie taking lots of damage and showing heart like only he can.
Personally, I feel like the weight limits and having 24 hours to rehydrate undermines the integrity of the weight classes.
Take for instance when Vitor Belfort faced off against Anthony Johnson. It was classified as a 185-lb middleweight bout, however, before the fight, Vitor weighed in at 204.2 and Johnson was a hefty 211 lbs. Isn't that a light heavyweight verse a heavyweight fight being contested at middleweight?
3. Educate the Referees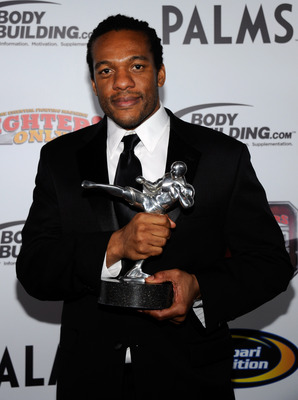 Ethan Miller/Getty Images
The ref is the single most important person in the cage because between two world-class athletes trying to bash each other's brains in, the ref is the one person who can keep order.
Having refs that are up to the task is paramount because they can single-handedly decide when a fighter is done or not and prevent fighters from taking any unnecessary damage.
2. Go to a Half-Point System

If you haven't noticed, much to do with bettering the sport has less to do with the actual fighters and more with judging and officiating the sport.
One way to combat that is to implement a half-point scoring system.
Many times we see rounds at either 10-9 or 10-8, but what if a round is so close that it's a 10-9.5 round? Or maybe a round isn't a dominant 10-8 but it's deserving of a 10-8.5.
The accuracy of the scores would then be even closer to the true testament of the fight by making a more significant change to the scoring altogether.
1. Round by Round Open Scores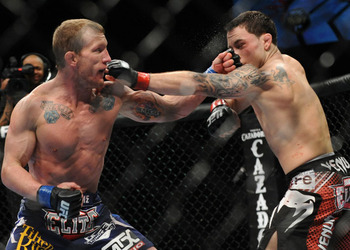 On more than one occasion I've been watching a fight where "Fighter A" was clearly losing, only to hear his corner man tell him, "You won that round you're doing great!".
Let's imagine for a second that the Super Bowl get's played for four quarters and instead of live scoring, we just have a decision at the end of the game. Judges score the first quarter 10-9 for the Giants, second and third 10-9 for the Patriots, then due to a close forth quarter declare that one a 10-10.
At the end of the game the teams look across from each other as the scores are read and the Patriots win the Super Bowl because of the judging.
That's what happens in MMA.
What should happen is that after each round the judges scorecards should be posted as to who has what score and who's winning the fight. That way the corners of each respective fighter can put together a game plan to either sustain or turn around their fortunes depending on how the judges are judging.
In addition to that, if you're in a three-round fight and going into Round 3 you know you're down two rounds, won't you make a very concerted effort to finish in Round 3? Of course you would because you'll have nothing to lose.
Not only will it make the public and the fighters aware of where they are in the judges mind, but it will also be a catalyst for more exciting fights.
If I missed something that you think would help the sport or if you have an opinion about anything I've laid out, let me know in the comment box below. Thanks for reading.
Keep Reading