College Basketball: Iona Gaels Win MAAC Quarterfinal, Play Fairfield Sunday
March 4, 2012

Mike Glover likes playing against Marist; he scored 31 points against the Red Foxes in January, and 25 in their February game in New Rochelle. 
In the Metro Atlantic Athletic Conference quarterfinals, the Iona power forward scored 29 points and grabbed seven rebounds as the Gaels (25-6) advanced with a 87-63 win over Marist (14-18).
This was the second biggest offensive game of the year for Glover, who scored 34 against St. Joseph's on Thanksgiving Eve. 
After a 35-33 Iona lead at the half, the First Team All-MAAC player helped Iona pull away from Marist capping a 14-3 Gael run to start the second half.
Later in the half, Glover helped Iona decide the game with a couple of lay-ups and a free throw, which pushed Iona to a 17-point lead 74-57 with 5:32 remaining.  
Scott Machado, named MAAC "Player of the Year" on Thursday night, had a strong game with 18 points and eight assists.  The Iona point guard continues to lead the nation in assists per game.
Iona's two guard Momo Jones, who played in the NCAA Elite Eight last year for Arizona, did not attempt a three-point shot but ended with 11 points on 5-of-8 shooting from the field. 
Sophomore swing player Sean Armand, who makes over 47 percent of his three-point shots was just a mortal 2-of-6 and ended with 10 points but added six rebounds.
The Gaels guard off the bench, senior Jermel Jenkins, played 19 minutes and had seven points.  Junior forward Taaj Ridley had four points and four rebounds.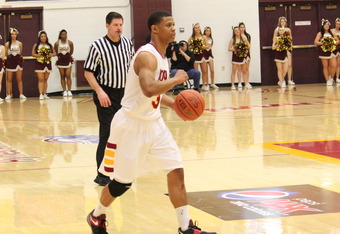 Iona senior forward Randy Dezouvre, who has given the team depth at forward, did not play.  Iona SID Brian Beyrer comments this is due to being poked in the eye during Friday's practice.
For Marist, Cavaughn Lewis scored 25 points on 10-of-17 shooting, Isaiah Morton had 17 points, and center Adam Kemp had nine rebounds and eight points.
Iona ended up winning the rebound battle 33-27 and led in assists 18-14.  The Gaels won on their shooting hitting 56.7 percent from the field while Fairfield shot 44 percent.
The listed attendance of 2,256 must have disappointed MAAC officials for the Saturday afternoon doubleheader. 
In the first game, Fairfield (18-13) defeated Rider (13-19) 65-63.  In the first evening match-up Loyola (22-8) ended Niagara (14-19) by a score of 86-73.  In the last game of the day (Correction), Siena (14-16) pulled off an upset win over Manhattan (20-12) 84-82.
On Sunday at the Mass Mutual Center in Springfield, Mass, in the MAAC semi-finals, Iona will play Fairfield at 2 p.m. with Loyola playing Siena in the second game.
Fairfield's All-MAAC second-team guard Derek Needham is out with a broken bone in his foot suffered a week ago Friday night in the early going of the loss to Iona. 
Fairfield led by five at the half before the Gaels cam back with a strong second half. led by the shooting of Sean Armand to win 77-72.  The Gaels also won the game in Bridgeport back in late January 71-62.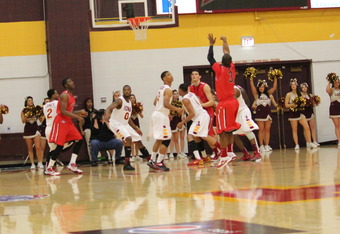 Can Iona win three straight over Fairfield?  It will not be easy, but the Stags, without key starter Needham, will have to contend with the Machado-to-Glover connection and the pull-up jumpers of Momo Jones running at full speed.
These semi-finals will be high-energy games, as four good mid-major teams square off for spots in the Monday night MAAC Championship game which decides the NCAA bid. 
It is impossible to describe how important an invitation to "The Big Dance" is to these players.
I'll be on-site in Springfield tomorrow. 
Ken Kraetzer covers Iona basketball and West Point football for WVOX 1460 AM in New Rochelle and Sons of the American Legion Radio.  His Twitter address is @SAL50NYRadio.