22 Funniest Referee and Official Blooper Videos in Basketball History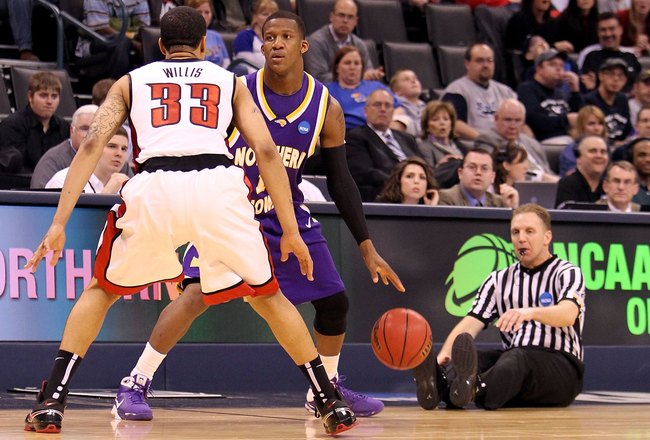 NBA players are naturally feet taller than officials. Sometimes in college, referees have to sit down to create that kind of height disparity.
Ronald Martinez/Getty Images
Referees, umpires and officials in all sports are usually not the most popular people in stadiums, arenas and fields: As the old officiating idiom goes, "We only please 45 percent of the fans 50 percent of the time (the other five percent are beyond all hope)."
For the men (and increasingly, women) who don the stripes, officiating quickly creates the perception that referees are only in it to ruin what would otherwise have been a good ballgame. Often, fans of both teams will tell you that any given referee has a chip on his or her shoulder, is biased, is a cheater or is below average (what happens when every official is below average?).
Coaches and players are in it to win it. Referees are in it to make sure whoever wins it has done so by following the rules of the game: Officials simply do not care who wins.
Whereas players and coaches are closely studied, celebrated tweeters and very public, officials tend to be a quieter bunch, staying out of the limelight. They surely hope that their 15 minutes of fame will be a brief comment on SportsCenter about how (s)he made a correct call.
And if the call was great enough, perhaps no one will ever remember who made it.
As such, officials have garnished reputations as these stoic, robotic creatures void of personality.
Perhaps this is why referee bloopers are so gosh darn amusing. It reminds us that the striped individuals on the court are indeed human beings like everyone else—fallible, quirky and just plain real people.
Read on to watch the funniest referee bloopers in NBA history that were caught on tape—and uploaded to YouTube for all to enjoy.
Gil Imber is Bleacher Report's Rules Featured Columnist and owner of Close Call Sports, a website dedicated to the objective and fair analysis of close or controversial calls in sports.
Honorable Mention No. 1: NCAA Basketball Referee Takes Ball to the Face
There are always two places to start: The beginning or the end. Here's one from both worlds: a beginning of the game blooper from a very recent college contest.
In the first minute into last week's Georgia Bulldogs-Kentucky Wildcats contest, NCAA official Antinio Petty was knocked down by a pass, much to the delight of the Wildcats crowd.
Call it an ice breaker or old-fashioned fun. But Petty's stumbling and smile after he emerged from the Wildcats cheerleaders section surely relieved some of the apprehension that goes into a game anytime a No. 1-ranked team takes the floor.
Honorable Mention No. 2: AAU, Truly Showtime Basketball
Informally nicknamed Big Show, this is one AAU official who likes to have a good time.
Shot at an All-Star showcase event for fourth and fifth graders, this official added an element to the game that, given the level of play, seems only somewhat appropriate—yet hilarious.
Honorable Mention No. 3: Fake NBA Ref Dances with Bulls Mascot
Teams have clearly realized that a referee breaking out of his standard, by-the-book element provides some degree of entertainment for fans. This is epitomized by the "fake ref" or "fake ump" routine at sports facilities all over the country.
Here, we find one such fake official (check out his shoes) playing the role of unflinching referee, feigning reluctance at first before breaking out and showing Chicago mascot Da Bull that the referee is always the master.
Honorable Mention No. 4: AAU, Block Mechanic or Dance Party?
AAU stands for the Amateur Athletic Union and is a non-profit, volunteer sports organization that presently benefits 500,00 participants and 50,000 volunteers in over 34 sports with 30,000 age division events.
According to the AAU website, the organization's mission is,
To amateur sports programs through a volunteer base for all people to have the physical, mental, and moral development of amateur athletes and to promote good sportsmanship and good citizenship.
And while they're at it, they might as well have some fun, right?
When the AAU teamed up with Walt Disney World in 1996, that symbolic merger signaled a true union of sports and entertainment: Headquartered at Disney's Wide World of Sports Complex in Orlando, Florida, the AAU is all about having fun, developing athletic skills through healthy exercise and achieving "our dreams as athletes and as valued citizens of our communities."
So, when an AAU referee calls a blocking foul, let him have some fun with it.
At least one person in the crowd seems to enjoy it.
NBA Athletes Are Role Model and so Are Referees
Now, it all makes sense.
That AAU referee in our last slide was simply emulating a call he saw at the professional level.
Be careful, NBA officials. Just like athletes, you have fans who just can't wait to imitate you in one of their games.
The Assist To...Who?
It is imperative that all officials—and ideally players and coaches—are well-versed in their respective sport and league's rules so that they are prepared for the unexpected.
When the Phoenix Suns' Channing Frye threw an errant pass that deflected off a referee and remained inbounds, Detroit's Chris Wilcox was on top of his game. He immediately took off after the loose ball, and turned it into a quick two-point opportunity for the Pistons.
In basketball, the official is considered part of the playing court whose status is governed by his positioning. As the referee was standing in bounds when he was hit, the ball remained live and in play, giving Wilcox his easy fast break takeaway.
Referee Ron Garretson's First Assist of the Season
What goes around comes around for Detroit. When opponent Lamar Odom threw a wild pass off official Ron Garretson, fate would have it that the ball would fall into teammate Vladimir Radmanovic's hands for what would become an important two-pointer.
Knowing Odom, that very well might have been a set play.
Outlet Pass to Greg Willard, Teammate of Orlando Great Dwight Howard
While some errant passes bounce off officials and straight into the waiting arms of a teammate or opponent, most bad passes fly or skip directly out of bounds.
Trailing the Boston Celtics by nine points in the third quarter, Orlando Magic center Dwight Howard knew he had to manufacture a big play to get his team back into the game.
With Boston threatening to extend their lead, Howard stole the basketball from a lackadaisically dribbling Kendrick Perkins. Howard then fired an up-court pass to the first person he could see wearing dark-colored trousers.
That person, of course, was veteran NBA referee Greg Willard, who obediently hustled down to the far end line to signal the delinquent pass out of bounds.
Kendrick Perkins and Referee Eric Lewis Play Dodgeball
Boston's Kendrick Perkins must have a knack for getting referees involved in games—by forcing them to jump out of the way of flying basketballs.
Perkins' bad pass was right on target, as Eric Lewis was the intended recipient.
But try as he might, Lewis could not jump out of the way in time, and the pass struck the referee's thigh before ducking out of bounds.
It might have been a turnover for Perkins, but at least he beat a referee in dodgeball.
Tangled Feet Leads to Referee Taking a Seat
San Antonio's Tony Allen and referee Tommy Nunez became reacquainted during this first quarter play. Allen was ready to overtake Nunez, who just couldn't get out of the way before he was incidentally tripped by Allen.
Incidental? No foul.
With prime real estate becoming more and more scarce on modern NBA sidelines, it's a wonder this sort of thing doesn't happen more often.
Empathetic readers out there will be happy to hear Nunez subsequently made a full recovery and returned to officiating NBA basketball shortly thereafter.
NBA Referees Mic'ed Up and Verbal Banter
Basketball officials hear an incredible amount of whining, excuse-making and ridiculous begging throughout the course of any given game.
They are picked on by coaches and players, and fans in high school and college have been known to shout out for an eight-second backcourt count or defensive three-second violation-turned-technical foul.
In the end, officials have to lighten the mood somehow.
According to this 10-year-old NBA on an ABC Wired segment, they do it by cracking jokes. Here are some of the better gems:
Bob Delaney: "I'm wired right now. Last time I was wired, people went to jail." Before earning his stripes as a referee, Delaney worked as an undercover officer with the New Jersey State Police.
Dick Bavetta: "You're good enough to play through this, you'll play through this." Bavetta, still in the league at 72 years of age, gave this sound piece of advice to Rasheed Wallace. I'm not sure what's funnier, Bavetta's indifference or his assumption that Wallace is good at basketball.
Bennett Salvatore: "Ball goes up! If it didn't come down, I wouldn't have given you a technical." Salvatore explaining to Vlade Divac why he was called for an unsporting technical after spiking the basketball.
Joey Crawford shook hands and was introduced to Devin Brown by Tim Duncan. Rumor has it that Brown was subsequently ejected for a weak handshake.
Joey Crawford: "Is he getting a beer?" [Hands money to arena attendant] "Get him and his buddy a beer." As commenter MrTihle pondered, "Joey Crawford has money in his pocket... I am not surprised."
"Whack ... Get Out!" Rasheed Wallace Ejected for Staring
Official Ron Garretson ejects Portland's Rasheed Wallace from the 2000 Western Conference finals versus the Los Angeles Lakers.
The short line is that Wallace was ejected for staring at a referee.
The full story is much more than that—Wallace had received a technical foul for harassing Garretson earlier in the contest and could have been ejected at several points prior to the actual heave-ho—though the full tale is not as funny as the ejection itself.
Bob Costas was right: "38 technicals in a season?"
Ah, the NBA on NBC.
Crawford Fouls Damon Jones: That's JOEY Crawford
You have to hand it to TNT's Marv Albert and Steve Kerr. They tried to cover for Joey Crawford as much as possible, though this tape speaks for itself.
In the 2005 Eastern Conference Finals, the Miami Heat's Damon Jones chased down a long pass on a broken fast break play. Jones secured the loose ball under pressure from Detroit's Chauncey Billups, stopping on a dime to prevent a traveling violation.
Crawford, in his haste to get down to the Miami offensive end line, did not quite stop on a dime and barreled into Jones while sounding a whistle.
Oh, Joey Crawford, while most viewers are sure it was you—not Billups—who fouled Jones, at least you can always count on TV broadcasters for some support when you need it the most.
Ironically, television and radio broadcasters are generally right up there on the "blame the ref" bandwagon, but not in this particular case.
J.J. Redick Fouls Crawford, Wade Fouls Redick, Joey Crawford Waves off All Fouls
Again too slow in getting to the end line, referee Joey Crawford got in the way of Orlando's J.J. Redick, who pushed Crawford out of the way before lining up a three-point try.
Heat guard Dwayne Wade—perhaps confused by the crumpled Crawford in the corner of the court—then ran into a still-airborne Redick, drawing a foul call from the trail official.
After a brief officials consultation, the call was reversed and the foul waived off—though replays do indicate Wade fouled Redick.
Crawford, after all, comes from a baseball family. His father, Shag Crawford, was a longtime NL umpire, and brother Jerry recently retired from MLB umpiring. Perhaps Joey was just doing his best slide-into-home imitation.
The Heavyweight Champion of the World Is...Paul Pierce?
Admittedly, I'm not a boxing fan.
George Foreman sells grills—that's my story and I'm sticking to it.
Still, even I know a good hook when I see it. Although that's mostly a hockey move, basketball players have been known to throw a punch or two on occasion. As an aside, we're still waiting for that head-over-heels news headline that reads, "World Peace has been ejected."
In Game 4 of the 2010 NBA Finals, Boston's Paul Pierce celebrated a dramatic first quarter paradox of a layup by throwing an air punch. Unfortunately for our eager baseline official, that air punch turned into a real one, connecting square in the referee's face.
Imagine, if you will, this conundrum:
Player punches referee after call against player's team: Lifetime ban. Player punches referee after call favoring player's team: No harm, no foul.
Who says the Celtics never get a call?
Jason Kidd Tackles Jim Clark
Meet NBA referee Jim Clark, not to be confused with middleweight boxer Jimmy Clark, though after being tackled by Jason Kidd, he might want those ring-side skills.
With just over a minute left to play, Kidd's Dallas Mavericks were trying to turn a 101-94 lead over the Portland Trail Blazers into a victory.
After a wayward pass (do we have a theme here or something?), Kidd took off after the loose ball, which had coincidentally bounced straight toward Clark.
Down went Clark, down went Kidd and out of bounds went the ball.
Not surprisingly, Clark awarded possession to the Blazers.
Bad Passes: I'm Telling You, It's a Theme
With six minutes to play in the Oklahoma City Thunder's Christmas Day blowout of the Orlando Magic, an anonymous NBA referee* was feeling the holiday spirit of giving. He took it upon himself to help move the game along by passing a rolling basketball to the Thunder, who were waiting to inbound after a Magic score.
Instead, the nameless official's behind-the-back pass fell flat, missing its intended target by about 10 feet and causing play to momentarily be delayed while the ball was retrieved.
*Anonymity granted for the sake of the referee involved
Another NBA Referee Tries a Behind-the-Back Pass and Fails
In this clip of a tied Heat-Spurs contest, another anonymous official—who may or may not have already appeared in this clip show—attempted a behind-the-back pass to an in-bounder.
To this referee's credit, at least the pass eventually made its way to said inbounding player.
Slip and Fall: Where Is That Towel Boy?
In baseball, some groundskeepers notoriously help their home clubs by cutting the infield grass especially short or letting it grow especially long, depending on that particular club's playing style.
I suppose the basketball equivalent of this is to leave wet spots on the floor, in the hopes of causing an opponent to slip and fall.
Unfortunately for the Miami Heat, NBA referee Scott Wall got to their wet spot first, forcing the Heat court staff to clean the spot. For good measure, the Miami trainer was brought out onto the court to examine Wall, giving him the go-ahead after a slight delay.
This Fall Is No Match for the Ninja Referee
Sacramento Kings versus Los Angeles Clippers, pre-Chris Paul and sans Blake Griffin.
Exciting basketball, surely.
Here, another official takes a tumble after colliding with a player, only this time, that official just happens to be Matt Boland, a.k.a. "the Ninja Referee."
Watch Boland's form here, which is quite impressive. After running into Kings guard Eugene Jeter, Boland falls head over heels. He has the presence of mind to complete his barrel of a back-roll, springing back up and taking off down the court, even beating Jeter to half court in the process.
Just Call the "T" Already
Before Chris Paul and Blake Griffin, the Los Angeles Clippers' big draw was Chris Kaman. I use the term "big draw" because no one came to watch the Clippers for their coaching (though no one really came to watch the Clippers period during that era).
Kaman once was so full of himself, he rejected an NBA referee's free throw because he hadn't yet finished his free throw warm-up "routine."
This is one of those instances that, if you are a Knicks fan, you must be begging for a technical foul for delay or some unsportsmanlike conduct.
But no.
Kaman made the free throw and New York was called for a violation for handing the ball off on the inbound, giving possession back to Kaman and the Clips—which is nothing like Benny and Jets.
Justin Bieber Takes Referee's Shoulder Check to End Game
Like any celebrity, Justin Bieber has his detractors—a heck of a lot of them.
Eager to spot the youngster in an anything-less-than-perfect situation, 2011 NBA Celebrity All-Star Game MVP Bieber forgets to watch where he's going as he leaves the court at game's end, walking directly into a referee's shoulder.
I guess it's amusing, in a Sideshow Bob-walking-into-rakes sort of way.
Keep Reading