Knicks vs. Celtics: TV Schedule, Live Streaming, Spread Info and More
March 4, 2012

Christopher Pasatieri/Getty Images
The New York Knicks and Boston Celtics will wage an Eastern Conference battle on Sunday. 
Both teams have been surging and will look to keep that going against tough competition. Both teams are relatively healthy and should be fresh. 
This will be just the Knicks' second game since the All-Star Break. The Celtics have had more work since the break. This is their fourth, but the last two have been at home, and this one is as well. 
Where: TD Garden in Boston, Massachusetts 
When: Sunday, March 4th at 1:00 p.m. ET
Watch: ABC 
Listen: List of Knicks radio networks with streaming, list of Celtics radio networks with streaming
Betting Line: Celtics -3 according to Vegas Insider
Key Injuries
Injury information via ESPN.com
Knicks: Bill Walker has an elbow injury and is listed as day-to-day.
Celtics: Jermaine O'Neal has a wrist injury and is listed as day-to-day.
What They're Saying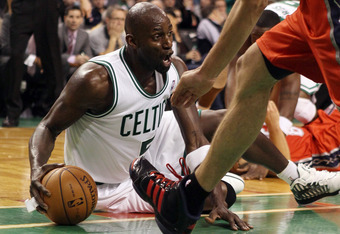 Elsa/Getty Images
Kevin Garnett has been spending time at center lately and, needless to say, it is not his favorite spot on the court. ESPN's Chris Forsberg has more: 
"Preference-wise, I don't like it, to be honest with you," said Garnett. "I'm a 4. I don't like, you know—it's what it is. I'll be whatever this team needs me to be. Other than a cheerleader with pom-poms and some short-shorts. Other than that, whatever this team needs me to be, man, I'll be it. 

"I have a lot of confidence in myself when it comes to playing basketball, and positions are just numbers to me. But if it comes to preference, I enjoy the 4. There's a lot more versatility in the 4. The 5 you're kind of stuck in mud and cement and you know things are written -- there's not a lot of variation in the 5 position. But this is what it is, and I'm enjoying it and I'm adapting and doing whatever I can to give my team an edge." 

As Garnett bottom-lined it, "Doc, he's the captain, so whatever he says goes."
Frank Isola of the New York Daily News sheds some light on how important Carmelo Anthony is to the Knicks. 
Jeremy Lin may have saved the Knicks' season, but ultimately their success, or failure, this year still falls on the shoulders of their best player.

Carmelo Anthony feels it and Mike D'Antoni knows it.

"That's just the way it is," D'Antoni said on Friday. "That's the nature of the beast."

It's been a good week for Anthony, beginning with a start in last Sunday's All-Star Game in Orlando and including a strong performance in Wednesday's 120-103 victory over the Cleveland Cavaliers. Also, Anthony's teammates, specifically Lin, Baron Davis and even Steve Novak, have been in such high demand that it has allowed the veteran forward to be freed from most of his media obligations.
Most Important Player to Watch: Carmelo Anthony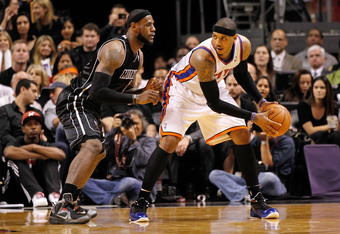 Mike Ehrmann/Getty Images
In light of the aforementioned comments by D'Antoni, it is pretty clear who the player to watch is in this game. 
With the emergence of Jeremy Lin, Anthony has to get used to playing off the ball more. This will be a great barometer to judge how he is adjusting to that. 
Key Matchup: Jeremy Lin vs. Rajon Rondo
This is going to be a fun matchup to watch. Both guards can bring it on defense and get their share of steals. 
This could be especially problematic for Lin, as he has been prone to turnovers. If Rondo forces him into lots of turnovers, the Knicks are going to have a hard time getting into their offense. 
Prediction: Celtics 101, Knicks 96
This is going to be a great game. Both teams have been playing great basketball, and both will be looking to prove that they are the second-half upstarts that need to be reckoned with. 
Boston will use their home-court advantage to fuel a late win.