New York Islanders: 6 Steps to Help Them Find Success Next Season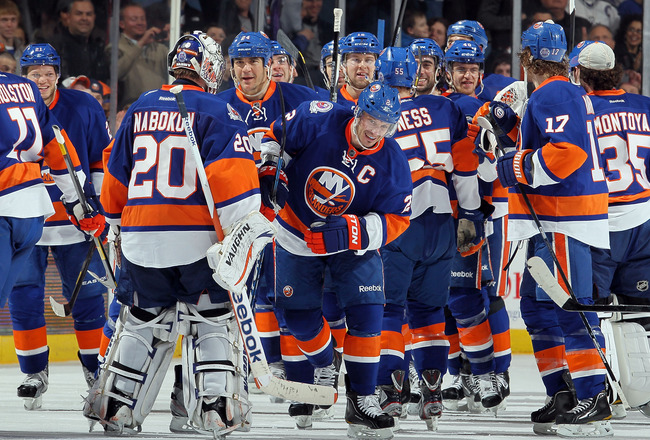 Jim McIsaac/Getty Images
As a huge fan, it's tough to admit, but the Islanders will most likely not make the playoffs this year after the recent small slump.
But just because this year is over doesn't mean they can't start preparing to find success in the next season.
Whether it be via contracts or getting certain players some more ice time, the Isles can prepare at the end of this season, and during the offseason as well.
At this point in time for the Isles, they should forget making the playoffs and look towards the future of the team.
In this slideshow, I'll describe some of the little things the team can do to make a world of difference for the 2012-13 season.
1. Re-Sign Evgeni Nabokov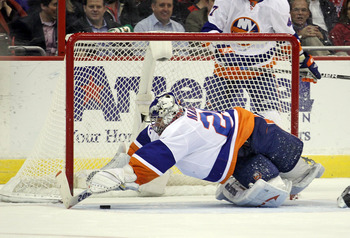 Bruce Bennett/Getty Images
He's been without a doubt the team's best goaltender this season.
He has a 16-16-1 record with a .920 save percentage and a 2.41 goals-against average. Those are amazing numbers, considering they got bloated in the last game in the 6-3 loss to Philadelphia. Even more amazing is that he has that record on a sub-.500 team.
Plenty of goals he's given up this year were because of breakdowns in the Isles defense. Some defensemen are still trying to adjust to the NHL, like Travis Hamonic and Dylan Reese.
He's stolen games for the team, like the one against Philadelphia, where he made 45 saves in the 1-0 shootout shutout, and earlier Saturday against Boston as well in the 3-2 win.
Along with a veteran presence, Nabby gives the team the best chance to win when he's on the ice.
The Isles need to sign him to a one- or two-year deal in the offseason. Even though he's 36, he still looks like he has plenty left in the tank.
2. Re-Sign PA Parenteau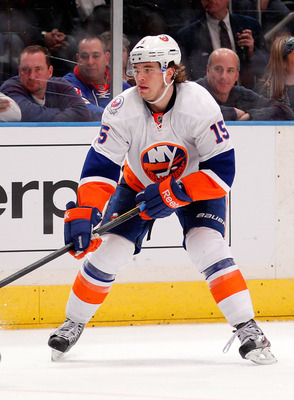 Paul Bereswill/Getty Images
PA Parenteau is another man who needs his contract renewed at the end of the season.
He has 15 goals and 44 assists. His 44 assists are tied for fifth in the NHL, and he has the second-most points on the team with 59, second only to John Tavares' 63.
He is a great player who can play and succeed on any line, is a chirpy player, and will stand up for his teammates—physically and vocally.
PA could be in line for a solid multi-year deal, which would really help the team next season and beyond.
3. Allow Michael Grabner and Nino Niederreiter Time with Moulson and Tavares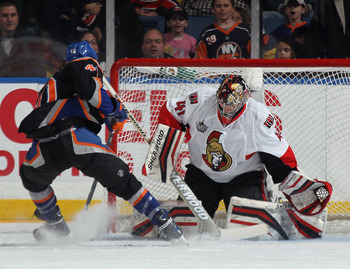 Bruce Bennett/Getty Images
Every Islander fan knows it: playing with John Tavares and Matt Moulson is a privilege. Whoever gets to play on the right wing alongside the dynamic duo always succeeds.
PA Parenteau is a great player in his own right, but playing with Matt and Johnny helps a lot. (Hey, you can even look at it the other way around, with PA helping the other two.)
But Parenteau also excels off the top line. In their stints with Tavares and Moulson, Kyle Okposo and Michael Grabner had their hot streaks. Coincidence? I think not.
Some things Jack Capuano has to do before the end of the season is get Grabs back on the top line for a while. Let him play well there, and build up his confidence, which probably falls when he gets stopped on a breakaway.
Grabs is a great player who gets many opportunities. He just needs to finish, and playing with JT and Moulson would help. It'd build up his confidence and maybe even make him a better player next season for the Islanders.
Another player that Capuano needs to get with JT and Moulson is Nino Niederreiter. He only has one goal this year, but that can be attributed to Capuano playing him with guys like Marty Reasoner and Jay Pandolfo.
Playing with superstars like JT and Matt would really help Nino develop into a better offensive player, and give him confidence entering his sophomore season.
4. Hire a New Head Coach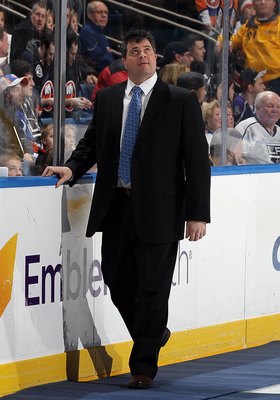 Jim McIsaac/Getty Images
Jack Capuano receives a lot of criticism. Some of it is too much, but he still deserves his share.
For starters, Niederreiter on the fourth line? Really Capuano?
The Islanders have immense talent. Yet, they have trouble scoring and rebounding. You need to attribute some of that to the coach.
Maybe he is too soft with them for the younger guys to learn. And when he does discipline, it's overkill. Remember Kyle Okposo being a three-game scratch earlier in the year?
The Islanders' younger, inexperienced players need a more experienced coach.
I'm not a fan of Ron Wilson, but he could fit the bill for the Isles.
5. Bring Up Some Guys from Bridgeport for NHL Experience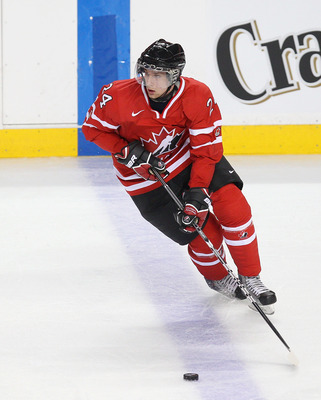 Calvin DeHaan, one of the Islanders more interesting prospects on Defense
Rick Stewart/Getty Images
Now that the Islanders have nearly lost out on the playoffs, they might as well let some of their prospects get their feet wet at the NHL level. Especially those who may be with the big club next year.
Calvin DeHaan is one of them. He had a game or two with the Isles, and should be given another brief NHL stint before next year.
Aaron Ness should come up for some more games. I was really impressed with him in his time with the Isles recently.
The Isles could also give guys like Matt Donovan, Ty Wishart and Justin DiBinidetto a chance to show their stuff in the NHL.
These guys are the future of the Islanders. If the Isles wanted to contend this year, we all know how much more they'll want to be in the playoffs next year.
Some of these guys will be with the big club next year. Might as well get them some experience now in the lost season.
6. Finish with a Low Place in the Conference to Get a Good Draft Pick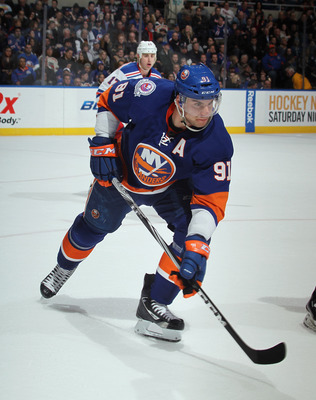 Bruce Bennett/Getty Images
Sorry, I know how familiar this sounds to Isles fans. But it's true. I'd rather come in dead last in the conference and get the No. 1 draft pick, then to miss the playoffs by one point and come in ninth place.
There are some good players in the draft this year, such as forwards Nail Yakupov and Mikhail Grigorenko, and defensemen Matthew Dumba and Ryan Murray.
If the Isles aren't going to be in the top eight, they may as well be in the bottom four.
This might not help them next season, but it should in their future, eventually.
And in a season like this, the Isles may as well look to being a playoff team next season.
Keep Reading

New York Islanders: Like this team?