Cleveland Browns: Why the Browns Cannot Let Robert Griffin III Escape
March 3, 2012

Jeff Zelevansky/Getty Images
The Cleveland Browns have not had a franchise quarterback since Bernie Kosar was marching down the field in brown and orange.
They had their chances in the draft in the past but made critical mistakes that set the franchise back many years, selecting Tim Couch and Braylon Edwards in drafts where Donovan McNabb and Aaron Rodgers were still available, and giving up a significant amount to draft Brady Quinn at the end of the first round. 
Last season, the Browns defense improved dramatically under defensive coordinator Dick Jauron. Joe Haden proved that he is among the NFL's best cornerbacks, and D'Qwell Jackson and his band of no-name linebackers came up with many big tackles at important points in the game.
While the Browns defense was ranked amongst the NFL's best, its offense finished third-from-last in points scored all year. The Browns running game was ineffective, as both Peyton Hillis and Montario Hardesty succumbed to injuries, and the right side of the offensive line was unable to keep Colt McCoy standing upright.
Even when McCoy had the opportunity to set his feet and make a pass, he had difficulty identifying open receivers and had accuracy issues. While I was initially willing to give McCoy a chance to prove he is an NFL quarterback, hoping that the Drew Brees comparisons would prove to be true, I now feel that all the critics of him when he was drafted were correct.
McCoy is too small, and he lacks the arms strength and accuracy to be an impact quarterback in the NFL. Granted, he has not had the greatest weapons since his arrival in Cleveland, but there is no excuse for winning only four games when your defense gives up the fifth fewest points all season and often leaves the offense with great field position.
Initially, I wanted the Browns to spend both of their first round draft picks on offensive skill position players, such as Justin Blackmon, Trent Richardson, Alshon Jeffery and Kendall Wright.
However, as the NFL playoffs concluded and the draft approaches, more and more was I convinced that the Browns need to get their franchise quarterback before their window of opportunity with this strong defense closes. 
The age old adage is that "defense wins championships." That may be true once you are in the championship game, but offense is what gets you into it. Of the top ten defenses in the NFL, only four of them made the playoffs: Cincinnati, Pittsburgh, Baltimore and San Francisco.
While Baltimore and San Francisco both made the Conference Championship, the Super Harbaugh Bowl never came to fruition because they lack superstar quarterbacks (and because Billy Cundiff cannot make a kick).
Tom Brady, Ben Roethlisberger, Peyton Manning, Eli Manning, Drew Brees, Aaron Rodgers. These six quarterbacks have won nine of the last ten Super Bowls, and only Roethlisberger has not won the MVP (his favorite receivers, however, did). In order for the Browns to win their first-ever Super Bowl, this is the kind of quarterback they need. Miss (again) and it sets the franchise back ten years. 
Enter the enigma known as RG3, Robert Griffin III, the Heisman-winning, funky sock-wearing, law school-applying, dual-threat quarterback from Baylor. Critics of Griffin claim that he is a run-first athlete who happens to be a decent passer akin to Michael Vick and Randall Cunningham.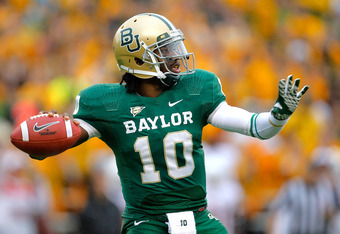 Sarah Glenn/Getty Images
The obvious question is: Since when is comparing a player to Michael Vick or Randall Cunningham a bad thing? (The answer is simply, it isn't.)  The next question is: Is comparing Griffin to Vick the best possible comparison?
When one compares Griffin's Heisman-winning season to Vick's last season at Virginia Tech, an obvious conclusion can be made. RG3 is a much better passer than Vick and prefers to pass while using his athletic gifts as a last resource.
In Griffin's senior year, he completed 72.4 percent of his pass attempts and threw for 36 touchdowns while only throwing six interceptions. Vick on the other hand, threw just nine touchdowns and seven interceptions while completing a pedestrian 54.2 percent of his throws.
The bottom line is this: If RG3 runs a 5.3 second 40-yard dash instead of a 4.3 at the NFL Combine, he's still a late-first or second-round draft pick. If Vick does not possess his athletic gift, he probably goes undrafted instead of first overall.
The best comparison to Robert Griffin is Donovan McNabb, who went second overall to Philadelphia after the Browns chose Tim Couch. In McNabb's senior season at Syracuse, he threw 22 touchdowns and five interceptions while completing 63 percent of his passes.
McNabb has a similar build to Griffin, and like Griffin prefers to throw first. When McNabb was playing for the Eagles, he played in a West Coast offense which was employed by Andy Reid, the same offense that former Eagles quarterbacks coach Pat Shurmur now employs with the Browns.
In an interesting video on NFL.com, Steve Mariucci teaches Griffin the basics of the West Coast system. Griffin, the law school hopeful that he is, easily grasps the complicated concepts and understands the system in no time. 
While it may take a lot to acquire him, as many teams are looking to trade up to pick No. 2 to draft him, Robert Griffin III is a must-have for the Cleveland Browns. The goal of composing a football team, or any sports team, is not just to simply make the playoffs, but to win a championship. Draft Griffin and the Browns championship climb gets a lot less steep.