New Orleans Saints Bountygate: Everyone Does It, Saints Just the Scapegoats
March 3, 2012

Chris Graythen/Getty Images
In a development eerily similar to the "Spygate" scandal of a few years back, the New Orleans Saints allegedly organized a bounty system in which players would get paid extra for big-time plays.
By big-time plays, I mean to say that players on the Saints were given a little more money to go after high-profile players with intent to injure.
In writing this article, I mean to make no attempt to condone what New Orleans did here, but I wish to, instead, make it clear that there is no reason to get up in arms about such a development.
It seems as though scandals only happen to the greats.
When Tiger Woods was caught cheating on his wife with a host of young, attractive women, sports fans took delight in bashing the once-great star.

When the New England Patriots were caught videotaping other teams, sports fans were all too eager to jump on the anti-Patriot bandwagon because we were witnessing a great team fall from grace.
After the scandals of Brett Favre and Joe Paterno broke, we did not hesitate to become consumed by the hype of former greats losing their greatness.
Now we sports fans are faced with a new scandal—the New Orleans Saints have been caught trying to intentionally injure good players on other teams.
As a writer who needs to focus on optimizing my titles for search engines and such, I have a bit of an inside view on how a story gets to be a story.
For example, when the Penn State saga began and all of the news about Jerry Sandusky's bad deeds came out, us writers realized early on that the story would die if we focused on just Sandusky.
Instead, the media made Joe Paterno the face of the whole story. People know Joe Paterno. People were interested to see JoePa fall from his pedestal.
Unless you were a more-than-casual college football fan, you probably didn't know who Jerry Sandusky was. He was a legendary defensive coordinator, sure, but he was not a publicized figure and he was certainly not fit to be the center of a media saga that could perpetuate itself.
As for the Patriots' Spygate drama, please be aware that a good number of teams in the NFL have partaken in videotaping their opponents' sidelines in the interest of stealing valuable information.
Not to say that the Cleveland Browns were among those teams, but tell me which headline sounds more enticing for the average reader:
Cleveland Browns: Perennial Cellar Dwellers Caught Stealing Signals From Panthers, Team Only Loses by 2 Touchdowns
or
New England Patriots: Reigning Super Bowl Champions Caught Stealing Signals From Rival New York Jets; Could Their Dynasty Be a Total Fraud?
The choice is obvious.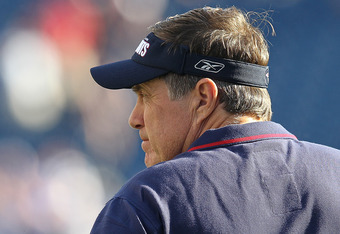 Jim Rogash/Getty Images
While I'm sure that a host of teams videotaped their opponents, the Patriots happened to be the best team caught doing so. As such, they became the face of the scandal.
In the instance of the Saints' bounty scandal, let's not jump to conclusions and concentrate our hatred on this organization specifically.
If anything, if I could make a bold prediction, the media will turn the white hot light of scandal from defensive coordinator Gregg Williams to the more recognized head coach of the Saints, Sean Payton.
As more and more details leak out about how the Saints are such a bad organization and how they should receive so many sanctions, realize that the team is certainly not the only one in the NFL to do something like this.
They're just the best team to do something like this and so they'll be punished accordingly.
Would you rather see the Browns or the Saints caught up in a scandal like this?
Which team would it be more interesting to see something bad happen to, the reigning NFC South champions whose quarterback just broke an all-time record, or a lowly cellar dweller team?
I'm not trying to intimate that the Browns did anything, I'm just using them as an example of a rather uninteresting team to publish a scandal on.
Either way, this scandal will carry on. Sanctions will be imposed, draft picks will be lost and the Saints will have a tough go of repairing their image, but look at the bright side, Saints fans.
The media has just recognized your team as one of the best and most interesting in the NFL. Enjoy that while it lasts.