Philadelphia 76ers: Jrue Holiday Is Killing My Fantasy Team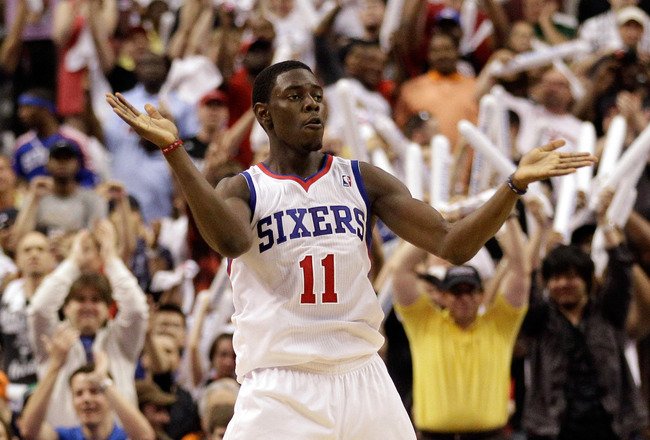 Rob Carr/Getty Images
Jrue Holiday of the Philadelphia 76ers is killing me in my fantasy basketball league. His shooting percentage from the floor, .427, has really dragged me down in that category. I drafted him as the 40th player off the board, which seemed about right at that time.
But I could have waited a few rounds and had Ty Lawson instead. Lawson has a shooting percentage from the floor of .473 and has 40 more assists than Holiday. Even further down in the draft sequence, Tony Parker is shooting at a .455 clip and has over 100 more assists than Holiday.
Holiday has more steals than these other two points guards, but that doesn't make up for the other categories.
So let's look at how other key 76ers players are performing for their fantasy managers this year. Since the 76ers use their bench heavily and the scoring gets spread around, you won't find Sixers players among the highest ranked players in fantasy world. But just as they do for Doug Collins, they can be productive in filling in specific needs for your team.
Underperformer: Elton Brand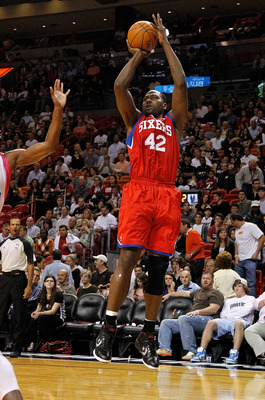 Mike Ehrmann/Getty Images
The condensed season has been tough on Elton Brand. He has played through an injury to his hand. With Spencer Hawes on the shelf and other frontcourt teammates inconsistent, Brand has had to try to be the stopper inside some nights, and this has taken its toll. Overall, he has delivered less value than his managers would have expected.
His points per game are down to 10, compared with 15 last year. Rebounds per game are under seven. But in the last two games, against the Thunder and the Warriors, he has recorded a double-double. So maybe the All-Star break gave him time to rest and have his hand recover.
At age 33, you have to wonder how much gas Brand has left in his tank for the last two months of the season.
Performing as Expected: Andre Iguodala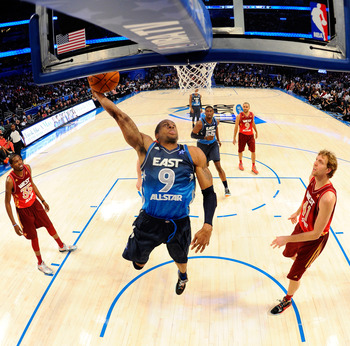 Pool/Getty Images
Andre Iguodala gives managers the flexibility of starting him either at shooting guard or small forward. If you play him at guard, his 239 rebounds would put him at the top of that category for all guards. His 71 steals is third best among guards. This is why Doug Collins frequently has him defending the opponent's best guard or small forward.
His free throw percentage of around .600 is his biggest liability. But overall, Iguodala is probably producing right around the level expected with his average draft position around 40.
Overperformer: Lou Williams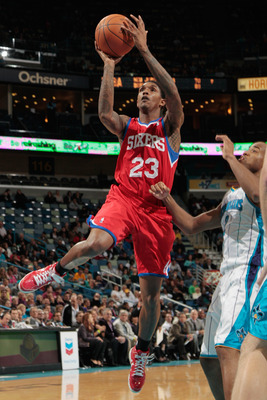 Chris Graythen/Getty Images
"Sweet" Lou Williams has been a diamond in the rough for those managers that spent a late-round pick on him. In a 10-team league, he might have been drafted in the 13th or 14th round. But he is producing like a player drafted in the sixth or seventh round.
If you want points, Williams is your man—Doug Collins doesn't count on Williams for defense. If he gets a steal, block or rebound, it is an afterthought. But in the fourth quarter when the game is on the line, Williams can deliver big points on nights when he is hot. In the last game against the Warriors he did just that. In the previous game against the Thunder, he couldn't buy a basket during crunch time.
If you could ever accurately predict which nights Williams will be hot and which ones he will not, he would make a super fantasy player. But since you can't do this, his overall shooting average from the field of near .400 can be a big liability.
Overperformer: Thaddeus Young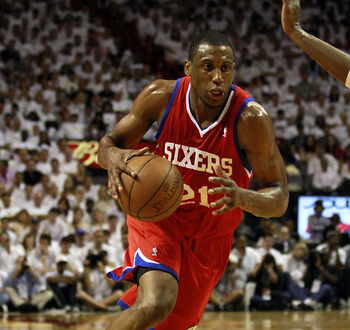 Marc Serota/Getty Images
Thaddeus Young was probably selected in the 10th or 11th round in a 10-team league. He's delivering value comparable to players drafted in the sixth or seventh rounds. So he has been a pleasant surprise.
His field goal shooting average of over .500 has been his biggest contribution. He might raise your average substantially and even help you win that category.
Young is ranked as the ninth best small forward, so that is the best slot for you to use him.
Keep Reading

Philadelphia 76ers: Like this team?