Los Angeles Lakers: Why Trading for Dwight Howard Is a Bad Move
March 3, 2012

Ronald Martinez/Getty Images
Trading for Dwight Howard simply isn't worth it for the Los Angeles Lakers.
Throughout the entire 2011-12 NBA season, the Orlando Magic and Lakers have been linked with speculation of Howard shipping west.
It hasn't happened yet and it shouldn't happen at all.
The entire situation has been a headache for the Lakers. One they should just walk away from.
Here's why.
Magic ownership is difficult to work with
Howard is justifiably one of the biggest names and best players in the NBA. But his current employer seems unwilling to part with him.
At the beginning of the season, though Howard made it clear he wanted out, management held firm.
Whether it's stubbornness or fear of fan backlash, owner Richard DeVos Sr. claims the reservation over trading the superstar center has nothing to do with the former dealing of Shaquille O'Neal.
"I don't want to trade him," DeVos said. A blunt answer, it still doesn't provide much reason for the hesitation.
But if Howard wants to leave, has no intention to resign and the team could get something special in return, why not pull the trigger on a move?
The Magic could have already gotten a package revolved around Andrew Bynum but rejected it. Losing Howard in the offseason nets the Magic nothing.
DeVos is making decisions based on his feelings rather than what is best for the franchise.
Lakers management shouldn't even bother anymore with Magic ownership. The likelihood of getting anywhere dealing with such childish behavior just isn't likely.
Dwight's just as stubborn
First he wants to leave the franchise. Then in typical player-demanding-trade fashion, he backed off the statements.
Then in January amid continued speculation, Howard has "no thought" on trades. Really Dwight? None.
A few days ago John Ireland told Colin Cowherd:
"[Dwight Howard] will not sign an extension. If the Lakers trade for him, they're getting him for six weeks and they would have six weeks to convince him to stay for a long-term deal."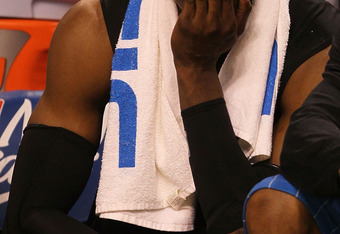 Jim Rogash/Getty Images
Assuming the Lakers trade for Howard, like Ireland said, they have six weeks to convince him.
It's just too risky. He's flip-flopped enough as it is whether he truly wants to stay and play for Orlando or not.
At this point in his career, Howard lacks the maturity to confidently make big decisions. He's obviously bothered by the comparisons to Shaq, who also left Orlando for Los Angeles with much success.
"I want to start my own path," Howard told the Orlando Sentinel.
In an attempt to forge his own legacy, Howard just looks confused.
Getting him to Los Angeles is one challenge. Keeping him is yet another. Is the reward worth the risk?
L.A. would have to give up too much
The Lakers have already offered and been rejected on a deal including Bynum.
Bynum and Howard are considered the NBA's two best centers. Swapping the two wouldn't solve much for the Lakers. The probable draft pick L.A. would have to send would hurt the future.
In return, the Lakers are looking at a huge contract to take on, such as Hedo Turkoglu's.
Even swapping out Bynum for Gasol would still be too much. The returning contracts are too high and the draft picks are too valuable. Especially factoring in Kobe Bryant and Derek Fisher's ages and the lack of depth on the current bench. Every draft pick they can keep will be valuable.
There's bigger needs to fill
As I just stated above, Bryant and Fisher aren't getting any younger. The Lakers must be in search of a young and talented point guard to keep up in the Western Conference.
Chris Paul would have been the answer, but instead went to Los Angeles' other team.
The need for the Lakers still remains.
At the tail end of a 15-year career, Fisher averages under six points per game and 3.5 assists. After Fisher the best option is eight-year veteran Steve Blake. His points per game are similar, but he offers nothing else in the form of assists, shooting percentage or defense.
Conclusion
Interchanging arguably the second-best center (Bynum) for the best (Howard) doesn't boost the Lakers. Giving up draft picks, taking on outrageous contracts and doing nothing to answer the Lakers' point guard and bench woes makes a trade for Howard a mistake.
The Los Angeles Lakers need to stay away from this trade. A six-week tryout for a head case isn't worth the repercussions.