NCAA Bracket 2012: 8 Most Overrated Teams in NCAA Tournament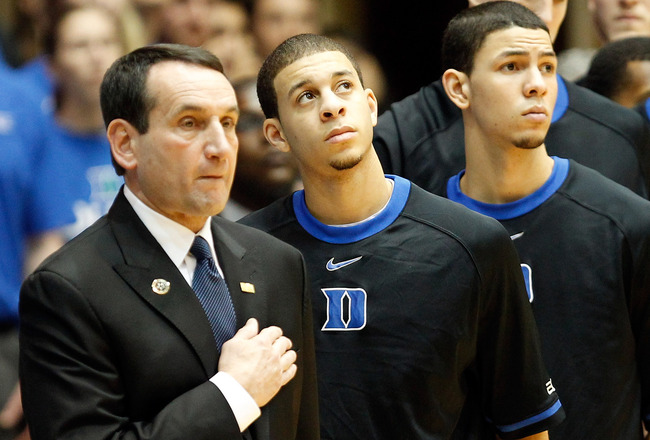 Streeter Lecka/Getty Images
There has never been a more overrated team in the NCAA Tournament than the Duke Blue Devils. Some years they are great and deserving of all the appeal. Most years, they are a line or two too high on the seed line.
Once again, this season it appears the Blue Devils are more the products of a relatively weak upper echelon of college basketball teams. But the Blue Devils are not the only overrated teams in this tournament.
Heck, it wouldn't be too difficult to pick apart every team in the top four seeds, save for Syracuse and Kentucky.
Instead, let's go ahead and look at the teams who truly are overrated.
Florida Gators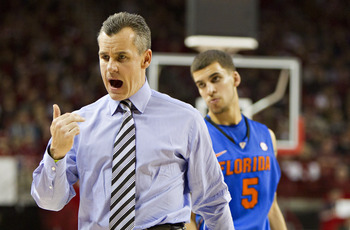 Wesley Hitt/Getty Images
The Gators are overrated. Billy Donovan's team is talented, but still very young. Though they played Kentucky very tough in the SEC Tournament, they also lost to Tennessee twice and at Georgia and at Rutgers in addition to losing to some very good teams.
At 23-10, the Gators record may not be indicative of the quality of this team, or perhaps as Bill Parcells says, "You are what your record says you are." In the Gators' case, the latter seems to be true.
Sure, Bradley Beal has been an outstanding freshman and Patrick Young is great down low, but the rest of this squad seems to be lost in how to work within the confines of those players' talent.
I admit there's a chance I am biased, having been a bitter UCLA fan prior to my attending San Diego State (Florida knocked UCLA out twice in the Final Four while Joakim Noah and Al Horford were in Gator-land). But this team really just seems to be missing a piece.
Duke Blue Devils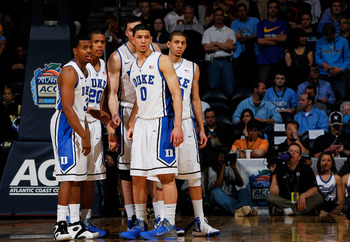 Kevin C. Cox/Getty Images
Almost always the most overrated team in the tournament, this version of the Duke Blue Devils is the epitome of overrated. Duke won some big non-conference games, but also had some bad losses at home against Florida State, Miami and North Carolina, which never happens to a Duke squad.
The Plumlee brothers and Austin Rivers are fine players, but this squad simply doesn't possess the cohesion that many Duke teams have had.
Dicky V probably said it best yesterday when he said he could see this Duke team making a run or he could see them losing in the first round. I don't usually agree with a lot that he says, but in this case I most definitely do.
North Carolina Tar Heels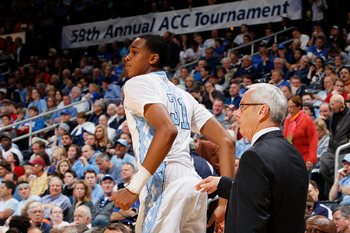 Kevin C. Cox/Getty Images
Despite possessing some amazing talent and a great coach, something is a little off with this Tar Heels squad. I could easily be wrong, but I don't trust this squad even with all their talent.
Yes, they were missing John Henson on Sunday in the ACC Championship Game, but the Tar Heels lacked continuity and were lucky to stay in that game with Florida State. As good as Kendall Marshall is, he's still young and wasn't facilitating the way Heels fans would like him to.
Indiana Hoosiers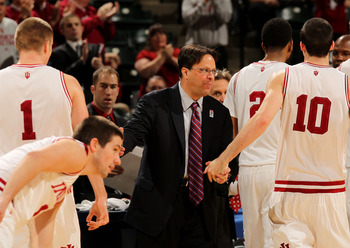 Jonathan Daniel/Getty Images
The Indiana Hoosiers have had a great season, a comeback season, no doubt. But this team has very little chance at March success in 2012. After losing point guard Verdell Jones III to an ACL tear on Friday, this team is pretty much down to one elite player.
Tom Crean has had great tournament success in his past at Marquette, but has yet to bring the Hoosiers through an NCAA Tournament. The guess here is that his first run through the tournament this season with the Hoosiers will be relatively unsuccessful.
Next season, the Hoosiers are supposed to bring in some elite talent. If Cody Zeller stays at Indiana (as he most likely will), the Hoosiers figure to be prepared to make a great run in 2013.
Kansas Jayhawks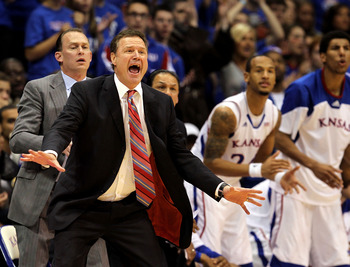 Jamie Squire/Getty Images
Bill Self's squad was probably the most talented group in college basketball in 2011. In 2012, they're good, but their talent level is significantly lessened in comparison. Thomas Robinson is great along with Jeff Withey and Tyshawn Taylor.
But Robinson with the Morris twins, Taylor and some of the other role players Kansas possessed a season ago made for a better overall team. The Jayhawks may have been exposed this week in the Big 12 Tournament by Baylor.
And as I've been studying some of the history of the tournament, Kansas has been the victim of four of the greatest upsets of the past decade. That's never a good position to be in.
Louisville Cardinals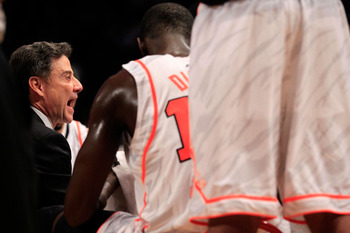 Chris Trotman/Getty Images
It would be easy to assume that because Louisville had a similar run to Connecticut from a season ago that they are now a favorite to go the distance in the NCAA Tournament. There are a few key differences between the two teams.
First, Louisville doesn't have a player equal to the abilities of Kemba Walker. And second, they almost totally reinvented their team during the conference tournament. Once a couple teams have the opportunity to review the film of the Cardinals, they'll be able to come up with a suitable game plan for slowing down this overrated squad.
Rick Pitino is a great coach. But the talent on this Cardinal squad is limited at best. Peyton Siva is their best player, and unlike most Pitino squads where that guy is a likely lottery selection, Siva may not even be picked up by an NBA franchise.
This is a year where the Cardinals would actually be more of a sleeper if they do make it all the way. At least that would have been the case until they went and won the Big East Tournament.
Michigan Wolverines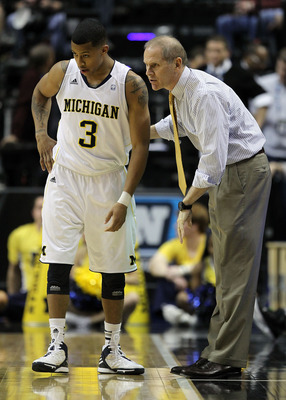 Andy Lyons/Getty Images
Though the Wolverines have undoubtedly had a tremendous season and have great talent at the guard positions—Tim Hardaway, Jr. and Trey Burke—and some good shooters, something is missing when you watch this team.
They struggled against Minnesota before finally winning in overtime on Friday in the Big Ten quarterfinals then got destroyed by the Ohio State Buckeyes on Saturday in the semis.
A year ago, the Wolverines gave a good Duke a real run for their money in the second round of the tourney. For some reason, this squad seems less likely to make a significant tournament run than last season's version.
Georgetown Hoyas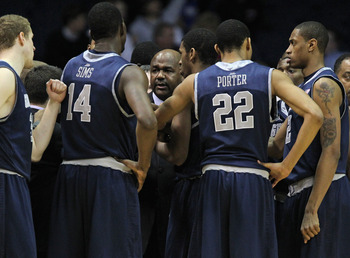 Jonathan Daniel/Getty Images
John Thompson III has done a wonderful job with this Georgetown program, bringing it back to a level of prominence nearing that of his father's Georgetown teams. He even once took them to a Final Four.
And after a disappointing end to their season in Round 2 to VCU a season ago, Thompson's squad looked to be in a rebuilding season in 2011-12. But Thompson rallied his team quickly and got them to this point: a three-seed in the NCAA Tournament.
Though this Hoyas squad is very talented, it's also very young. None of these players have played significant minutes in March. Of course, that's the same issue staring John Calipari in the face this year and has been all three seasons he's been in Lexington. But he's proven he knows how to handle such a quandary.
Given Thompson's impressive resume, it's hard to discount Georgetown. Yet, their overall record in the tournament has not been great aside from that Final Four team. Put it this way, of any of the five teams from the Big East seeded in the top four, Georgetown is the one I trust the least.
Keep Reading