Tennessee Football: The Assistant Coaching Carousel of Derek Dooley's Tenure
March 3, 2012

At the beginning I expected a few departures from the Tennessee Volunteers.
You know, an assistant here or there and a recruiter specialist who let one too many go astray in as many years.
But I would have never thought that close to a dozen people would have walked away from Neyland Stadium in such a short amount of time.
It all starts with Bennie Wylie.
Dooley did manage to hire one of the nation's most highly recruited strength and conditioning coaches away from Texas Tech. He turned around the Red Raiders' reputation as being dumpy and out of shape to physically elite athletes respected even by the Longhorns. Wylie was on the verge of doing things for the Vols, but strangely enough a bigger check was written, and he all but skipped back to the Lone Star State.
And then there was Chuck Smith.
Everybody wearing orange sighed fresh air as Dooley hired his buddy and the former Vol. The former DE took the reins from Lance Thompson and threw himself into coaching the DL.
Alas, that lasted one whole season; one year and a day later, Smith and Dooley reached a "mutual decision." And after a rather odd interview with reporters, Smith was gone as quickly as he arrived. 
Then there was Harry Hiestand, who has arguably one of the better OL resumes in the business. Surely there was something that could be done to keep him around.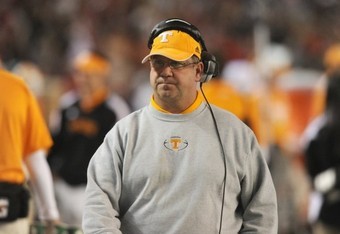 Ahh don't worry—he's not that good anyway.
Where did he go again? Murray State? Richmond?
Oh, Notre Dame, huh? No kidding.
Uh, coach Dooley, why did we let Harry go again?
So, what else can happen?
Well, Dooley moved Lance Thompson back to coach the DL, and as he vacated his responsibility to the linebackers, DC Justin Wilcox brought in his old NFL buddy and former Tennessee Titan Peter Sirmon.
Alrighty, then let's give it a year and see what happens. 
At least Charlie Baggett is still luring in WRs.
(Footsteps, more footsteps, door slams shut.)
Charlie? Charlie?
And just when you start to have a little more faith in special teams, coach Eric Russell heads for Washington State.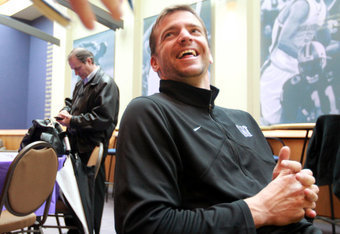 Gee whiz, I hope that's the end of it.
Well, at this point if you're a coach, you buckle down and utilize your best weapons—which would be using smarter than the average Wilcox to beef up the Vols' defense. Things should actually be in place for that gelling to take place that everybody keeps talking about.
Wait, who's on the phone? Really, Washington? Ahh nobody wants to be a Husky, relax.
Justin? Justin?
Peter?
Not only did Wilcox accept Washington's offer but he took the newly appointed Sirmon with him and smiled as he did it.
Regrets?
No, not really. Gatlinburg is cool, y'all take care now. Ya hear?
Well, at least one constant remains: Lance Thompson, the most faithful and most appreciated Kiffin hire. A substantial defensive expert that you carry with you until you hang up your whistle.
He was one of two coaches held out from Lane Kiffin, and really the best recruiter on the staff. 
Hey Lance! Listen up! It looks like we need a DC coordinator now that Justin flew the coup.
Hmmm, Lance whadda ya think?
Yep, I was thinking Sal Sunseri too!
Lance? Lance?
So. at last we're back to three members of the original Dooley posse: secondary coach Terry Joseph, OC Jim Chaney and QB/WR coach Darin Hinshaw.
So now here we are with the only replacement, or rather transition I could have agreed with. I really don't know as much as I would like to know about Ansley, but from all the things Sunseri says about him, the DBs should be able to wear an "S" on their chests in place of numbers. And T. Joseph never really did anything concrete to prove any improvements on athletic talent. The DB's always looked sluggish and more often than not they looked unmotivated. Don't believe me? http://www.youtube.com/watch?v=BzqzOfYDBBE
And a coach would never talk up an assistant to stave off the press, right?
And then there were two.
Hinshaw and Chaney are the last remaining pieces on the board. The question is whether or not they will become pawns or knights. You are asking the same questions.
After these two men there is only one person left to shoulder the sole responsibility, and it isn't AD Dave Hart.
So, is Derek Dooley in checkmate? I don't think think so, but he is definitely in check, and down to a bishop and a knight, at best (excuse my chess pun).
Time is running out, and a less-than-stellar recruiting campaign hasn't earned him any points in the Vols' eyes. Regardless of how much adversity he has faced, it all comes down to winning, and that has not been easy for Dooley to overcome.
A whole new posse (with the exception of Hinshaw and Chaney) is in town, so expectations are at an all-time high. Win big or go home.
We all get it, you know the good things you've done. That's awesome and all, but winning is why the stadium gets filled. It's not to see how close the Vols came to beating LSU, the Gators or the Tide.
It's the 11th hour in Knoxville, coach. You know that, right?
FC writer retraction: I stated earlier in the first release that former Vol RB coach Eddie Gran (now at FSU) was on staff at the time of former Vol HC Lane Kiffin's departure. This was inaccurate. Eddie Gran was hired 12/06/2009 and L. Kiffin took over for Pete Carroll on 1/12/2010.