Sporting vs. Manchester City: 6 Things to Look for in Europa League Tie
Alex Livesey/Getty Images

Manchester City's European adventure continues this week as they travel to Portugal and take on Sporting Clube de Portugal.
Sporting, one of "trés grandes" (the big three) in Portugal, are a club with a rich heritage and substantial footballing pedigree.
It promises to be another interesting encounter for the Citizens in Western Europe, and here are six things to look out for during the tie.
Begin Slideshow

»
Alex Livesey/Getty Images

Manchester City will travel to Portugal and take on a new-look Sporting CP side with two things in mind.
Their affirmed desire to win the Europa League must be balanced with their remaining Premier League games, and a tough trip to Swansea just days after the encounter will restrict Manchester City manager Roberto Mancini when selecting his squad.
It seems that Mario Balotelli and Sergio Aguero are the first-choice strike pairing, so expect to see Edin Dzeko lead the line in Lisbon.
We may also see a rare starting appearance for Kolo Toure.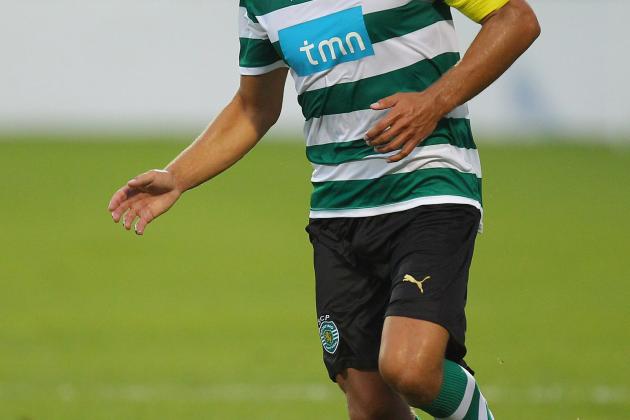 Tom Szczerbowski/Getty Images

The current Sporting CP team is very different than the one we saw just two or three years ago.
A takeover has seen a completely new influx of players, but most will be familiar to European football aficionados.
Matias Fernandez, Diego Capel, Emiliano Insua, Elias and Stijn Schaars are all names that fans are familiar with. They are also all names who fans know can be dangerous.
Daniel Carrico is a young central defender who could be a star in the coming years.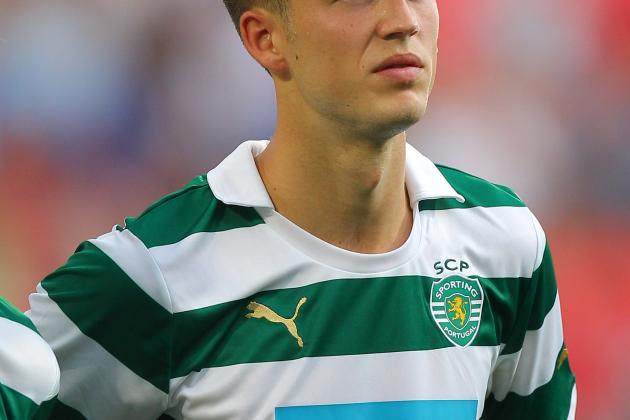 Tom Szczerbowski/Getty Images

Sporting CP carry a number of attacking threats throughout the team. The main threat in the lineup is former Utrecht striker Ricky van Wolfswinkel.
The one-cap Dutch star has managed to maintain a great scoring record throughout his career, and his time in Portugal has been prolific.
The goal-scoring burden will fall on his shoulders during the first leg, as Sporting will look to gain a sizable advantage on home soil.
The whole of Europe sat up and took note when Manchester City comprehensively destroyed FC Porto at the Etihad Stadium.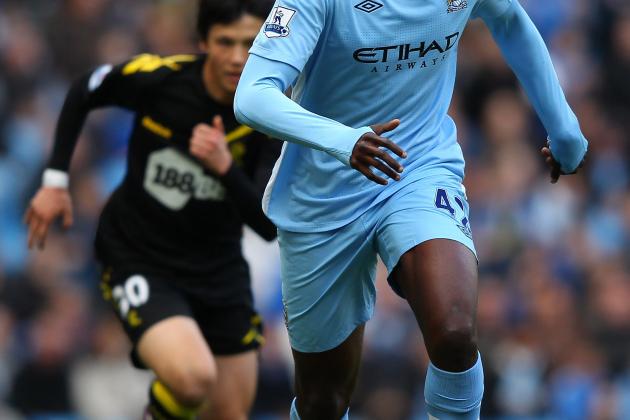 Alex Livesey/Getty Images

Manchester City may well rotate their squad and give the fringe players a go, but there's one player the Blues just can't cope without.
Yaya Toure will likely be utilised in full by Roberto Mancini, and you can comfortably expect him to be the driving force in a deadly efficient City midfield.
Most European leagues are tame in comparison to the intensity of the Premier League, and the Ivorian monster takes that intensity to an entirely different level.
The Portuguese side won't know what's hit them.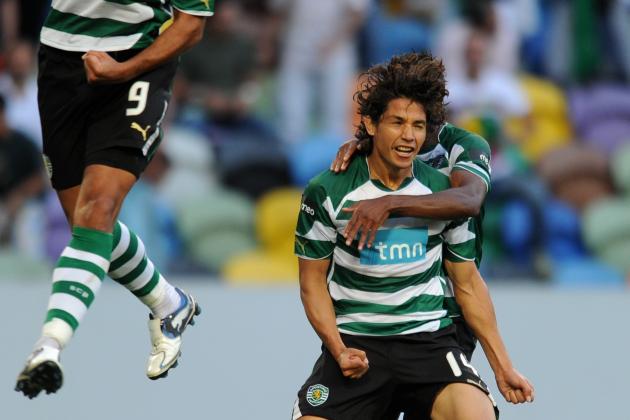 EuroFootball/Getty Images

This game will be won or lost on the flanks.
Both teams have great ammunition on the wings and will call upon that in order to emerge victorious from this game.
Sporting have both Matias Fernandez and Elias, who can operate wide, with Fernandez in particular posing a huge threat due to his hammer of a left foot.
Manchester City will likely start Adam Johnson and Samir Nasri in Portugal, and they both carry sizable danger themselves, either hugging the line or cutting inside.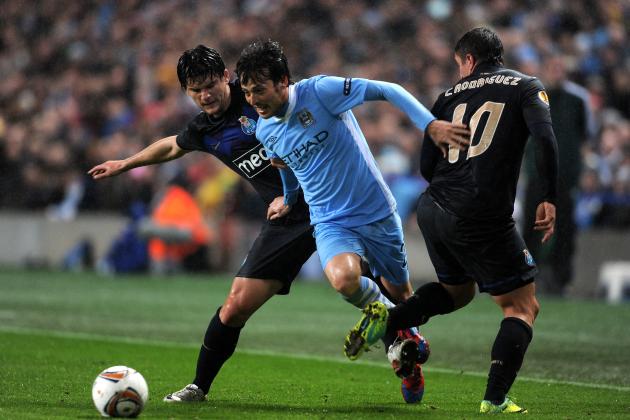 Michael Regan/Getty Images

Looking at the matchup objectively, you'll be hard-pressed to find anyone who will disagree with my conclusion; Manchester City will be comfortable.
Whether it's a win or a draw, City will almost certainly head back to Manchester with a good away result and an away goal to help their cause.
During the Citizens' last game in Portugal, it seemed FC Porto weren't playing with any impetus or urgency to get the home win. It was almost as if they hadn't seen City's immense, unbeaten year-long record at the Etihad Stadium.
Expect a good-quality, fast-paced match between two talented sides, but it's the boys in blue who will come out of this tie with the upper hand.