Ron Wilson Fired: Randy Carlyle Era Begins for Toronto Maple Leafs
March 3, 2012

Richard Wolowicz/Getty Images
The result wasn't as surprising as perhaps the timing.
On Friday night, Toronto president and general manager Brian Burke fired his longtime friend Ron Wilson as head coach of the Maple Leafs.
"It became obvious to me in the last week that we needed to make a coaching change if we wanted to salvage the season," said Burke addressing the media on Saturday morning at Bell Centre prior to the team's game against the Montreal Canadiens.
At the same news conference, Randy Carlyle was introduced as the 28th coach in the Leafs' history.
Burke and Wilson have known each other since 1973 when they were roommates at Providence College in Rhode Island and teammates on the school's hockey team, the Friars.
Even as the Leafs' current losing streak reached six games with a frustrating defeat in Chicago on Wednesday, there appeared to be little indication that a change behind the bench was imminent. As early as the morning of Wilson's firing, the Leafs players were put through a high-tempo practice under their now-former coach's watchful eye.
However, Burke had made up his mind by Wednesday—the day revealed to be the point at which Carlyle was first approached about the job. "It would be cruel and unusual punishment to let Wilson coach another game at Air Canada Centre," said Burke whose team had been booed off the ice under the relentless chants of "FI-RE WIL-SON."
While emphatically stating his belief in the Leafs' chance to make the playoffs, Burke defended the timing of the move by noting that the team would gain an extra month of experience under Carlyle's guidance.
Burke had also considered assistant coaches Greg Cronin and Scott Gordon as well as Marlies coach Dallas Eakins and NHL veteran bench boss Marc Crawford for the post.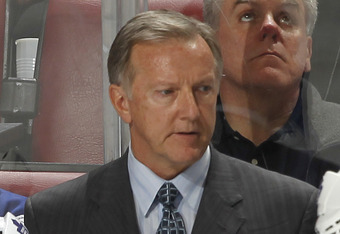 Joel Auerbach/Getty Images
Ultimately, the job went to Carlyle, who guided the 2007 Anaheim Ducks to a Stanley Cup championship with Burke as general manager.
"The team is a little tense right now," said Carlyle who first met with his new players on Friday night. "As an opposing team, they were able to prove to me that they could skate. That's what they have to get back to, they have to get back on their horse and start to skate, and feel better about themselves than they do right now."
Carlyle made immediate amends to winger Joffrey Lupul, who earlier in the season complained about being misused by the one-time Ducks coach in Anaheim between 2009-11.
"(Lupul) was right. I made a mistake. We made the mistake of not putting Lupul at left wing. He came off pretty dramatic back surgery, he had a number of infections and I thought he may never play again. I take responsibility for not putting him at left wing in Anaheim. That's water under the bridge."
In Carlyle, Burke says his new coach shares a philosophical preference for rough teams. "He has clearly-defined tasks, he's demanding and hard on players, and he likes a physical game," said Burke.
The odds aren't in favor of the Leafs accomplishing the monumental task of earning a playoff berth.  They sit five points out of the eighth spot in the Eastern Conference and have to pass three teams in the standings. Toronto would have to win about 12 of their remaining 18 games to finish with 89 points—a borderline total for a postseason-bound team at best.
Carlyle refused to place his focus on anything but this evening's game where he'll make his coaching debut with the Leafs, the team that drafted him as a defenseman in 1976.
"We have to find a way to energize the group," said Carlyle. They haven't lost their skills, they just need to rekindle their spirit."
In accepting part of the blame for the team's struggles, Burke said everyone had to look in the mirror and say 'I'm at fault.'
For the final month of the season, Wilson can no longer be used an excuse. It's now up to the players to perform.