NCAA Tournament 2012: Who Will Grab the Top Seeds in March Madness?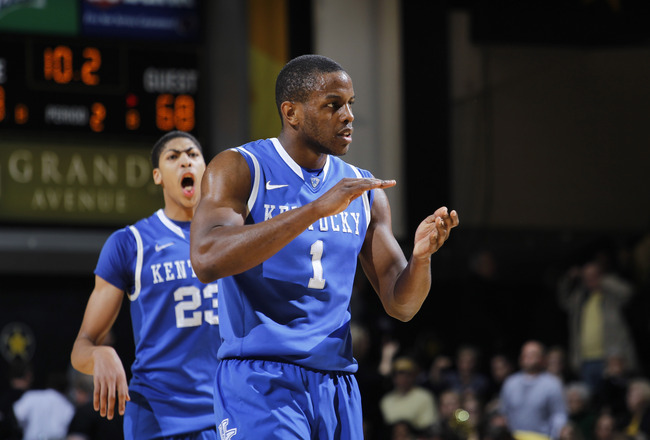 Joe Robbins/Getty Images
Selection Sunday is only eight days away, and the major conference tournaments are about to commence. Thus, it is time to start making some bracket predictions.
A few observations on the surface: I believe Kentucky and Syracuse are a step above the rest. However (as we all are well aware), this does not always translate to success in the NCAA tournament. I expect plenty of upsets this year, as the field of 68 teams will be as deep as it has ever been.
Here are my predictions for the top four seeds in all four regions.
South (Atlanta)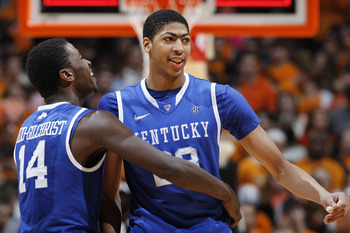 Joe Robbins/Getty Images
No. 1 Seed (Louisville): Kentucky
Barring an unexpected upset in the SEC tournament, the No. 1-ranked team in the nation will receive a No. 1 seed in the NCAA tournament. The Wildcats' starting five could be the best in the nation, and Anthony Davis is an absolute beast on both ends on the floor.
No. 2 Seed (Omaha): Missouri
I love the way Missouri plays. It is undoubtedly undersized almost every time it steps on the court, but it plays with a tremendous sense of poise. Marcus Denmon has developed into one of the most prolific scorers in the nation, and Phil Pressey is something special.
No. 3 Seed (Pittsburgh): Michigan
The Wolverines have been playing well for coach John Beilein. Their offense is predicated upon multiple off-ball screens and cuts to the basket, which has proven to be very effective. Trey Burke is a leading candidate for Big Ten Freshman of the Year, Tim Hardaway Jr. is an effective scorer and senior Zack Novak plays as hard as anyone in college basketball. I expect Michigan to make some noise in March Madness.
No. 4 Seed (Portland): Wisconsin
Right now, I have Wisconsin in as the No. 4 seed, but this could easily fluctuate depending on its performance in the Big Ten tournament. If Wisconsin gets knocked out early and Notre Dame (No. 5 seed) makes a serious run, these two teams could easily flip-flop.
East (Boston)
Chris Chambers/Getty Images
No. 1 Seed (Pittsburgh): Syracuse
The Orange have looked dominant throughout the season. Top-to-bottom they have outstanding talent and they play fantastic defense. Syracuse looks poised to make a run at the NCAA title.
No. 2 Seed (Greensboro): North Carolina
As of today, UNC is slated in the second seed. However, if the Heels take down Duke Saturday, I will move them to the No. 1 seed and move Duke to the No. 2 slot. UNC has tremendous length, an incredible distributor in Kendall Marshall and a great scorer in Harrison Barnes. Notice the location of their first two games; this will certainly give either UNC or Duke a huge advantage.
No. 3 Seed (Nashville): Georgetown
The Hoyas came into the season with very little expectation but have surprised many with their success in the always difficult Big East. They play tenacious defense, and their senior guard, Jason Clark, is excellent.
No. 4 Seed (Portland): Wichita State
The Shockers have shocked a lot of people this season. At 27-4, they are the best mid-major team in the country. They have a talented 7'0" center in Garrett Stutz and a solid point guard in Joe Ragland.
West (Phoenix)
Streeter Lecka/Getty Images
No. 1 Seed (Greensboro): Duke
As I said with UNC earlier, this seed depends on the outcome of the game Saturday. Right now, Duke's road victory over the Tar Heels earlier in the season has vaulted it to the No. 1 seed. The Blue Devils worry me for a number of reasons, starting with their defense. I would not be surprised if they were the first top seed knocked out of the tournament.
No. 2 Seed (Louisville): Ohio State
Ohio State had its eyes on a No. 1 seed, but a loss against Wisconsin pretty much removed that possibility. Albeit, the Buckeyes are an extremely dangerous team. Jared Sullinger is a force down low, Aaron Craft is a good point guard and William Buford can be dangerous from outside. Don't be surprised if Ohio State is the team that comes out of the West.
No. 3 Seed (Albuquerque): Baylor
Baylor was long considered to be one of the No. 1 seeds in the NCAA tournament, but it lost both conference games to Kansas and Missouri. A loss to Kansas State a few weeks ago dropped it even further to the No. 3 seed.
No. 4 Seed (Nashville): Indiana
Tom Crean is definitely a candidate for National Coach of the Year, as the Hoosiers look like an entirely new team this season. Indiana has impressively knocked off the No. 1, No. 2 and No. 3 seeds this year (Kentucky, Ohio State and Michigan State, respectively). The Hoosiers are a dangerous team, however they do struggle away from Assembly Hall.
Midwest (St. Louis)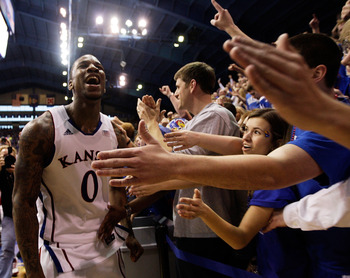 Jamie Squire/Getty Images
No. 1 Seed (Omaha): Kansas
The Jayhawks are the best team in the ultra-competitive Big 12 Conference. Thomas Robinson and Tyshawn Taylor could be the best tandem in the nation, and Jeff Withey has grown into a defensive force (averaging 3.2 blocks per game). Kansas will be a tough out.
No. 2 Seed (Columbus): Michigan State
The Spartans are looking to capture yet another Big Ten title, and can do so with a win over Ohio State on Sunday afternoon. Draymond Green should win Big Ten Player of the Year, and Keith Appling is a talented point guard. I have come to learn, never doubt Tom Izzo.
No. 3 Seed (Columbus): Marquette
Marquette has been one of my favorite teams to watch this season. Darius Johnson-Odom is one of the most underrated players in the country, and Jae Crowder has crept into the conversation for the Big East Player of the Year. Keep an eye on the Golden Eagles.
No. 4 Seed (Albuquerque): Louisville
The Cardinals sometimes struggle on the offensive end, but their defense is suffocating. Peyton Siva is a great leader and does a fantastic job at getting his teammates involved. On the surface, they seem like the most vulnerable seed in this bracket.
Keep Reading