Oakland Athletics: Preseason Moneyball Moves Will Help the A's Contend
March 3, 2012

Thearon W. Henderson/Getty Images
This year's Academy Awards featured blockbuster film Moneyball nominated for numerous Oscars, including Best Film. The Brad Pitt portrayed Oakland Athletics general manager Billy Beane exemplified both an audacious general manager and a rebel fighting a proven system.
But while Moneyball might have been a winner in the box office, it remains a question whether or not Beane's bargain basement statistically approved squad will be winners on the field in 2012. With the front office dealing highly touted staff aces Gio Gonzalez and Trevor Cahill, as well as closer Andrew Bailey, East Bay Area sports fans pondered if the team was committed to winning at all this season.
However, Beane's seemingly brazen moves might guide the A's back to contention in 2012. Former All-Stars Gonzalez, Cahill and Bailey were certainly the team's pitching nucleus, but it takes just a basic comprehension of sabermetrics to understand why they weren't efficient players. Let's examine.
In 2010, Trevor Cahill was seemingly one of the most dominant pitchers in the majors posting an 18-8 record with a 2.97 ERA and a WHIP of just 1.11. Cahill earned his lone All-Star recognition as well as Cy Young votes in his breakout campaign. 2011, on the other hand, was a nightmare for Cahill. He saw his numbers inflate to a dismal 4.16 ERA, 1.43 WHIP and just a 12-14 record.
So did Cahill just have an off year or was 2010 a fluke? Well, sabermetrically, Cahill's 2011 regression was predictable. BABIP, a sabermetric statistic that measures opponents' batting average for balls hit in play, serves as a red flag for one-year wonders. Maintaining a consistent BABIP is near impossible as a ball in play is out of the pitchers control. An abnormally low BABIP indicates that the pitcher experienced a great deal of luck in a given season, and vice versa.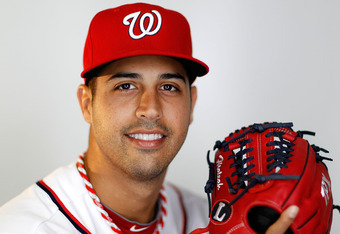 Mike Ehrmann/Getty Images
Cahill's 2010 BAPIP was an astonishingly low—his .224 BABIP was the lowest in the majors. To go along with that indicator, his DIPS, another sabermetric measure that shows what a pitchers ERA would be minus fielding factors, was a profound 4.36, almost a run and a half greater than his 2.97 ERA. Numbers never lie, his ballooned 4.16 2011 ERA doesn't look as absurd as expected when his BABIP increased to .291 last season.
Gio Gonzalez presents a similar case. While he fared much better than Cahill in 2011, earning a 3.12 ERA with a moderate .279 BABIP, his DIPS in 2011 was significantly deviant from his ERA at 3.79. Since DIPS is often used as an indicator of the pitcher's raw ability, moving Gonzalez makes sense. He's unlikely to repeat or improve on his ERA in the future, and the A's were smart to move him while his stock was high rather than waiting around like they did with Cahill.
Andrew Bailey presents a different case. His 9.0 K/9 ratio makes him a very efficient closer. However, his injury woes have forced the reliever to appear in less than 50 games the past two seasons, which has traumatized his wins above replacement ratio—a measure used to indicate a single player's influence on the teams number of wins. In 2011, his WAR dropped to a strikingly low .9, down from 2.4 in 2010 and 3.9 in 2009. As productive as Bailey is on the mound, he just isn't healthy often enough to aid the team to wins.
So, while it may have appeared as if Beane was selling off players for the future, "Moneyball" is still in full swing by the bay. Baseball analysts shouldn't be so quick to write off the A's in the competitive AL West, despite the blockbuster moves by division rivals Texas and L.A.
Moneyball gives Beane and the Athletics a shot, but it could get the shaft in 2012 like it did at the Oscars. A's fans can only hope.