Stephen Jones: Cowboys Willing to Lose While Garrett Develops? Is Jerry Tired?
March 3, 2012

Kevork Djansezian/Getty Images
No, it's not an exact quote, but what Stephen Jones did infer with his comments was that, regardless of the Cowboys' success, Jason Garrett would remain as head coach for years to come.
What Stephen Jones was quoted as saying in the February 27, 2012 article written by Clarence Hill of the Star Telegram was:
Either way, however, Jones said the Cowboys know they have the right man in coach Jason Garrett with the team for the foreseeable future.

"People expect me to influence in a good way, influence Jerry in a good way, influence Jason in a good way. I worry about it nonstop," Jones said. "We've got to get it done. We are very motivated. We feel like we are right there. I totally feel like we've got the right guy."

What if the Cowboys miss the playoffs for a third straight year, the second straight since Garrett was officially named head coach after taking over for Wade Phillips midway through the 2010 season, extending to a franchise-record 17th straight season without a Super Bowl?

"Jason Garrett is in great shape," Jones said. "There are no thoughts of anything like that. I can't imagine under any circumstances he is not back And here for a while.''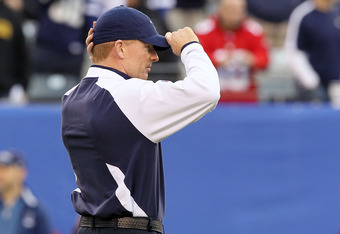 Jim McIsaac/Getty Images
The article itself actually addresses other issues, but it was those words spoken by Stephen Jones that began to reveal a look at the philosophy being employed by the Cowboys in regards to their future.
It appears that the Cowboys are willing to lose as long as it takes for Jason Garrett to develop into a winning coach.
It also appears that the decision to name Jason Garrett as head coach was made in spite of his obvious struggles.
But why? Is there a deeper issue looming in Dallas?
Stephen Jones' comments make it clear that, even if the Cowboys continue to miss the playoffs, despite still having the nucleus of the team that went 13-3 in 2007 and advanced to the divisional round of the playoffs in 2009, Garrett is their guy.
So the real question is, have Jerry Jones' frustrations caused him to begin to waver in his determination to see the Cowboys be the best they can be, at least for now?"
The idea that the Cowboys are willing to "lose as long as it takes" would not be that unusual if the Cowboys were rebuilding, but the Cowboys are not rebuilding. This is a team that is loaded with talent, and that has shown that they can compete for a Super Bowl.
The Cowboys were 13-3 in 2007, 11-5 in 2009 and should have been in the playoffs in 2010 and 2011.
After the collapse of 2010, there was no reason to think that the entire team was needing to be rebuilt, and if it weren't for questionable decisions from the coaching staff in 2011, the Cowboys would have easily won the NFC East again.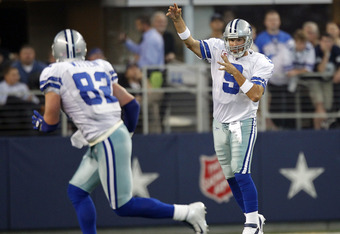 Layne Murdoch/Getty Images
Jerry Jones has never been one to see the Dallas Cowboys settle for less than what they could be, and this group of Cowboys is loaded with talent. So why would Jerry be content to watch Tony Romo's prime be wasted? Is he really content to watch this group of Cowboys, including future Hall of Fame tight end Jason Witten, simply ride off into the sunset?
Have the 16 years since the Cowboys last Super Bowl, and all the constant barrage of media demands for Jerry to step down as general manager of the Cowboys, begun to take their toll? For Jerry Jones to be "willing to lose" is not in his personality.  
It is in all likelihood that Jerry Jones recognizes he has made mistakes in appointing coaches in the past, but these comments from Stephen indicate that Jerry is now willing to allow a bad coach as much time as he needs to become good, while millions of dollars in talent are wasted each year, if necessary.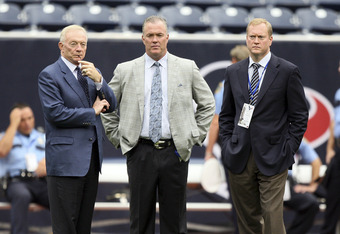 Bob Levey/Getty Images
This is not the Jerry Jones we have known in the past. Has age and fatigue caught up with him?  
With Tony Romo in his prime, the words of Stephen Jones seem to indicate that the Cowboys are willing to see his career be wasted, if necessary, for Jason Garrett to become the head coach that Jerry hopes he will be.
But it won't be just Tony Romo. Demarcus Ware, Jason Witten, Miles Austin, Felix Jones and even the young guys like Sean Lee and Dez Bryant continue to age while the process evolves.
And as the 2012 draft approaches, one thing remains clear: Jason Garrett holds the fate of the Cowboys in his hands. Garrett's ability to guide the team will determine the Cowboys' success.
Are the Dallas Cowboys drafting for 2012, or 2016? Stephen Jones' comments would seem to indicate that the Cowboys are thinking several years down the line, not months.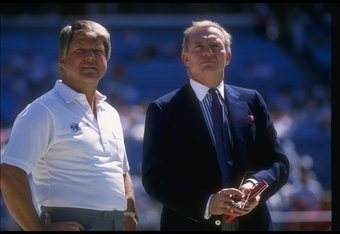 Allen Steele/Getty Images
Is Jerry Jones, who turns 70 in October, changing his perspective on the success of the Cowboys?
Is the struggle in Dallas between Jerry Jones' dreams and Jerry Jones' frustrations?
One thing is certain: The Dallas Cowboys have known no other owner with the passion and love for the Cowboys than Jerry Jones.
If fatigue has caused him to waver from his dreams, all Cowboys—including their fans—will suffer.
That's the bottom line.