If Florida State Runs the Table, Will They Play for a BCS National Championship?
March 3, 2012

On paper, the Florida State Seminoles are set up to win every single game on their schedule. If Rick Trickett fixes the offensive line, the Seminoles will be that good. The problem, however, is that the schedule is far from Herculean.
The biggest game of the year will be on the road in Blacksburg, Va., and if the Seminoles are healthy, they will probably be favored by a couple touchdowns, considering how elite their defense
will be this year.
And with Clemson losing its starting lines and with Wake Forest soon to get payback in Doak Campbell Stadium, Florida is arguably the only other quality team FSU plays next season—or team that has a good chance to finish in the Top 25—but the game against Florida really shouldn't be much of a
contest either. The Miami game is oftentimes an all-out war, but with Miami losing its playmakers to the draft and with Stephen Morris under center it'shard to imagine the 'Canes pulling out an upset against the world-class defense Mark Stoops has assembled in Tallahassee.
However, what does it mean if FSU beats a bunch of teams that it is expected to beat? At the bare minimum, it means FSU goes undefeated in the regular season, plays for an ACC title, and if it wins, plays in a BCS bowl.
That's the bare minimum.
The best outcome, at least for Seminoles, is that FSU plays for a national title, but will the body of work be deserving of a title appearance? If FSU winds up beating all these teams—which, again, on paper, it
should—that wind up out of the Top 25, is it enough to warrant a BCS National championship appearance for FSU?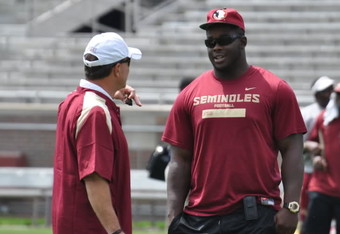 I'm not sure it does.
Here are two likely scenarios.
Let's start with the Big Boy Conference. It looks like the SEC has reloaded yet again. Nick Saban has assembled another world-class unit, LSU is going to be dominant on the lines, and the Bulldogs of Georgia should contend for the SEC title. However, the younger pups on that block—Florida, South
Carolina, and even Tennessee and Mississippi State—all look like they can emerge this year, too. This means the conference just might be stacked from top to bottom, which will naturally elevate every SEC team's strength of schedule, an important barometer in a non-playoff college football system.
And let's shoot out west, where there's the Trojans of Southern California, a team many have projected to go undefeated. The Trojans are like the New England Patriots at the college level—good and improving on defense and electric on offense. Southern Cal is the team out West that everyone
will have their eyes on. It will have a couple of showdowns with Oregon and Stanford, but it's hard to see either the Cardinal or Ducks slowing down that offense. It will probably take a team from the South, a team with power and speed, to knock off the Trojans' offense.
So, assuming Southern Cal and an SEC team go undefeated, where does this leave an undefeated Florida State?
With its incredibly favorable schedule, FSU can rack up lots of wins this season—and possibly
without much trouble—but how does Florida State mix into the debate if Nick Saban's Crimson Tide and Lane Kiffin's Trojans go undefeated?