MLB Spring Training 2012: 7 Oakland Athletics Position Battles to Watch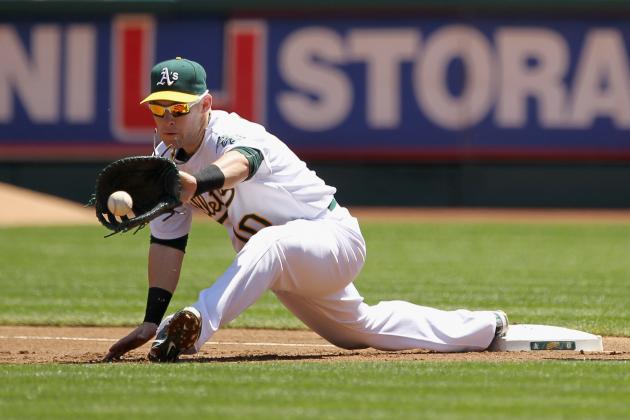 Ezra Shaw/Getty Images

In the thick of rebuilding mode, the Oakland Athletics have plenty of players ready to prove they can be everyday starters.
Typically, baseball's spring training helps veterans get back into the swing of things and provides clarity on a few position battles.
In the case of the A's, there's more than a few that require answering.
It seems the only real positions that are locked up are catcher, second base, shortstop and the front end of the rotation.
Every other spot features multiple players vying for a chance.
Spring training has officially begun. Here's a look at the players who must take advantage of this time and shine to win a starting role on the depth chart.
Begin Slideshow

»
Ezra Shaw/Getty Images

Candidates: Graham Godfrey, Tom Milone, Jarrod Parker, Brad Peacock and Tyson Ross.
Two of these guys will be in the rotation to start the season, but one will get bumped when Brett Anderson returns.
In the minor leagues last season, Graham Godfrey pitched to the tune of a 2.59 ERA with a 3-to-1 ratio of strikeouts to walks. With only a short stint in the majors, his ERA is 3.69, but his K/BB ratio remains the same. Godfrey, unexpected to be a major player, might surprise many.
Tom Milone has had a fantastic minor league career. He posted an ERA of 3.22, striking out 155 and walking only 16 batters, total. Milone's trend has continued so far in the majors. In 26 innings in the MLB, Milone struck out 15 while only walking four.
Brad Peacock only pitched 12 innings in the majors last season. Though he earned a stellar 0.75 ERA, he walked more than he struck out. Like the others above, he's done well for himself in the minor leagues: His ERA has remained in the 3.00 range, he's maintained a WHIP of 1.25 and a walk-to-strikeout ratio of 0.37.
The main piece in the Trevor Cahill deal, Jarrod Parker is the number one prospect in Oakland's system. A's general manager Billy Beane spoke to AthleticsFarm.com about Parker's potential.
If we were going to give up a pitcher in our starting rotation, particularly someone of Trevor's caliber, one of the places we were going to have to start was with someone we felt could replace Trevor in the rotation very quickly. So we gave up a very good pitcher, and what we really did was turn back the clock a little bit in terms of the service time and the cost.
Tyson Ross has the most experience at the big league level. In 75 innings of work, Ross has a career 4.18 ERA. In 2011, Ross produced slightly better numbers than in 2010, bringing down his ERA from 5.49 to 2.75 in nearly the same number of innings. Before the Cahill and Gio Gonzalez trades, Ross was slated to fill the fifth spot in the rotation.
These five guys are going to make it very difficult for A's brass to decide who gets one or two spots.
Predictions: Jarrod Parker has undeniable talent which will net him the fourth spot in the rotation and possibly even higher. Tom Milone jumps the rest and steals the fifth spot. Tyson Ross works out of the bullpen as a long reliever. Brad Peacock and Graham Godfrey are sent down to Triple-A.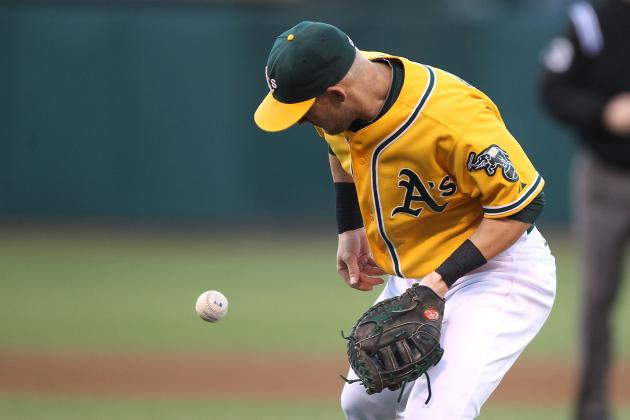 Jed Jacobsohn/Getty Images

Candidates: Brandon Allen, Daric Barton, Chris Carter, Kila Ka'aihue.
Brandon Allen finished 2011 as the starter at first base. But last season in 41 games with the A's, he hit just .205 with 3 HR and 11 RBI. Allen has also been rumored to be on the trade block.
In 2004, the Oakland Athletics traded starter Mark Mulder for a bounty including Daric Barton.
A converted catcher, Barton was supposed to be the A's first baseman of the future. After five years of experience in the bigs, fans are still waiting for Barton to live up to expectations. In 2011 alone, Barton spent two stints back in Triple-A Sacramento.
At this point, he's a very mediocre hitter, acquiring a .252 average. Though he made eight errors in 65 games last year, he's generally a reliable option defensively with a career .992 fielding percentage.
Where Barton excels is in his patience at the plate. He has superb ability to get on base, as indicated by his 110 walks in 2010. He had 102 strikeouts in the same year.
Chris Carter has struggled in Oakland. In 124 at bats, he has put the ball in play just 19 times. He's likely to start the season at DH to get comfortable at the plate, but if Carter can find his stroke and the other options at first fail, he could play the field.
Though Kila Ka'aihue hasn't had many at bats at the big league level, he's made the most of his three stints. In 283 plate appearances, Ka'aihue hit 11 home runs, demonstrating plenty of power.
Predictions: Brandon Allen is traded. Daric Barton starts the season at first base. Chris Carter underwhelms and is sent back to the minors yet again. Kila Ka'aihue is the backup (the Brandon Allen of 2012).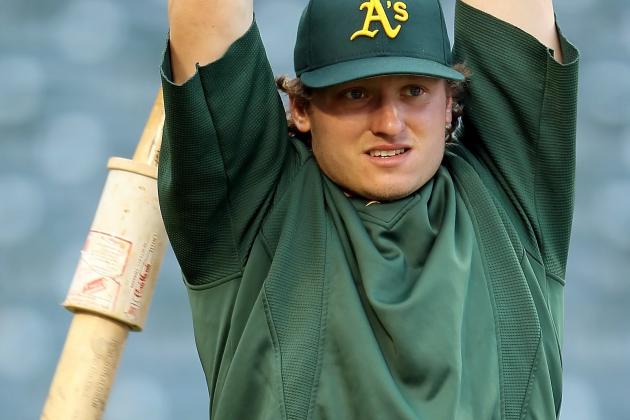 Jeff Gross/Getty Images

Candidates: Josh Donaldson, Adam Rosales, Eric Sogard and Wes Timmons
Third base wasn't a contest until incumbent Scott Sizemore tore his ACL on the first day of workouts. Sizemore will miss then entire 2012 season.
Now third is wide open.
Though the four listed above will compete in spring, bringing in a free agent or pulling the trigger on an early trade are options as well.
Josh Donaldson has been taking the most reps at third so far. Donaldson is currently listed as the fourth catcher behind Kurt Suzuki, Landon Powell and Anthony Recker.
Looking at his minor league stats, two things stand out: he's an inconsistent hitter, and his bat picks up late in the season. Perhaps with Donaldson, it's all about getting comfortable.
Adam Rosales has spent the last two seasons between the bigs and minors. In 2010, he took advantage of 80 games played, posting a batting average of .271, seven home runs and 31 RBI.
2011 was lackluster for Rosales, though; he batted just .098.
Sogard only has 77 at bats in the majors. His career batting average is .221. In the minors, Sogard has constantly hovered around a .300 batting average.
In the last couple of years, Wes Timmons has gotten progressively better in the minor leagues and may be ready for a shot with the big boys. Between Double- and Triple-A, Timmons posted a stat line of .341/.420/.468.
Predictions: It sounds like as long as Josh Donaldson can hit .250 and keep errors in check, the job is his. Adam Rosales is a bench player in Oakland. Sogard and Timmons start in Sacramento.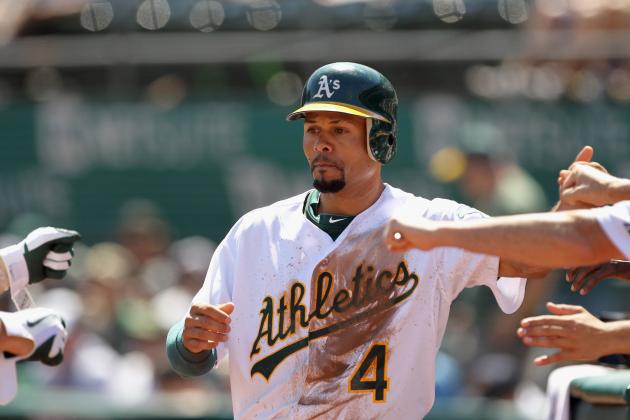 Ezra Shaw/Getty Images

Candidates: Yoenis Cespedes and Coco Crisp
Cespedes has yet to play in Major League Baseball and Crisp is Oakland's current incumbent.
Three things could happen in center field. If Crisp plays well and Cespedes does not, Crisp is the center fielder. If neither play well, Crisp is the center fielder.
If Cespedes proves his undeniable talent can't possibly be off the lineup, Crisp is out of luck.
Regardless of how it plays out, Crisp will be in the lineup somewhere (left field or DH are options).
At $6.5 million this year, Cespedes needs to be on the field as soon as possible. If he struggles in spring training, he may start in Sacramento. But it won't be long before he is called back up.
Predictions: Crisp wins center field. Cespedes starts in Triple-A.
Once center field is figured out, the dominoes will fall on the two corner spots.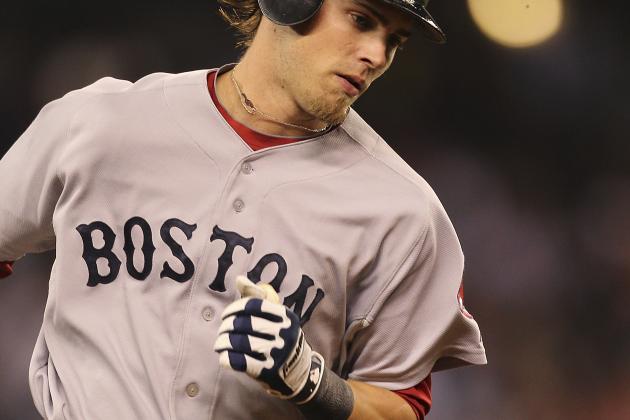 Otto Greule Jr/Getty Images
Outfielder Josh Reddick
Competition: Colin Cowgill, Jonny Gomes, Josh Reddick, Seth Smith and Michael Taylor.
If Yoenis Cespedes plays well, then your Oakland outfield is Crisp in left, Cespedes in center and a battle in right field.
If Cespedes doesn't do well enough to earn a spot yet, the outfield is likely Smith in left, Crisp in center and Josh Reddick in right field.
There's plenty of competition for one outfield spot however.
Cowgill tore up the minors in 2011 hitting .354/.430/.554. He's is a great mix of speed and power, hitting 13 home runs and stealing 30 bases last season in Reno. If he has a fantastic spring, it's going to be very difficult to pass him up.
Though Gomes has the most big league experience, he's a career .242 hitter and should definitely be relegated to a role player at this point in his career.
Reddick, at 25 years old, is considered big league ready right now. In 87 games with the Boston Red Sox last year, he hit .280 with seven home runs.
29-year-old Seth Smith's stats of .284, 15 home runs and 59 RBI in 2011 are respectable, especially on Oakland's roster. Unfortunately, Smith suffers from the stigma of having played in Colorado, so his numbers are thought to be slightly inflated.
Taylor spent a small amount of time in Oakland last season. He's an average hitter with good power and speed. As he's advanced into higher affiliates though, his batting average has dipped dramatically.
Predictions: Colin Cowgill starts in Sacramento but earns a call-up in mid-to-late season. Jonny Gomes is a role player (later slide) but designated for assignment later in the season. Josh Reddick earns right field. Seth Smith earns left field until Yoenis Cespedes arrives at which point he is traded, reduced to the bench or DH duties. Michael Tayor remains in the minors.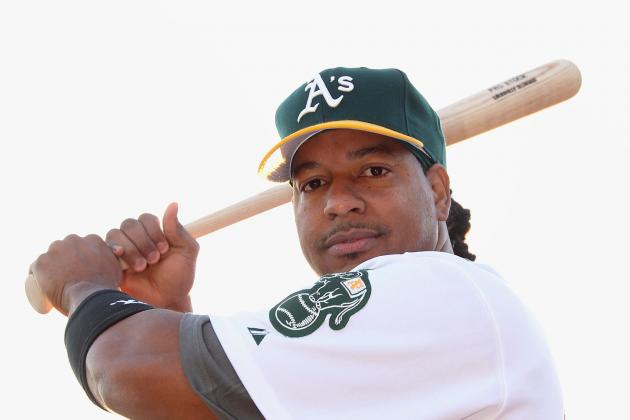 Christian Petersen/Getty Images

Candidates: Chris Carter, Yoenis Cespedes, Coco Crisp, Jonny Gomes, Manny Ramirez, Seth Smith, Michael Taylor
Chris Carter is the most plausible candidate to start the season at DH. Carter needs the at-bats more than anyone else in what could be a make-or-break year for him.
There's a slim chance that if A's management thinks Crisp is the better center fielder defensively, but Cespedes is ready for the majors, the newly-signed Cuban prospect could presumably DH.
Crisp could also spend time at DH in the reverse scenario. The move could become more obvious if one of the younger outfielders produce this spring.
Manny Ramirez must shine during spring training. If he doesn't, he won't even make the squad. Assuming he makes the roster, DH is the only spot he can "play" at this point in his career.
If Crisp is in the outfield and Chris Carter continues to slump, the fourth best outfielder has a shot at DH. That means players like Jonny Gomes, Seth Smith and Michael Taylor are factors.
Prediction: Chris Carter stinks it up and remains in Sacramento. Cespedes begins his career in a short stint in Triple-A. Crisp wins center field. Gomes is Oakland's DH to begin the season. Ramirez does enough to DH when he returns after a 50-game suspension but is traded or designated shortly after. Seth Smith takes over at DH when Cespedes enters the big leagues. Taylor remains in Sacramento.
Extending wishes of good luck to manager Bob Melvin. He's going to need them.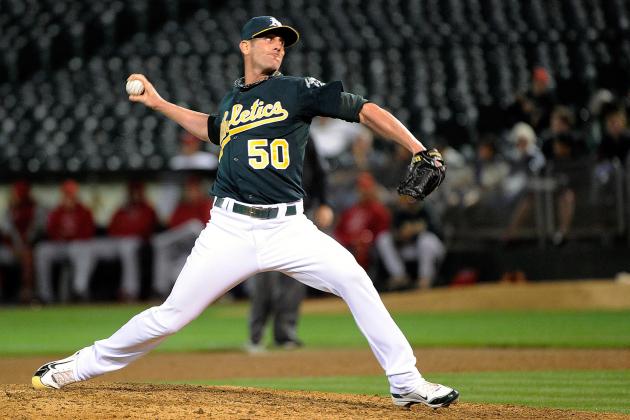 Thearon W. Henderson/Getty Images

Candidates: Grant Balfour, Jerry Blevins, Fautino De Los Santos, Joey Devine, Brian Fuentes
Balfour enters the 2012 season considered the closer, but he isn't a true closer. Lucky for him, no one else on the team is, either.
Instead, Balfour has the luxury of experience on his side, so he'll get the most opportunities in spring to fully lock down the role. If he doesn't, there are plenty of guys waiting in the bullpen who have a chance at closing.
In five years as a big leaguer, Jerry Blevins has pitched 141.2 innings. Last year, he accumulated his lowest ERA to date at 2.86. He has struck out nearly triple the number of times he's walked. But Blevins is a long shot at closer; so far in his career, he's saved just one game.
A's beat writer Jane Lee tweeted De Los Santos has a shot as well. The hard-throwing righty spent little time in the major leagues, but he's worth a look with his talent and age (26).
Joey Devine is nearly identical to Blevins in experience and saves: one save in five years. His ERA is lower, but his BB:K ratio is much higher than Blevins'.
If Balfour is absolutely horrible in spring, Fuentes is the next most logical option. Between 2005-10 with the Colorado Rockies and Los Angeles Angels, he averaged about 30 saves per season, including 48 saves in 2009 alone. 2011 seemed to have been an anomaly; Fuentes was used in so many different situations he eventually complained to reporters about the way he was being used.
Predictions: Balfour earns closing duties until he is traded at the deadline. Blevins pitches as a mid-reliever. De Los Santos takes over closing duties after Balfour is traded. Devine pitches as a mid-reliever. Fuentes stars as the setup man.