UFC on FX 2 Results: The Real Winners and Losers from Alves vs Kampmann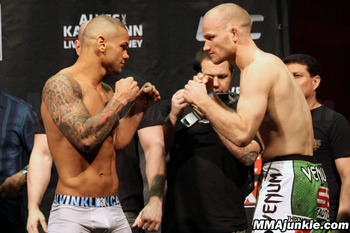 Thiago Alves and Martin Kampmann face off. (Photo credit: MMAjunkie.com)
Friday night hasn't traditionally been associated with the UFC in America, but it was the one-night home for the promotion as they headed to Australia for UFC on FX 2: Alves vs. Kampmann.

In addition to the welterweight main event, the fight card also included the exciting start to the 125-pound flyweight division in the promotion in the form of a tournament. The first round of the tournament took place from Sydney with Demetrious Johnson and Ian McCall getting things started and Joseph Benavidez and Yasuhiro Urushitani competing in the second bout just minutes later.

The official results are now in the book, but as always, there's more to it than that. There were a couple controversial moments during the night and often times the official results don't show those kind of things.

With that said, let's take a closer look at the real winners and losers from Friday night's fight card.
Loser: Mackens Semerzier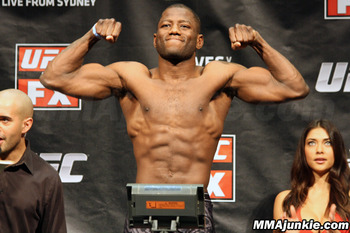 Mackens Semerzier (Photo credit: MMAjunkie.com)
Featherweight Mackens Semerzier turned in another disappointing performance during the preliminary fights on Fuel TV, losing to Daniel Pineda by submission (triangle armbar) early in the first round.

Semerzier does have a win over the highly touted Alex Caceres, but has not done much other than that during his time in the Octagon. He is now just 1-4-1 in his six fights for Zuffa, and it's hard to believe that his head won't be on the chopping block after yet another loss.
Winner: TJ Waldburger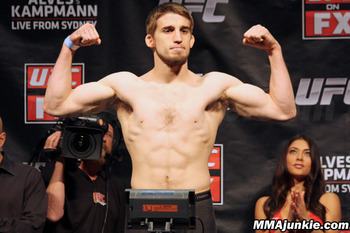 T.J. Waldburger (Photo credit: MMAjunkie.com)
From one fighter who has struggled on the big stage to another who has shined in just about every opportunity he has been given, TJ Waldburger continued to make his name in the UFC when he submitted Jake Hecht on FX.

The armbar submission came just 55 seconds into the fight and though he didn't get much of a chance to show off his overall game in this one, he'll absolutely take a quick, dominant victory.

Waldburrger is now 3-1 in the UFC with his only loss coming at the hands of one of the biggest punchers in the welterweight division, Johny Hendricks. At just 23 years old, he already has a ton of experience and is growing with every fight.
Loser: Court McGee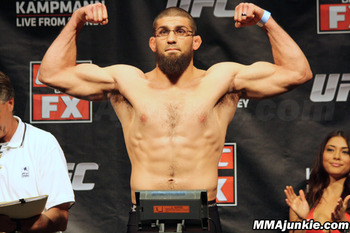 Court McGee. (Photo credit: MMAjunkie.com)
Former The Ultimate Fighter season 11 winner Court McGee has been slowly climbing up the middleweight ladder since the show aired in 2010. Three straight victories in the Octagon and eight straight overall had him considered by many to be a potential contender down the road at 185 pounds.

That will have to wait awhile now, though, as McGee suffered the first loss of his UFC career on Friday night when he ended up on the losing end of a judges decision to Constantinos Philippou. All three judges scored the bout 29-28 as a rather lackluster performance from McGee was unable to win them over.
Winners: The Flyweight Division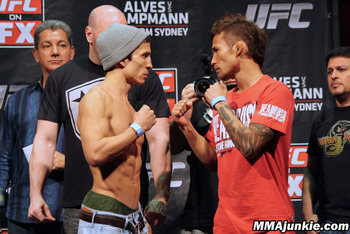 Joseph Benavidez and Yasuhiro Urushitani. (Photo credit: MMAjunkie.com)
The lighter weight classes aren't always everyone's cup of tea, but the freshly-created UFC flyweight division is just what many fans are looking for when they say they want to see high-paced action from start to finish.

Ian McCall, Demetrious Johnson, Yasuhiro Urushitani and Joseph Benavidez put on a show on FX with two great fights that really showcased the electricity that the smaller fighters can create on the big stage.

The division still needs more depth, but UFC on FX was certainly a good start.
Winner: Ian McCall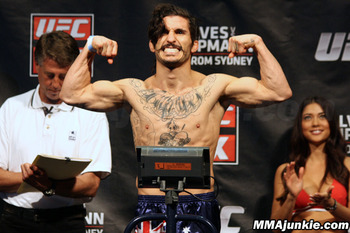 "Uncle Creepy" Ian McCall. (Photo credit: MMAjunkie.com)
Ranked as the No. 1 flyweight in the world coming into Friday night's fight card, Ian McCall was also making his UFC debut.

"Uncle Creepy," as he is affectionately known, is a former bantamweight who made his debut in the division in 2011, fighting three times at 125 pounds during that year. The move down in weight served him well when the UFC created the division because he was an obvious choice to compete in the tournament to crown the first UFC flyweight champion.

McCall drew Demetrious Johnson in the first fight in the history of the division.

Although he is quick himself, McCall seemed to struggle with Johnson's speed throughout the fight which went all three rounds. When he got a hold of him, he was quickly able to take the former UFC bantamweight No. 1 contender down with relative ease, but did struggle to keep him there at times.

Two close rounds started off the fight, but McCall took over in the third, turning in what was by far the most dominant round of the fight, and seemingly securing himself as the victor.

Judges didn't see it that way, though, as two of them scored the bout for Johnson by a score of 29-28, officially giving McCall the first loss of his flyweight career by way of split decision.

Fans chanted "bullsh--" after the fight, voicing their displeasure for what was the worst decision of the night in a very important fight. Johnson put up a good fight, but he should not be fighting for the title next.
Edit:
The official judges' decision was apparently scored incorrectly by the athletic commission and this bout has officially been re-scored as a draw. There was supposed to be a "sudden death" round, but due to the mistake, that never happened.
A rematch between Johnson and McCall is expected to be scheduled in the coming months.
Loser: Demetrious Johnson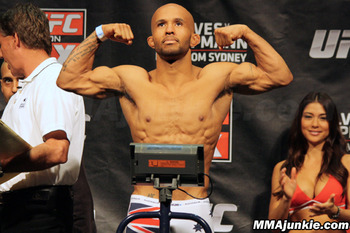 Demetrious "Mighty Mouse" Johnson. (Photo credit: MMAjunkie.com)
It was just months ago that Demetrious Johnson had earned a shot at Dominick Cruz's UFC bantamweight championship. Although he made it competitive, Johnson's reach disadvantage was a significant factor in the bout and likely was one of the reasons that he opted to make the drop down to the new UFC flyweight division.

Even after moving down a weight class, Johnson still looked like the smallest fighter in the division on Friday night, further highlighting the fact that this guy is one of the most impressive competitors in all of MMA.

Johnson was taken down numerous times against Ian McCall in this bout, but showed excellent defense off of his back to not take a ton of damage even when McCall took his back and mounted him. Johnson weathered the storm on both occasions and was never really rocked at any point.

Although he was given the win by the judges, many will agree that McCall should have been given the decision especially after such a dominant third round.
Edit:
The official judges' decision was apparently scored incorrectly by the athletic commission and this bout has officially been re-scored as a draw. There was supposed to be a "sudden death" round, but due to the mistake, that never happened.
A rematch between Johnson and McCall is expected to be scheduled in the coming months.
Winner: Joseph Benavidez
Joseph Benavidez. (Photo credit: MMAjunkie.com)
We saw great sportsmanship from Johnson and McCall in the prior fight, but the lack of glove touch from Joseph Benavidez in the beginning of his fight with Yasuhiro Urushitani was indicative of the very serious nature that "Joe B-Wan Kenobi" brings to his fights.

One of the smaller 135-pounders, Benavidez had no problem making 125 and looked very comfortable in the first round, controlling the vast majority of it and not allowing his opponent to do much damage at all.

The second round is where he took over, though, when he smashed Urushitani with a huge right hook counter just seconds into the round. The punch dropped Urushitani and Benavidez didn't let it go to waste as he finished the fight with punches on the ground.

Benavidez spoke out in the post-fight interview in the cage about how he is going to be the one who "brings power to the division." He certainly proved that on Friday night.
Loser: Yasuhiro Urushitani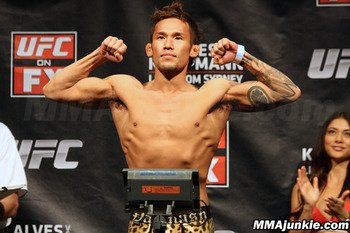 Yasuhiro Urishitani. (Photo credit: MMAjunkie.com)
Former Shooto 123-pound "bantamweight" champion Yasuhiro Urushitani vacated his title for a chance to compete in the inaugural UFC flyweight tournament to determine the first champion in the history of the division.

On a five fight win streak in Japan going into this event, Urushitani was considered one of the top fighters in his weight class, but was the underdog of the four fighters to end up as the eventual champion.

Urushitani struggled early against Joseph Benavidez and was dominated in the first round before finally being knocked out in the second round after Benavidez took advantage of the unusual amount of kicks that Urushitani throws.

This loss doesn't necessarily mean that Urushitani won't compete for the title eventually, but he's going to need to get used to the pace in American MMA if he hopes to ever get to that level.
Winner: Martin Kampmann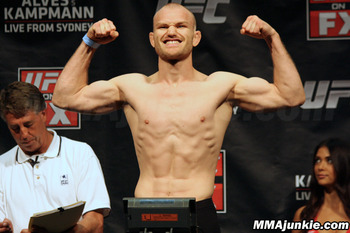 Martin Kampmann. (Photo credit: MMAjunkie.com)
After being on the losing end of two tightly contested decisions over his past few fights, Martin Kampmann was certainly not looking to go to the judges' scorecards again on Friday night as he competed in the main event against Thiago Alves.

Kampmann might have missed out on an opportunity when he caught Alves clean with a big front kick in the first round. He didn't seem to notice that his opponent was rocked, though, and was unable to get the finish.

Alves dominated the majority of the rest of the fight and Kampmann appeared to be on his way to another decision loss, but an unbelievable comeback changed his fortunes.

Kampmann got rocked and was taking tremendous damage on the feet in the third round. It looked as if Alves was going to bring the fight down to the ground where he would finish with ground-and-pound, but Kampmann countered the takedown and slapped on a guillotine choke out of seeming desperation.

It didn't look tight at first, but he positioned himself perfectly and though there was less than a minute left in the fight, Alves had to tap out.
Loser: Thiago Alves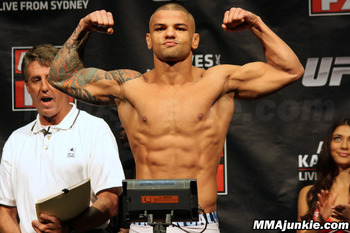 Thiago Alves. (Photo credit: MMAjunkie.com)
After countless battles with his weight at 170 pounds, Thiago Alves was finally ready and looked good at the weigh-ins.

Not only that, but Alves looked great throughout the vast majority of his main event bout against Martin Kampmann, rocking the Danish fighter numerous times and nearly finishing him in the third round.

A poor decision to shoot for a takedown as opposed to continuing to unload with punches will haunt Alves for quite some time as he attempts to work his way back up the division after being the No. 1 contender in the welterweight division not so long ago.
Winner: The Dolce Diet
Like a mad scientist, Mike Dolce may have finally found the cure to Thiago Alves' lingering weight issues in the form of his Dolce Diet. A confident Alves made weight easily according to everyone close to the camp and even made a video to show that he was just a few pounds away from being on target with a day still left to go.

The fight didn't finish the way that he would have liked, but Alves has to be happy that he was finally able to get his weight cutting issues under control.
Losers: Fans Who Didn't Pay Attention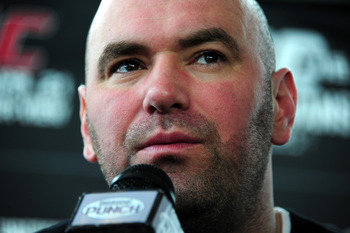 Scott Cunningham/Getty Images
The UFC did its best to promote this event, but there seemed to be a lot of fans who were unaware that the fights were actually taking place on Friday night in America, as opposed to the usual Saturday night.

Those who were unaware missed out on an exciting fight card that may not have included any huge names, but did have a big impact on the title picture in a few weight classes.
Loser: The Continued Explanation of the "Sudden Death" Round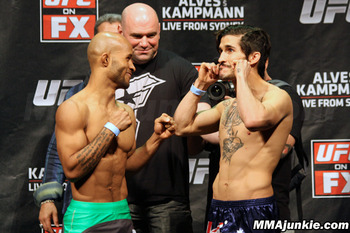 Flyweights Demetrious Johnson and Ian McCall. (Photo credit: MMAjunkie.com)
DID YOU KNOW THAT THERE WAS A FOURTH ROUND POSSIBLE IN THE FLYWEIGHT TOURNAMENT?

Well, if you listened to the commentary, of course you did. How could you have missed it? They mentioned it over and over again.

Look, it's great that this was explained for those who might be wondering, but does it need to be said in practically every round of the tournament?

The UFC covered itself by making sure to note that it had backup plans for if the fights were scored as a draw after three rounds, however, if we're being realistic, it'd be pretty difficult for this to come into play.
It'd basically take a point being taken away, a 10-8 round or a judge scoring a round 10-10, for a fourth round to come into play.
The "sudden death" round makes sense in a two-round fight, but the reason that three round fights were made was to avoid situations like this from coming up in the first place.
Edit:
The post-fight press conference on UFC.com showed that the Johnson-McCall fight was incorrectly scored as a win for Demetrious Johnson. It is now overturned to a draw by the commission.
So, apparently I was completely wrong and they didn't highlight this "sudden death" round enough. Someone in the athletic commission made a huge mistake.
Keep Reading