Moses Fleetwood Walker: Major League Baseball's Forgotten Hero
March 20, 2012

Without a doubt, baseball has had a huge impact on the American Civil Rights movement in the 20th century.
Jackie Robinson, Willie Mays and Hank Aaron, among others, have left their mark on the sport and have been an inspiration to young African-Americans across the country. In general, Major League Baseball has been very good in recent times at celebrating those who fought to break the color barrier both in and out of sports.
However, recognizing those who came before the color barrier has been a much greater issue. 
Moses Fleetwood Walker (1857-1924), a catcher for the 1884 Toledo Blue Stockings, suffered greatly for his desire to play the game he loved, but unlike Robinson, Mays and Aaron, he has yet to be recognized for the mistreatment he suffered at the hands of Major League Baseball. In fact, the vast majority of baseball fans have never even heard of Walker. 
So who exactly was he?
An Ohio native and the son of an African-American physician, Walker enrolled in Oberlin College in 1878. He was a member of Oberlin's inaugural baseball team in 1881, and he was so impressive that he was recruited to play at the University of Michigan the following year. After batting .308 for Michigan in the 1882 campaign, "Fleet," as he was called by his friends and family, was signed to the minor league Toledo Blue Stockings in 1883.
An African-American playing in the minor leagues was not anything particularly out of the ordinary. But the Toledo Blue Stockings weren't satisfied with just being a minor league team.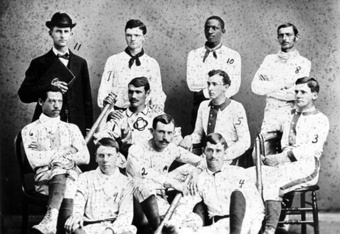 In 1884, Toledo joined the American Association, which at the time was the main competition for the National League (the American League would not exist as a major league until 1901). Walker was the team's starting catcher, and his brother Welday would also play for the team in limited action.
In terms of his on-field performance, Fleet was a major success.
He batted .263, which sounds relatively unremarkable until you look at his team, his league and his position.
Walker played on a team that only hit .231 collectively, and the only other catcher on the roster hit .185.
Advantage: Fleet.
Walker played in a league that as a whole hit .240. In fact, only one team in the entire league, the Philadelphia Athletics, had a higher batting average than Walker's.
Advantage: Fleet.
Walker's batting average looks even better when you compare it to other catchers of the era. In the 19th century, catcher was an incredibly brutal position. Catching equipment was nonexistent, and even the most basic of gloves were scarcely used. This made quality hitting from a team's catcher was very rare, especially during the 1884 season.
Of the 13 American Association clubs in 1884, four of the teams' starting catchers batted less than .200, seven batted less than .220 and only two batted higher than Walker's .263.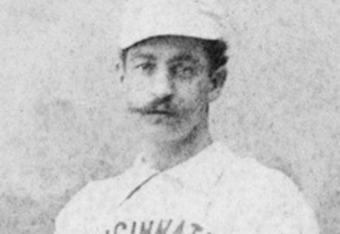 Even these statistics don't tell the full story.
When Walker was catching, the main man on the mound for Toledo was Tony Mullane, a fine pitcher whose 284 wins make him a potential Hall of Fame candidate. However, Mullane had this to say about pitching to Walker:
"He [Walker] was the best catcher I ever worked with, but I disliked a Negro and whenever I had to pitch to him I used to pitch anything I wanted without looking at his signals."
That's right. When Walker was catching (with no gear to speak of), he had absolutely no idea what pitches were coming.
The consequences of this were severe. Through no fault of his own, Walker led the league in passed balls, and he suffered from a series of injuries (including a broken rib) that would heavily limit his playing time and eventually cap his season at 42 games.
That .263 batting average doesn't seem too shabby after all, does it?
Despite his injuries, Fleet was more than capable of continuing to play in the majors. However, there was one man who was determined that this would not happen: Cap Anson.
Anson, a fantastic player-manager who was the first major leaguer to amass 3,000 hits, had no desire to ever face black competition.
In an 1883 exhibition match between Anson's Chicago White Stockings and Walker's Toledo Blue Stockings, Anson refused to play while Walker was behind the plate, and he even threatened to take his team and leave. Charlie Morton, Toledo's manager, told Anson that if his team left he would be forfeiting the game and as a result rights to the gate receipts, and Anson was forced to relent.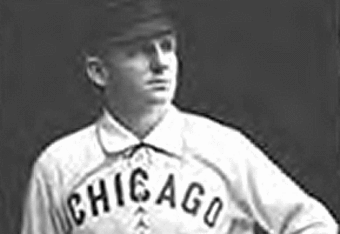 Sadly, Anson was not a man who would allow himself to be beaten.
Over the course of the 1884 season, American Association executives held meetings with National League higher-ups at the behest of Anson, and the two leagues would agree to an unwritten rule of not allowing black athletes to join league teams.
When the Union Association, a short-lived third major league, fell apart after the '84 season, there was enough talent to go around where most teams would easily get by without needing African-American talent, and when the Toledo Blue Stockings also folded after 1884, Fleet had nowhere to go but the minor leagues.
Walker continued to play in the minors until his release in 1889, and shortly thereafter the unofficial ban of black players spread to all levels of organized baseball that would last for 57 years.
Even after leaving baseball, Walker continued to face adversity. In April 1891, Walker was attacked by a group of white men outside of a bar, and he killed one of his assailants in self-defense. He was charged with second-degree murder, but eventually acquitted of all charges. 
Fleet's story does have a happy ending, as he would go on to own a hotel and a movie theater and live to the age of 67. Toward the end of his life, Walker became a Black Nationalist, writing a 47-page pamphlet on how he believed racial integration would fail in the United States. 
Moses Fleetwood Walker's story is an important one for baseball to tell. A man who went through so much to play the game he loved should be a significant figure in the story of baseball, but he has nowhere near the attention he deserves. 
This has to change.
Walker someday deserves a plaque in Cooperstown for his significance to the game, but that may be a long ways away. What is important now is to tell his story. Knowing who Fleet is and what he accomplished and sharing that knowledge with other baseball fans will aid in the process of finally giving him the credit he deserves.
For baseball fans, Walker's name may be temporarily forgotten, but his struggles in a sport that did not accept him make him relevant to our lives and to the sport we love.