Klitschko vs. Mormeck: Wladimir Klitschko Will Enjoy an Easy Victory
March 3, 2012

Scott Heavey/Getty Images
If Jean-Marc Mormeck beats Wladimir Klitschko in Germany on Saturday night, it will be one of the great upsets in boxing history.
Nobody beats Wladimir Klitschko. He's proven that point with a string of consecutive title defenses, and by collecting virtually every heavyweight belt under the sun. He, along with his brother Vitali, owns the heavyweight division.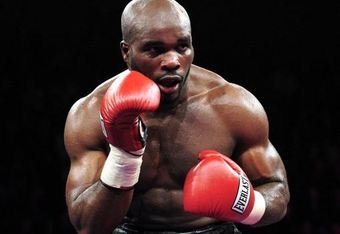 A Mormeck win would also be an upset because he's six inches shorter and four years older than Klitschko, not to mention the fact he's going up against the world's best heavyweight after 15 months away from the ring.
Klitschko understands that this fight is viewed as a monstrous mismatch. Nevertheless, he wants people to know that he has not earned the decision or knocked Mormeck out quite yet.
"He's definitely underestimated," Klitschko said, according to ESPN.com's Dan Rafael. "There is more pressure on me than on Mormeck. He has nothing to lose, only to gain -- all the belts."
Klitschko also built up Mormeck as a fighter:
He's in tremendous physical shape. I saw his workout. I watched with Emanuel, and his style is like a copy of Mike Tyson's. He does a tremendous job of copying Mike Tyson. Mormeck is super-hyped up and motivated for this fight. He got more time to prepare when it was postponed, which is an advantage to him.
Clearly, Klitschko doesn't think this fight is as one-sided as people are making it out to be. They (okay fine, we) see it as a mismatch, but he sees it as a legitimate challenge to his reign atop the heavyweight division.
And I believe that he believes every word he says.
And that's all the more reason to like his chances against Mormeck.
There's not a doubt in my mind that Klitschko is taking Mormeck seriously as a fighter. We can whine and complain all we want about Mormeck's short stature, his age, his time away from the ring and his performances in his last three fights (which haven't been good), but Klitschko would only be making himself more vulnerable by buying into all the chatter. He's going to come out and treat Mormeck just like he would any other fighter.
And that, of course, means Mormeck is in for a long night. Only a handful of fighters have managed to go the distance against Klitschko, and none of them have succeeded. If you want to beat Klitschko, you need to knock him out before he knocks you out. 
Mormeck is not going to do that. Klitschko is a technically superior fighter, and Mormeck's competitiveness will only be worth so much against Klitschko's significant reach advantage.
If Mormeck's lucky, Klitschko will struggle and leave himself open to a crucial blow.
If we're lucky, this fight will at least be entertaining. There's little doubt as to how it's going to end.
Prediction: Klitschko via eighth-round KO