Toronto Maple Leafs: Why Hiring Randy Carlyle as Head Coach Is a Brilliant Move
March 3, 2012

Jim McIsaac/Getty Images
The Toronto Maple Leafs fired head coach Ron Wilson Friday night and replaced him with former Anaheim Ducks head coach Randy Carlyle, according to Sportsnet.
Sources have confirmed to me randy carlyle will be the leafs next head coach.

— Daren Millard (@darenmillard) March 3, 2012
Carlyle, who was fired by the Ducks back in December when the team got off to a poor start, is a great hire for the Leafs.
Throughout his coaching career, Carlyle has gotten results. In six full seasons with the Ducks, he led them to the playoffs five times.
Carlyle also led the Ducks to the 2007 Stanley Cup championship, and his general manager that season in Anaheim, who also hired him in 2005, is current Leafs general manager Brian Burke.
Burke knows Carlyle well, obviously views him as a fine coach and is someone he can work with well, since the two are good friends.
In his first season with the Ducks, Carlyle led the team to the Western Conference finals, and a year later, he was hoisting the Stanley Cup over his head.
Maple Leafs fans will be hoping for another quick improvement from Carlyle in Toronto, and the chances of him bringing the team back to the playoffs for the first time since the 2003-04 season are quite high.
Making the playoffs this season will certainly be a challenge, since the Leafs are currently five points out of the eighth and final playoff spot in the Eastern Conference. But next season, the Leafs will be a more consistent team with Carlyle at the helm.
Most importantly, Carlyle will make the Leafs a more physical, structured and disciplined team.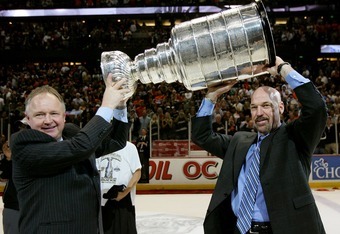 Jim McIsaac/Getty Images
Toronto's poor goaltending from Jonas Gustavsson and James Reimer during the team's terrible month of February, in which they went 4-10, is a great concern, but the defense played in front of them has also been subpar.
Carlyle's gritty coaching style and defensive intelligence will help the Leafs play better on their own end, and he will help correct the mistakes the team has been making, such as costly turnovers and poor awareness. There's no doubt that his ability to coach defense well will help the Leafs improve their standing as the 28th-ranked team in goals allowed per game.
Carlyle also puts a lot of work into making sure his teams kill penalties very well, and with his ability to teach his players how to put themselves in good positions to be effective in their own end, Toronto's 29th-ranked penalty-killing unit will improve quickly.
One of the knocks on Carlyle is that he doesn't work well with young players, which may sound like a problem since most of the Leafs' better players are younger guys who have yet to hit their prime.
However, the Ducks did develop some of the game's brightest young talents while Carlyle was head coach, including forwards Corey Perry and Bobby Ryan.
Carlyle's combination of a winning history, a defensive-minded coaching style and his familiarity with Leafs general manager Brian Burke make him the right man to lead Toronto back to the playoffs for the first time since 2004.