Predicting Each Defensive Starter for the New England Patriots in 2012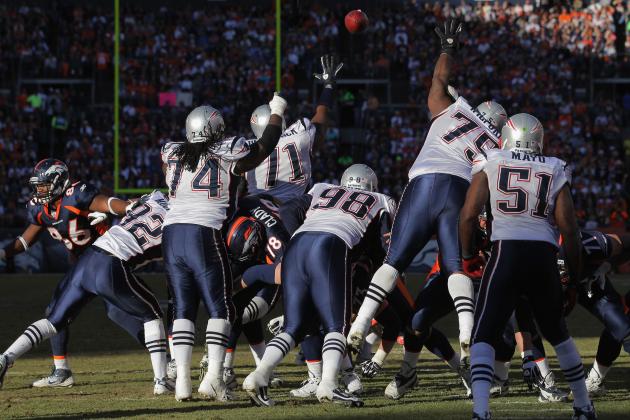 Doug Pensinger/Getty Images
Who will start for the Pats' defense next season?
The New England Patriots had an odd squad on defense during the 2011 season. Even though they were marred as the 31st ranked defense, they weren't all that poor in reality.
The unit managed to fly under the radar and ranked 15th in points allowed at 21.4 points per game. Not to mention, the Pats intercepted 23 passes and recovered 11 fumbles.
In the end, this group seized their opportunities and came up just short.
Now in 2012, the defense will look a little different.
Andre Carter, Shaun Ellis, Tracy White, Gerard Warren, Mark Anderson, James Ihedigbo and Gary Guyton are all free agents. Which of these men will re-sign in the off-season?
Not only will the roster change, but the scheme likely will as well.
Towards the end of last season, the Patriots flexed between the 4-3 and 3-4 defensive front. ESPNBoston.com writer Mike Reiss interviewed Patriots director of player personnel Nick Caserio at the NFL Scouting Combine. When asked about the defensive formation, Caserio dodged the question and merely stated that New England was in their sub packages about 65 to 70 percent of the time in 2011.
With the future unforeseen, it appears as though the 3-4 front is working its way back into favor in New England.
Considering the free agents, potential draft picks and a possible alteration in scheme, the following players should be starters on the Patriots' 2012 defense.
Begin Slideshow

»
Jim Rogash/Getty Images
Deaderick outplayed Shaun Ellis for the starting job in 2011.
Brandon Deaderick was the Patriots' 2010 seventh-round-pick out of Alabama. Last season, he proved his worth and stole the left defensive end spot from Shaun Ellis.
Deaderick finished the season with 17 tackles and two sacks in 10 games.
Although he doesn't do anything thrilling, he's young and can develop into a nice NFL starter.
Chances are, Shaun Ellis won't re-sign with the team. Therefore, Deaderick's biggest competition should come from former Boston College Eagle Ron Brace. Brace hasn't lived up to being a second-round-pick in 2009, but the jury is still out on him.
Will New England draft a defensive end early in the 2012 NFL draft?
Probably.
Even so, the chances of them starting right out of the gate are slim.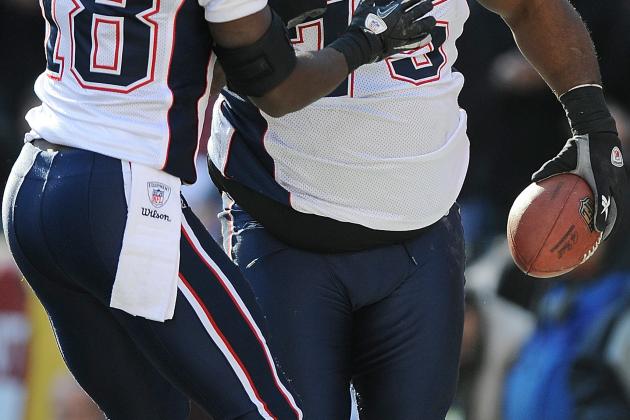 Patrick McDermott/Getty Images
Vince Wilfork is the heart and soul of New England's defense.
Vince Wilfork had 52 tackles, three-and-a-half sacks, two picks, and two fumble recoveries in 2011.
As one of the elite nose tackles in the NFL, Wilfork is a force to be reckoned with. This prediction should really come as no surprise. Wide No. 75 is a mainstay on the New England defensive line.
Wilfork played 86 percent of the defensive snaps this past season. Although it's an impressive feat, Vince needs to be given a breather more often.
Will Kyle Love maintain the No. 2 spot? Or will someone like Connecticut's Kendall Reyes be drafted in April?
If the Pats return to a 3-4 defense, Wilfork will need to be subbed out every once in a while.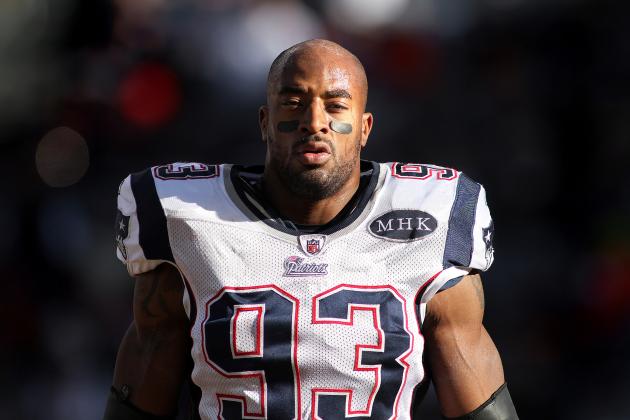 Marc Piscotty/Getty Images
Carter's high motor kept running until his season ending injury in week 15.
Nobody saw Andre Carter's 2011 season coming.
This 10-year vet found the fountain of youth in New England.
Carter recorded 10 sacks in 14 games, before a torn quadriceps tendon ended his season prior to the Pats' playoff run.
Even though Carter is a free agent, bringing this physical freak back seems like a low risk / high reward scenario. It also would be ideal to re-sign Mark Anderson who returned to his rookie form last year, producing 10 sacks as a third down sack specialist.
Look for the Patriots to add a young defensive end in the first round of the draft. Someone like Illinois' Whitney Mercilus or Marshall's Vinny Curry could be brought into town.
Yet, who better to learn under than an experienced pass rusher like Carter.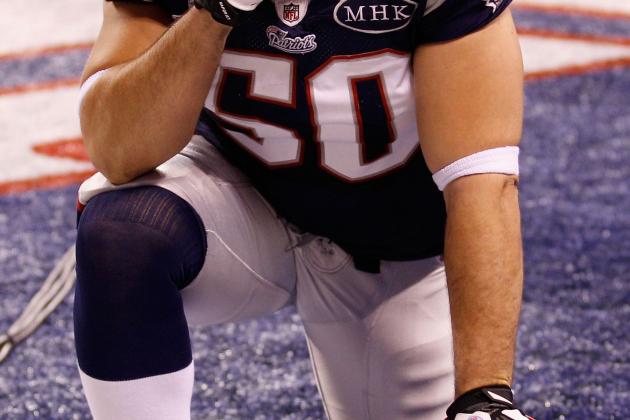 Rob Carr/Getty Images
Ninkovich was a consistent contributor in 2011.
Rob Ninkovich is the modern day Mike Vrabel. He's not a flashy player, but he's a good player.
In 2011, Ninkovich had 74 tackes, 6-and-a-half sacks, plus two interceptions.
This six-year veteran out of Purdue is a dependable starter on the Patriots' defense. It seems like Nink just gets better with age. He seized his starting job in New England and had flourished in it.
That No. 50 jersey looks all too familiar.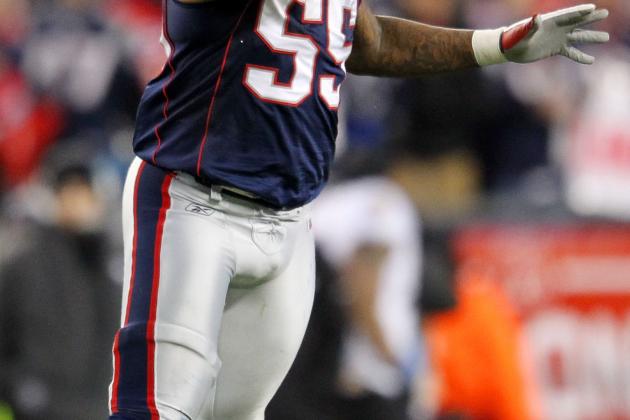 Jim Rogash/Getty Images
Spikes found his role late in the 2011 season.
Brandon Spikes finally broke out of his shell in 2011.
Despite playing in just eight regular season games, the former Florida gator rose to the occasion come playoff time. In three postseason contests, Spikes totaled 26 tackles, one sack, an interception and a forced fumble.
Spikes' clutch performances should pave the way for a starting job in the 2012 season. If he stays healthy, this linebacker will make big plays on D.
The former second rounder is beginning to fulfill his potential.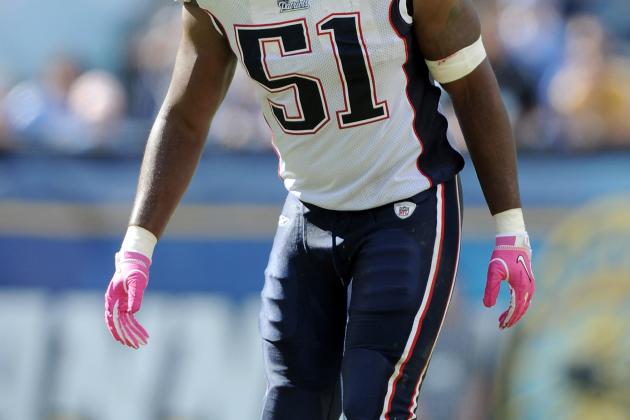 Harry How/Getty Images
Mayo is a true leader for the Patriots' D.
Jerod Mayo has been one of the Patriots' smartest draft selections in recent memory.
The 10th pick in the 2008 NFL draft has been an All-Pro for New England. As the quarterback for the Pats' defense, Mayo has been an excellent leader and player.
If anyone thinks the former Tennessee Volunteer isn't a starter for the Patriots, then they've got a strange way of identifying talent.
The real question isn't whether Mayo is a starter or not, it's who will line up next to him in a 3-4 front?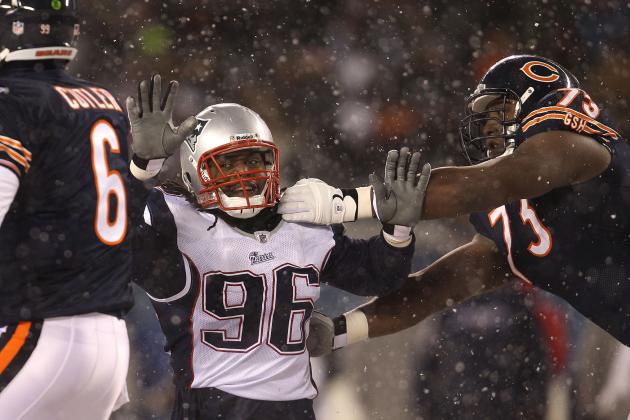 Jonathan Daniel/Getty Images
In a 3-4 scheme, Cunningham would be best utilized as an outside linebacker.
Well isn't this a surprise?
Jermaine Cunningham hasn't done much for the Patriots since being drafted in the second round of 2010. I for one, have certainly labelled him a bust in the past, but maybe it's not all Cunningham's fault.
Cunningham was playing defensive end in 2011 before he was placed on injured reserve.
At end, he barely saw the field and was relegated to special teams duty. He started 11 games during his rookie year when New England played a base 3-4 defense.
If this former Florida stud lines up on the edge as an outside linebacker, he could turn his career around. Switching back to a 3-4 defense could give Cunningham the opportunity he has been waiting for.
In two seasons as a pro, Cunningham has totaled 36 tackles, one sack and two forced fumbles.
Rumors have been boiling about the possibility of Houston Texans' pass rusher Mario Williams joining New England. If Williams joined the Patriots, it would be as an outside linebacker, not a defensive end.
Although the 2006 No.1 overall pick could sign with New England, it's unlikely.
The Pats have not broke the bank on a defensive player since Adalius Thomas in 2007. Thomas' five-year, $35 million dollar deal clearly didn't pan out like the organization had hoped.
And thus, the Patriots have been weary about giving top dollar to free agents ever since.
Cunningham could be cut in training camp. But if he starts to excel in the program, he could build on his once-promising career.
If head coach Bill Belichick didn't think Cunningham could play, he wouldn't still be under contract with the Patriots.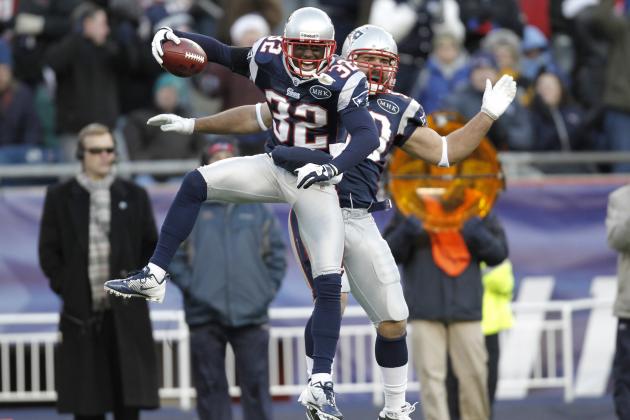 Winslow Townson/Getty Images
McCourty should recover from his miserable sophomore campaign.
Devin McCourty had an outstanding rookie season, nabbing seven picks. Sadly, his second season left most Patriots fans shaking their heads.
The Rutgers alum had just two interceptions this past season. That total would have been acceptable had he not continued to get burned by wide receivers left and right.
In 2012, McCourty should figure it all out.
He's got what it takes to be a top tier cornerback in the NFL. He's athletic and smart. DMC just needs to regain his confidence and put all the parts together.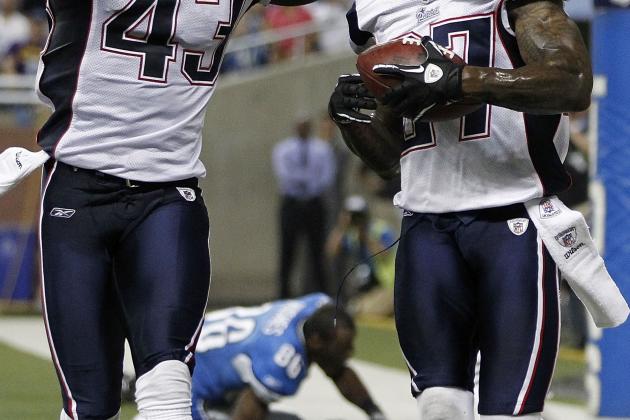 Leon Halip/Getty Images
Arrington amassed seven interceptions in 2011.
2011 was a year to remember for Kyle Arrington.
The Hofstra corner was an undrafted free agent and practice squad player, now he's a starting defensive back for the Patriots.
Last season, Arrington was tied for the most interceptions in the NFL with seven.
This feel-good story should continue into next season. Arrington is a favorite to keep the starting cornerback gig across from McCourty.
Last year's second-rounder Ras-I Dowling has officially earned the 'injury prone' tag. The Virginia DB missed a chance to mesh in New England's defense in 2011. Dowling is young and still could have a bright future, but he will be best utilized as the nickel corner in the upcoming season.
Ras-I may eventually surpass Arrington, but that won't happen in 2012.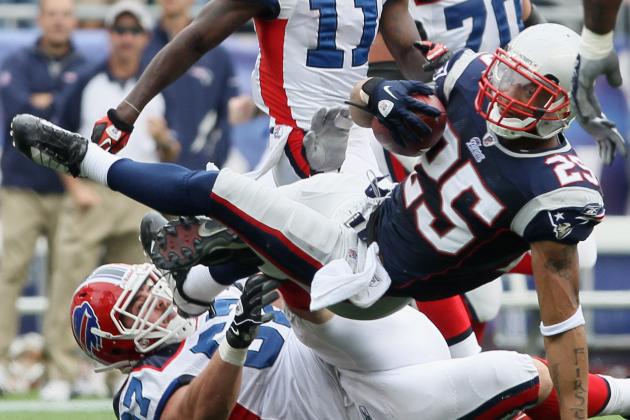 Elsa/Getty Images
Chung can be a dependable safety when healthy.
Oregon's Patrick Chung has been a nice piece of the Patriots' puzzle.
This ball-hawk deserved to be New England's second round selection in 2009.
Chung does so much. He picks off passes, delivers big hits on receivers and sacks the quarterback.
One knock on Chung is his health. The Kingston, Jamaica native has missed 10 games over the last two seasons with injuries.
Yet when healthy, this safety makes a difference.
Without Question, Pat Chung is an asset for the Patriots.
George Iloka should be one of the Patriots' 2012 draft selections.
The 2012 NFL draft is where the Patriots will find their next starting free safety.
James Ihedigbo filled in effectively for the Pats in 2011, but he doesn't pose much of a threat for offenses. Ihedigbo is more of a special-teamer than a starting caliber safety.
That is where this Bronco comes into the picture.
Boise State's George Iloka should be selected by New England with the 95th pick overall. That is, of course if he's still available that late. It wouldn't be a shock if the Pats chose him late in the second round.
This imposing safety has great size at 6'4" and 225 pounds. Even though he's big as far as safeties are concerned, Iloka possesses nice footwork and ball skills.
Running a solid 4.66 40 yard dash at the NFL Scouting Combine is acceptable for Iloka's stature. Iloka played free safety in college, but is capable of playing at strong safety.
Ultimately, he's a perfect fit for the Pats.
One thing is for sure, wide receivers won't want to run across the middle when this defensive back is lurking.