Klitschko vs. Mormeck: Wladimir's Extra Weight Will End the Night Early
March 3, 2012

Scott Heavey/Getty Images
Jean-Marc Mormeck may be in some serious trouble tomorrow night when he goes up against super heavyweight champion Wladimir Klitschko, as the two fighters are quite far apart in terms of weight.
With the results in for the fight, Klitschko weighed in at 244.7 pounds compared to Mormeck's 216.
Considering the strength and odds already that much in the champion's corner, this weight differential is bad news for Mormeck and his luck going into this heavyweight bout.
It is not shocking that Klitschko weighs so much more, as he stands at 6'6" compared to Mormeck's 5'11" frame. 
Between the height and weight differential, who really knows how long this fight will last? Mormeck may feel like he is just hitting the bag, as that is pretty much the same thing as trying to fight this beast of a man.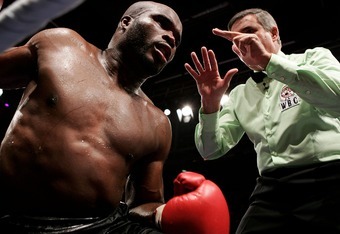 John Gichigi/Getty Images
Mormeck has won 22 of his 36 victories by TKO, but given the challenge he has in Klitschko, is that even a possible result? How could he even win in a decision? From the looks of it, he will just be getting hit from above the entire fight.
While some would argue that the fight could go the full length—as did older brother Vitali Klitschko's bout with Dereck Chisora—the likelihood of that happening seems rather slim now, given the weigh-in results.
Klitschko hasn't lost a fight since 2004, and since then he has racked up the WBO, IBF, IBO and WBA titles. 
This fight against Mormeck just seems to be another stepping stone, as well as another victory to add to his current tally of 14 straight wins.
It will remain to be seen who his next bout will be with, but this one is looking more and more like a shoo-in as the days pass by.
Jeff Chase is a Featured Columnist for the Chicago Cubs and Arizona State football.
Follow @Real_Jeff_Chase