2012 NFL Draft: Why the Washington Redskins Must Draft Robert Griffin III
March 2, 2012

Sarah Glenn/Getty Images
There is no doubt that Stanford's Andrew Luck is the best quarterback available in this year's draft. With that said, Robert Griffin III is a very close second and would go first overall in almost any other year.
The two teams who are in the lead to land the young signal caller out of Baylor are the Cleveland Browns and Washington Redskins. The St. Louis Post-Dispatch considers the Redskins the "early front-runner" to trade up into the No. 2 overall draft slot and select RG3.
The price tag could be enormous. It was rumored before the combine the asking price would be two first-round selections, a second-round pick and possibly some later picks.
That was before the combine.
More and more teams have shown interest in trading up to the No. 2 pick. Griffin has increased his draft stock with a 4.41 40-yard dash time and excellent interviews.       
A bidding war with other teams could drive the asking price up to three first-round draft picks. Now, I know that seems like a lot of valuable picks for just one player, but I think the Washington Redskins should pull the trigger.
Here are some reasons why the Redskins should do whatever it takes to trade up to draft Griffin .
Franchise Quarterbacks Don't Grow on Trees
The Redskins haven't had a franchise quarterback since Mark Rypien in 1993.
With failed attempts at drafting mediocre college quarterbacks and trying to revive the careers of quarterbacks well past their prime, it's time to take a chance.
Griffin is the guy to take a chance on.
There is not a single red flag when it comes to RG3. He graduated high school and college early and was raised in a military family. He had great production at Baylor, improving each and every year.
What's not to like about this guy?
The comparisons of RG3 to Michael Vick have got to stop. Robert Griffin III is a far superior passer than Vick. If you must compare RG3 to a player, it has to be Hall of Famer Steve Young.
Now, I'm not saying that RG3 will have the same success that Young had, but their style of play is very similar. Young was on a great team in San Francisco and sat behind one of the greatest quarterbacks of all time (Joe Montana). If RG3 can be anything like Steve Young, the Redskins should draft him.
The Redskins haven't had a player with the ability to change the game in a heartbeat in quite some time. Griffin is a game-changer.
Santana Moss showed game-changing ability in the 2005 season, but was unable to sustain that over a long period.  
People who think that the Redskins would be giving up too much to draft RG3 need to know one thing—the quarterback is the most important position on the field.
Without a franchise quarterback, the players that they would draft likely wouldn't amount to anything.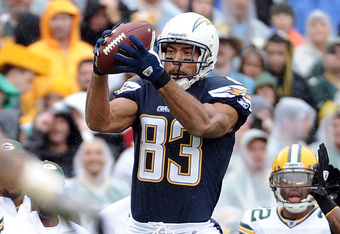 Harry How/Getty Images
The New York Giants were in a similar situation back in 2004. They fell in love with Eli Manning. They ended up paying a hefty price to acquire Manning with the first overall pick. Since then, the New York Giants have won two Super Bowl championships. I'd say that deal worked out pretty well, wouldn't you?
The Redskins need to get a franchise quarterback on this team. The fans are sick and tired of seemingly having a new quarterback behind center every season. RG3 is the solution to this team's quarterback problem.
Team Can Still Build Through Free Agency
Many people are assuming that if the Redskins trade away multiple picks to draft Griffin that they wouldn't be able to get any more talent on the team. That assumption is incorrect.
This year features one of the best free-agent classes I've seen in quite some time. The Redskins will have the opportunity to sign some great young players when free agency begins March 13.
Last season, they were able to dump a good amount of salary cap room.
Thanks to that, the Redskins have $47.56 million of cap space for 2012, more than enough money to sign Robert Griffin III and surround him with talent.
The offensive line always seems to be an issue for the Redskins. The Redskins recently resigned center Will Montgomery.
Trent Williams is an up-and-coming left tackle in this league and left guard Kory Lichtensteiger, who was just extended a contract tender, was the best offensive lineman on this team last year before he was injured. The Redskins should go after a right guard in free agency.
The Redskins could attempt to go after Baltimore Ravens guard Ben Grubbs or New Orleans Saints guard Carl Nicks. With the Ravens using their franchise tag on running back Ray Rice, and the Saints leaning towards slapping the franchise tag on quarterback Drew Brees, both those guards are likely to be available. 
The wide receiver free agent class is great this season. Chargers receiver Vincent Jackson, Chiefs receiver Dwayne Bowe and Bills receiver Stevie Johnson headline the group.
The Chargers will not franchiseJackson for a second straight year and the Chiefs are leaning towards franchising cornerback Brandon Carr instead of Bowe. Either of these players would be great additions to Washington this season. Johnson has some character issues and that wouldn't pair well with a rookie quarterback.
Wide receivers usually take some time to develop in the league, so getting one that has already established himself could help the development of a rookie quarterback.
With the Redskins placing the franchise tag on tight end Fred Davis on Friday, safety LaRon Landry likely won't return. There are some talented safeties in free agency that could fill his spot.
Players like the Titans' Michael Griffin, the Falcons' Thomas DeCoud and the Bears' Brandon Meriweather could be cheaper replacements.
The Redskins could still add quality talent to their team if they trade multiple picks to draft Griffin.
The Time is Now to Take Over the NFC East
The NFC East features some great starting quarterbacks. There's two-time Super Bowl MVP Eli Manning of the New York Giants, three-time Pro Bowler Tony Romo of the Dallas Cowboys and four-time Pro Bowler Michael Vick of the Philadelphia Eagles.
While these are all good NFL quarterbacks, they are getting old. Vick and Romo will both be 32 at the beginning of the season and Manning will be 31.
This would be the perfect time for the Redskins to draft a franchise quarterback. The other teams in the division won't be looking to draft their next quarterback just yet.
If the Redskins are able to draft Griffin this year, they would be able to get a head start on the other teams in the division. By the time RG3 hits his prime, the other teams will just begin looking for their next quarterback.
The Redskins would be in great condition to dominate the NFC East for at least couple of seasons.
Washington would be able to solve two problems by drafting RG3: having a franchise quarterback and having the opportunity to be a consistent playoff team.
The Redskins have been irrelevant for quite some time now. It's about time they started taking some risks if they want to be a contender any time soon.
Griffin has the athleticism, throwing accuracy/arm strength and leadership ability to be a great NFL quarterback.
If the Redskins want to please their fans and become a legitimate championship contender, they need to draft a franchise quarterback.
The Washington Redskins need to do whatever it takes to draft Griffin.