Peyton Manning Rumors: No. 18 Is Kansas City Chiefs' Best Bet Going Forward
March 3, 2012

Andy Lyons/Getty Images
While nobody is sure what is exactly happening with quarterback Peyton Manning and the Indianapolis Colts, one thing that is for sure is that the Kansas City Chiefs must jump on the opportunity if No. 18 is let loose this NFL offseason.
According to Bob Fescoe of 610 Sports, the Chiefs have reportedly spoken twice to Manning's agent Tom Condon.
Hearing the #chiefs and tom condon have spoken twice abt peyton manning. Told financials a good fit for kc. We shall see what happens

— Bob Fescoe (@bobfescoe) February 23, 2012
While the penalties of that situation could be bad for the Chiefs if it turns out to be true—as that is tampering—the team may be in a tough situation when all is said and done. Still, one would have to think that the team would be penalized, but not to an extent that they wouldn't be able to sign No. 18.
As of now, the team has QB Matt Cassel under contract, as well as them likely possibly considering bringing back Kyle Orton, from whom they picked up off of waivers this past season.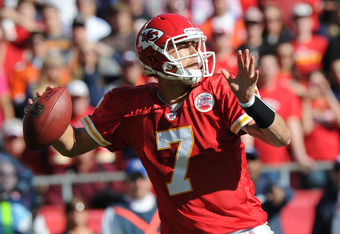 Peter Aiken/Getty Images
While both of those passers have done a fine job when given the chance, neither is Manning, and that is a big enough selling point for the Chiefs to move on from their other options.
In nine games this past season, Cassel threw for just 1,713 yards with 10 touchdowns and nine interceptions. And while the team went 4-5 under him, thing were just not consistent enough.
The problem just lies in that Cassel is locked up until 2014, but he actually is set to make just $5.25 million this season. While that is a hefty price tag for a backup, the option of having him behind Manning is great depth. 
It is no secret that Manning's health isn't exactly 100 percent, or maybe even 50 at that, so the team has to be in position to win just in he would go down if they actually were to sign him.
Manning would put this Chiefs team over the top, as they already have a strong defense, as well as offensive options in wide receiver Dwayne Bowe and running back Jamaal Charles. Adding Manning to the mix only makes this offense stronger, as well as making the team as a whole a lot better.
If he can stay healthy and play like he did before he got hurt, the Chiefs likely could decide as the seasons goes on if they want to move Cassel. With somebody likely scrambling for a passer, the Chiefs would be in position to trade their insurance option.
Of course, it will remain to be seen what kind of money Manning ends up demanding. It will rely on his health, and clearly if that is good to go, many teams will try and get in the mix.
The Chiefs have all the other pieces in place, and now they must wait on the potential last piece of the puzzle. If it becomes available, they can't pass it up.
Jeff Chase is a Featured Columnist for the Chicago Cubs and Arizona State football.
Follow @Real_Jeff_Chase