Detroit Tigers: 5 Reasons Why Doug Fister Was Not a One-Hit Wonder
Patrick McDermott/Getty Images
The contributions that Doug Fister made to the Detroit Tigers in the second half of the 2011 season were nothing short of remarkable. Fister was brought in to be a back-end guy out of the rotation, and he ended up earning a comfortable spot right behind Tigers' ace Justin Verlander.
However, there are rumblings all across baseball that Doug Fister will regress in some form, and he will not be able to produce the numbers that all Tigers fans were ecstatic to witness last season. While it is incredibly likely that Fister will not be able to replicate is 2011 season wearing the old English D, there is no reason to doubt his abilities and dominance on the mound.
Fister relies on confidence, knowledge, and precision to be an effective pitcher. Because of this, it is completely fathomable that Fister will be able to continue his amazing run from last season into 2012.
Here are five reasons why Doug Fister was not a one-hit wonder.
5. Defense Isn't as Bad as People Think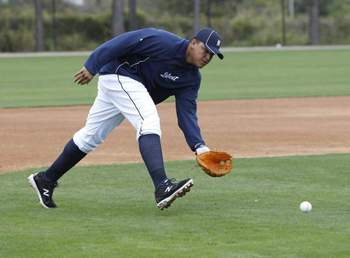 http://topics.freep.com/Miguel_Cabrera/
The most popular topic across baseball during spring training is the Tigers' infield. Will Miguel Cabrera be able to handle the hot corner? Will Brandon Inge earn the starting job at second base?
While many observers feel that Miguel Cabrera will last only a few weeks at third base, I am a firm believer that he has the work ethic to be successful. He has been working incredibly hard to lose weight and learn the footwork to return to third base for the first time in three years. However, it is also important to understand that like every baseball player, he will commit errors. Unfortunately for Cabrera, every error he commits will be scrutinized and analyzed more than any other. Overall, fans should be confident that Cabrera will get it done at third base.
Now, Brandon Inge is a different story. There is no questioning his work ethic; there is also no questioning his athletic ability. In fact, during the Tigers first spring training game against the Atlanta Braves, Inge made two dynamic plays at second base, which will help him to earn the starting nod come April. The real question lies with Inge's bat. If he can return to form and start hitting effectively, he will easily win the job at second base, hands down.
The Tigers' defense is not without its faults. However, Peralta has been an exceptional shortstop since his arrival in Detroit, and Prince Fielder will do just fine at first base. Even Jim Leyland understands his defense in his statement to the media, which was reported on Mlive.com.
"If you guys are sitting in here and think, or if I sit here and think that there's not going to be a ball go by once in a while, that's not going to happen. We're all crazy," Leyland said. "I'm not going to make a big deal out of it. Some of you will, some of you won't. But the fact of the matter is, as a manager, when you put people there you accept what you believe you might get."
Look for the Tigers' defense to commit its share of errors, but they will also make some big plays that lead to key victories. All of the Tiger pitchers, including Fister, will have excellent support behind them throughout the season.
4. Offensive Support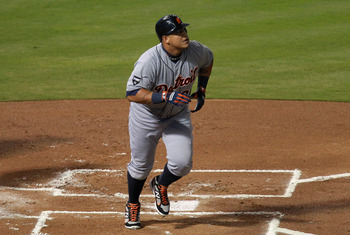 Ronald Martinez/Getty Images
The names speak for themselves. At this point, everyone knows the Tigers will have one of the most potent offenses in the league this season. Players like Brennan Boesch, Miguel Cabrera, Prince Fielder, and Delmon Young will be the heart of an offense that will provide plenty of run support for all of the Tigers' pitchers, including Doug Fister.
While mistakes will be made in the infield every once in a while, there is no arguing that the Tigers will more than make up for those mistakes with big at-bats from everyone in the batting order. Fister will not lack for runs like he did during the first half of the 2011 season.
Look for the Tigers' offense to improve on a very strong 2011 campaign and help Doug Fister continue his dominance throughout the season.
3. Consistent Improvement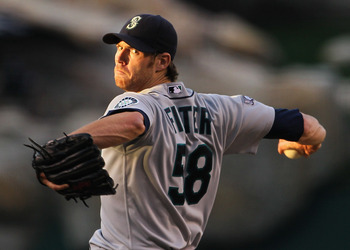 Jeff Gross/Getty Images
Since Fister arrived with Seattle in 2009, he has seen steady improvement each and every season. This can be attributed to his incredible work ethic, steady defensive support, and fine-tuned pitching mechanics.
While many may look at his wins and losses during the first half of 2011, it is important to note that he still boasted a 3.33 ERA and a 1.17 WHIP. During that half of the season, the Mariners struggled to get men on base and get them across home plate when they did.
During 2011, Fister combined for a career high 146 strike outs, which is 57 higher than his previous high. He also appeared in 216.1 innings, which is roughly 45 more innings than he has ever appeared in. Anyone who looks at his career numbers would see an improvement in almost every category across the board.
Therefore, one could argue that with an even better offense and a slightly worse defense for the Tigers in 2012, Fister will be able to continue his improvement, which hopefully will help catapult Detroit to the World Series.
2. Incredible Accuracy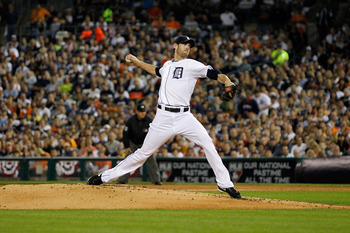 Leon Halip/Getty Images
Fister is known as a marksman. He has an incredible ability to put his pitches exactly where he wants them. He doesn't throw a lot of pitches. He doesn't even hit 100 MPH. That is because of one simple reason: he doesn't need to.
Fister relies on his control and steady hand to help him get batters out and win ball games. During the 2011 season with both the Mariners and the Tigers, Fister pitched 216.1 innings and walked only 37 batters. To compare, Justin Verlander pitched 251 innings and walked 57 batters. There is no doubt that Fister has the ability to dominate every time he steps on the mound.
In a recent article by the Detroit Free Press, Fister had this to say about his control and mechanics. "Aim small, miss small," Fister said. "The sniper mentality is obviously one shot, one kill. But if you aim small, your misses will be a lot smaller than if you are aiming at a bigger target."
Look for Fister to use his shooting background to help eliminate batters each and every time he steps on the hill for the Tigers in 2012.
1. Confidence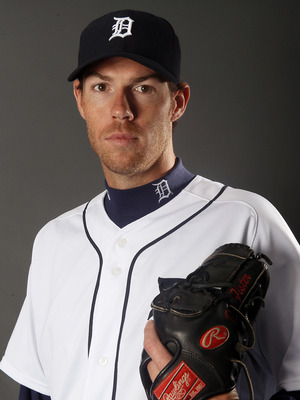 Elsa/Getty Images
A recent article by the Detroit Free Press talked about how Fister fell asleep in the clubhouse before a game near the end of the 2011 season. Alex Avila, wondering where his starting pitcher was, went into the clubhouse to find Fister out cold. Upon waking him up, Avila stated, "You know, you are pitching today. The game starts in about 35 minutes." To which Fister replied, "Yeah, I know. I'll be out there."
An important characteristic to know about all control pitchers is that they must remain calm and collected throughout the duration of a season. Fister doesn't worry about watching film or scouting players. He trusts his ability to get any batter out on any given day. The lessons that he has learned from his family with their police background, which is building relationships, controlling your breath, and being confident, will all be important ideas for Fister during his 2012 season.
There is doubt that Fister will continue to stay confident this season, as he has all the tools to be an all-star pitcher for years to come.
Hopefully, all Tigers fans are ready for an exciting 2012 season, and Doug Fister will contribute in a big way.
Keep Reading

Detroit Tigers: Like this team?