NFL: What Should the Penalty Be For the New Orleans Saints' Bounty Program?
March 2, 2012

Handout/Getty Images
The biggest fine handed out in NFL history was given to the New England Patriots in 2007, as a result of the Spygate scandal.
That likely will not be the case soon, as Roger Goodell sent a memo to NFL owners revealing that about two dozen New Orleans Saints' defensive players had participated in a bounty program from 2009 to 2011. 
The Patriots were punished for violating rules regarding competitive fairness. Clearly, a program such as this would violate such rules as well; in fact, the NFL sends out a memo to players each year warning that such programs violate both the CBA and NFL by-laws. Moreover, by giving players cash rewards for on-field actions (even non-injury related ones such as interceptions or fumbles), it effectively acts to circumvent salary cap restrictions.
Finally, and most importantly, the team rewarded players for knocking players out of the game, with added bonuses for hurting players badly enough that they needed to be carted off, and for injuring players in playoff games. This is in stark contrast to the NFL's stated efforts to try to make the game safer and reduce injuries; the bounty program and its continued existence makes a complete mockery of such attempts. It is this, more than anything else, that will likely result in the Saints receiving a penalty that will exceed the penalty for Spygate.
A Pat Kirwan tweet suggests just how ugly this could get: he's heard from lawyers suggesting that players injured by the Saints might have a case for civil lawsuits.
So—what should the penalties be? Here's what I think, based on the information at hand, should happen: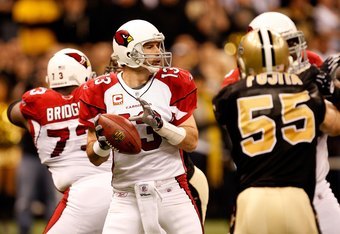 Ronald Martinez/Getty Images
The Players
At a minimum, any players who received payments from the system must be subject to what in legal terms is called disgorgement: they must give up any payments they received through the system. Moreover, any player who received payments for causing an injury should be suspended for at least one game, with larger penalties should they be repeat offenders. (Any free agents who might be at risk of suspension should be identified before free agency starts, so teams can be aware of the impending punishment.)
The Coaches
Head coach Sean Payton was aware of allegations into the program, but apparently did nothing to investigate the program or try to end it.
If that is in fact the case, then he should be fined, but not suspended.
His fine, though, should not be as large as the one handed out to former defensive coordinator Gregg Williams, who is now DC for the Rams. Williams is accused of not only knowing about the program, but administering it and even contributing funds to the bounty pool.
Because he's with the Rams, it is difficult for me to say that Williams should be suspended games, since that would be harming the Rams going forward. At a minimum, though, Williams should be given the largest fine that the NFL allows, as the NFL did with Patriots' head coach Bill Belichick. That said, I could see an argument that teams should be aware such punishments are possible, and therefore should "take their lumps"—but, in that case, they should also have the option to fire Williams with cause.
Any coaches still with the Saints who had participated in the pool should likewise be fined.
The Front Office
Here's where things get hairy: apparently, when Saints GM Mickey Loomis was asked about the existence of the program in 2010—that is, after the program was in place—he denied knowledge of it, and pledged to make sure no such program would exist. Clearly, based on these findings, at a minimum, he failed to enforce that pledge; at worst, he knew about it and lied about it. If it is the former, he deserves the same penalty that Sean Payton receives; at worst, he should be penalized as harshly as Gregg Williams and Bill Belichick were.
The Team
We can't go back in time and undo the existence of the program; therefore, the NFL has to use some form of future deterrent. The only fair and practical penalties that exist are monetary fines and draft picks.
As for monetary fines against the team, the minimum fine should be equal to the combined total of all funds known to have been contributed to the bounty pool. It is unfortunate that the CBA does not allow such funds to be charged against the salary cap, as that might be an even fairer penalty.
As for draft picks, Adam Schefter of ESPN has tweeted his "safe prediction" that New Orleans "will be disciplined far worse than the Patriots were for Spygate."
What has been lost in the mists of time, for many people, is that the Patriots' fine for Spygate was a conditional one. The Patriots forfeited their own 2008 first-round pick because they made the playoffs that season; had they missed the playoffs, they would have kept their first-round pick and instead forfeited both their second-round and third-round picks.
The Saints gave up their first-round pick in 2012 last year to draft Mark Ingram, so that penalty is not available. Instead, the Saints should be penalized their second- and third-round draft picks in 2012, and their first-round pick in 2013.
The most interesting suggestion—and perhaps the harshest—I've seen is Rob Rang's: in addition to fining the Saints second- and third-round picks, he suggested that Goodell consider "rescind[ing] the Saints' ability to use the franchise tag for two seasons (bye, bye, Brees?)."
I'm not sure I would go this far, but I can certainly understand why Rang suggested it. The NFL needs to crack down on such bounty programs; unfortunately, it appears the Saints will be the sacrificial lamb in this case.