QPR vs. Everton: 10 Bold Predictions for Loftus Road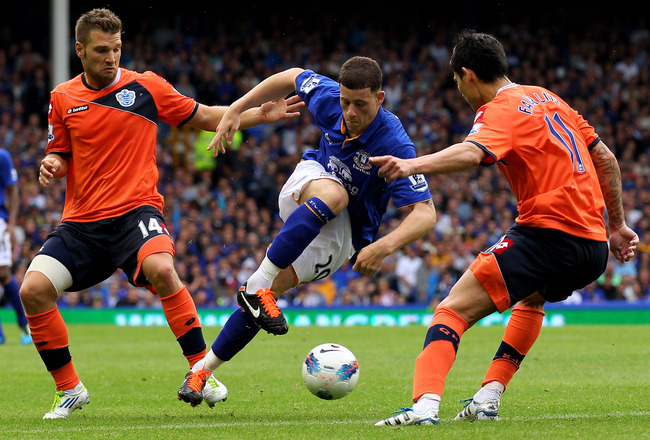 Alex Livesey/Getty Images
With fresh legs and squad brimming with in-form, confident players, Everton take their show on the road this weekend; Loftus Road to be exact.
Liverpool's close call in the Carling Cup final allowed Everton a week off to prepare for their coming showdown with Queens Park Rangers, a side on the fringes of relegation. This time around the Toffees will try to accomplish what they couldn't at Goodison: Beat Super Hoops.
QPR shocked Everton 1-0 in the season opener by virtue of Tommy Smith's goal in the 31st minute. Both clubs have gone through significant facelifts since that August 20th rumble, so it will be interesting to see how it all plays out the second time around.
Then again, why wait? If you don't want the game spoiled for you, leave now. For everyone else, here are 10 bold predictions for Everton vs. Queens Park Rangers.
Tim Howard Will Retain His Italian-Stifling Beard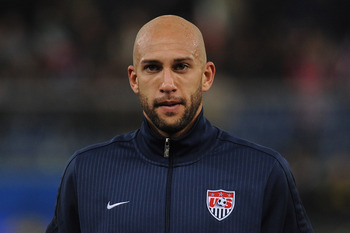 Valerio Pennicino/Getty Images
As predictions go, this one isn't very bold. Tim Howard was immense in goal during the US 1-0 friendly win against Italy, and it mostly had to do with his mane of scraggly facial hair.
Mistaking Howard as one of their own, the Italians were all too eager to compliment him in goal, explaining their numerous offside calls. Even when the Azzurri put a shot on target, they almost always placed it directly on Howard's hands. The home team just couldn't take their eyes off that beard.
Even though QPR lacks any Italians beyond recently acquired (but little used) Federico Macheda, the beard should stay. Why fix what isn't broken?
The beard alone won't guarantee a clean sheet, but it should provide Howard the confidence to play at a high level. With that beard, anyone would.
Leon Osman Will Play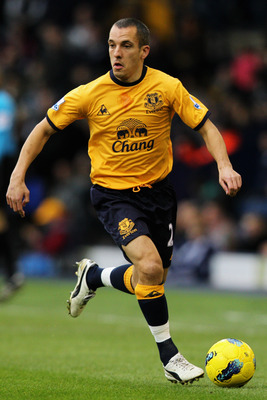 Dean Mouhtaropoulos/Getty Images
Injured way back in January, Leon Osman looks to finally make his return to the first-team. He lasted 45 minutes for the reserve side in a match earlier this week, and looks ready to comeback.
Still tied at the top of Everton's league goal-scoring list, even after missing almost two months of football, Osman will be a welcome sight to a side always in search of goals. I don't expect him to start, as he still is out of form, but a substitute role isn't out of the question.
Even with Steven Pienaar and Royston Drenthe on the wings, Osman should have little trouble finding his way back into the starting XI. David Moyes respects his experience on the pitch, and Osman has proven he still knows how to finish.
Osman's return is a positive for Everton, making them deeper and more dangerous going forward.
Ross Barkley Will Play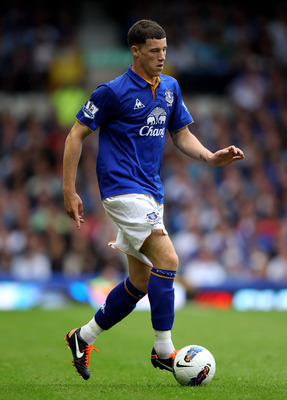 Alex Livesey/Getty Images
Arguably hidden away for many months in and around the January transfer window, 18-year-old Ross Barkley has slowly been making his way back to the first-team. His recent usage as a late substitute against Blackpool was Barkley's first appearance since late November, and could be a sign of things to come.
Barkley played well against QPR the first time these two teams clashed, being decisive in midfield with a handful of brilliant cross-field passes and a few shots towards goal.
Many Evertonians have been pining for David Moyes to use the talented Barkley more, and there are indications that he might oblige. Barkley has been an unused sub in two of Everton's last three matches, a step up from not even making the bench since New Year's Day.
Despite his youth, Barkley has a tremendous upside that had clubs allegedly scrambling for his services not so long ago. More time playing first-team football can only help, and he might get some time against QPR if the result is settled early.
Denis Stracqualursi Will Score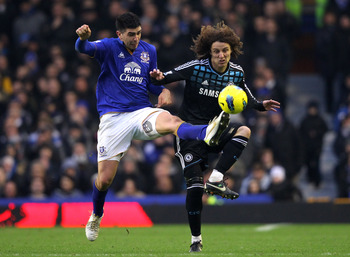 Alex Livesey/Getty Images
With Louis Saha now plying his trade for Spurs, Denis Stracqualursi has emerged as David Moyes' first choice up front. He has started each game since scoring his first Everton goal against Fulham in the FA Cup, and has struck twice more since.
Little used for most of his loan spell in Merseyside, Moyes took a chance on the Argentine by casting off Saha in January, and so far Strac has not disappointed. He has been productive up top, giving defender's headaches trying to corral him going forward.
The goal he scored against Chelsea, while manufactured primarily by Landon Donovan, was textbook, cementing a win over the struggling West Londoners.
I foresee another goal for Stracqualursi against QPR, perhaps the opener. If he does so, it will be the striker's third in as many matches. With the way he's playing right now, it's not that strange of a suggestion.
Royston Drenthe Will Get an Assist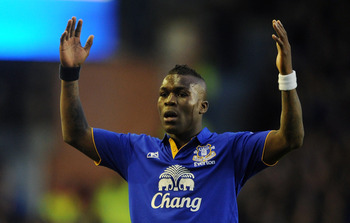 Chris Brunskill/Getty Images
Assisting Denis Stracqualursi will be Royston Drenthe, Everton's finest Dutchman. The energetic winger has frustrated equally as he's impressed, but against QPR he should have one of his finer games.
Drenthe leads Everton in assists with eight across all competitions, so it's a safe bet he'll be the one to find Strac for the Argentine's goal. A roving threat on the wing with tricks aplenty, Drenthe seems to provide a spark every time he's on the pitch, but often gets caught trying to do too much and gives the ball away.
With a solid week of practice under his belt, Drenthe should enter the QPR game with a bit more control and purpose. If he does, an assist (or even a goal) will be in his future.
Joey Barton Will Do Damage in Midfield
Clive Mason/Getty Images
Few other players in the Premiership have a bad-boy reputation akin to Joey Barton's. While the flames of anger—that once made him feared by all, up in Newcastle—have died down since his move to QPR, the ashes of excessive ferocity still smolder beneath his shark-like eyes.
With Barton having to contend with the physical Marouane Fellaini in midfield, expect fur to fly if the Hoops' midfielder consistently loses out to the towering Belgian. Fellaini has been commendable in winning possession back for Everton, making a hard foul by Barton out of frustration that much more likely.
While he has tried to reform his hard-tackling act, we could see flashes of the old Barton if Everton get out to an early lead.
Bobby Zamora Will Score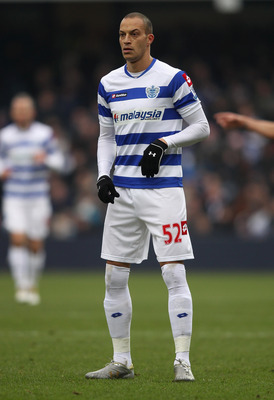 Clive Rose/Getty Images
Recently acquired forward Booby Zamora hasn't made much of an impact at Queens Park Rangers after a goal in his debut against Wolves. He's played the full 90 in the two matches since, but has only managed four shots, none of which have been on goal.
A bold prediction by many standards, I see Zamora getting back into the scoring column against Everton. He was still playing for Fulham when the Toffees bounced the Cottagers from the FA Cup, and revenge is a solid motivator.
I feel like this goal will be in response to Denis Stracqualursi's, evening the score at 1-1. I also see this as one being let in before halftime, putting the two sides on equal terms at the break.
At 31 years old, Zamora needs to find his form fast or risk being to put out to pasture away from England's top flight. A goal against Everton will be a positive step forward.
Everton's Wingers Will Be Decisive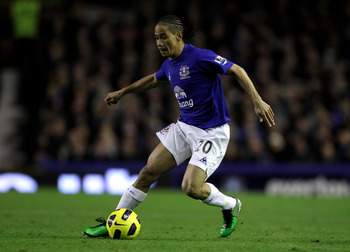 Alex Livesey/Getty Images
The match will come down to whether Queens Park Rangers can handle Everton's pace and creativity on the wings. Royston Drenthe, Steven Pienaar and even Leon Osman each have the skill to cause Super Hoops problems on their flanks, and if the home side can't find a solution, they'll probably be on the losing end of things.
Most of the chances Everton create start on the wings, with either their wingers or outside defenders pushing play forward. QPR might best be exposed on their right, with Nedum Onuoha enjoying the freedom to push far forward. Quick players like Pienaar and Leighton Baines could catch him out of position and press the advantage in QPR's final third.
I don't think QPR has a real answer for Everton's wing play, meaning that the Toffees should control things along the fringes of the pitch. It remains to be seen if they can take advantage of it.
Tim Cahill Will Score Winner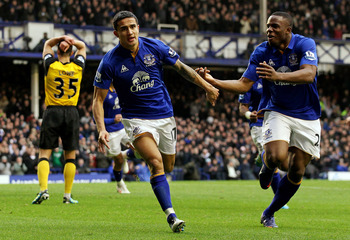 Scott Heavey/Getty Images
The Socceroos star has had a lousy year thus far for Everton, scoring only once in 24 league games. Tim Cahill has been just slightly off on many tries, and his heading accuracy that was once coveted across England, seems to have left him.
So why shouldn't he score the winner against Queens Park Rangers? With the dominance Everton will have on the wing, there should be plenty of crosses for Cahill to feast upon. With all eyes on the in-form Denis Stracqualursi, Cahill could sneak in from his spot right behind the Argentine and slip in a goal.
I see this goal coming off a set-piece, and late. Everton and the entire nation of Australia will rejoice.
Final Score: Everton 2, QPR 1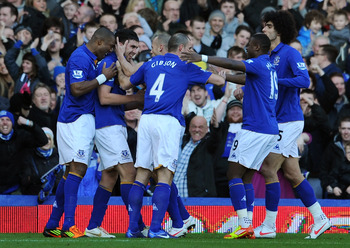 Chris Brunskill/Getty Images
If you've been following along, this prediction should come as no surprise. It's a bit biased, but few neutrals could dispute that Everton comes into this fixture favored.
Queens Park Rangers have lost four of their last five and haven't won since January 21st against relegation-bound Wigan. This is a team that, with all their January acquisitions, hasn't come together yet, and it's showed on the pitch and in the results column.
Super Hoops won't find their stride against a strong collective like Everton, who are currently playing their best football of the season. Expect the Toffees to extend their unbeaten streak to a 10th game on Saturday.
Keep Reading

Everton: Like this team?