NFL Free Agency 2012: The Patriots Would Be Wise to Target Mike Wallace
March 2, 2012
There's no magic elixir out there. When training camp starts, the New England Patriots will have their feet on the ground and their eyes staring up at the mountain they'll have to climb all over again. Getting to the top of that mountain will be the result of a series of good decisions.
Despite consistently being one of the best teams in the league every year, the Patriots haven't won the crown since 2004. Why? The answer varies from person to person. For me, the absence of Willie McGinest is the biggest reason. The Patriots have never fully filled his cleats.
Now, with all of this wide receiver talent available on the market, our focus has shifted.
Ordinarily, I'm not overly-infatuated with wide receivers. It's a diva position, their fees are totally out-of-whack and too many of them don't come through.
A big part of me is definitely in the "get Mario Williams" camp.
But I keep thinking about Rob Gronkowski's injury last season in the AFC Championship against the Baltimore Ravens. I can't decide if I'm more disturbed by the fact that it happened or if I'm more disturbed that I wasn't surprised that it happened.
Along with Aaron Hernandez, Gronkowski has transformed the Patriots into an offense built around two magnificent tight ends. I'm perfectly happy with that, except for the fact that I spent the entire 2011 season crossing my fingers that Gronkowski wouldn't get hurt.
I was horrified that Gronkowski got injured on the cusp of the Super Bowl, but I also wasn't surprised that he got hurt. It was the timing that shocked me, but not the event.
Not only is Gronkowski out there running extremely dangerous routes, but he's got a mountain of weight on his stems. Gronkowski's legs are the source of much fear in me.
Take your pick: his knees, his ankles, his feet; if it's below the waist, I'm concerned about it. I was concerned before the injury and I'm even more concerned now.
I love New England's double tight end offense, but I'm concerned about that offense staying healthy as we hopefully steer ourselves into another Super Bowl.
Don't forget, we're most likely about to spend some serious cash to keep a receiver whose only a few seasons removed from having his knee blown out. Our quarterback has some previous health issues, too.
To a certain extent, we're using house money in 2012.
Considering that Mario Williams missed the majority of last season with a big injury, and Wes Welker and Tom Brady are always a question mark in the health category, I'm hoping the Patriots spend their offseason cash on youth.
I won't rehash all the ways in which Mike Wallace is fantastic. You already know he's everything they say he is. I want him because he's a young and explosive wide receiver, but I also want him in case our double tight end offense breaks down with injuries.
We're about to spend another season relying on Rob Gronkowski's legs. I'm fine with that, but we need insurance. Given the fact that we scored 14 and 17 points in our last two Super Bowls, and the fact that Gronkowski will be a target throughout 2012, I'm inclined to spend our money on a proven receiver.
Not only will Mike Wallace provide instant offense, but he'll be able to step in as a go-to threat if the double tight end offense falls apart. Wallace is both an asset and an insurance policy. He's worth a first-round pick.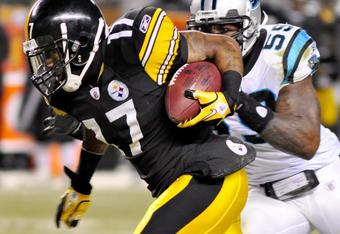 For my money, no one is as explosive or reliable as Wallace. He's young and vicious. He also comes from a complex offensive scheme in Pittsburgh, which will most likely translate in New England.
You're right to be skeptical after the Patriots' many failures with acquiring wide receivers. Their track record is flimsy. But that's a good reason to keep trying. That's all winning really is; you go through years of trial and error until you get it right.
In fact, that's all life is. It's 80 years of trial and error.
The Patriots have the first-round pick to sacrifice and they have the dough to make this pizza cook. Try it. Do it. Give our double tight end offense a cushion for 2012.
Add Mike Wallace and head into the new season with youth and confidence. We'd have Wes Welker, Aaron Hernandez, Rob Gronkowski and Mike Wallace. One of those guys might go down with an injury, but they won't all go down. The three left standing are more than enough to win.
With any luck, all four will be standing when Super Bowl XLVII rolls around.