Lakers Rumors: LA Would Be Foolish to Not Make a Move for Rajon Rondo
March 3, 2012

Christopher Pasatieri/Getty Images
Ever since the Los Angeles Lakers lost out on former New Orleans Hornets superstar point guard Chris Paul to their rival Los Angeles Clippers, the team has felt a serious void at the position. They could potentially fill that void sooner than many would think, as the team could get involved in making a play for the Boston Celtics' Rajon Rondo.
According to ESPN's Chris Broussard, the "Celtics are aggressively trying to trade Rajon Rondo."
After GM Danny Ainge told WEEI, a Boston sports radio station, the team was not going to look into moving Rondo as he was just too critical of a piece to trade.
So what has changed?
Well, according to the report, the Celtics are just running out of energy handing the guard.
The Celtics find Rondo's personality to be too high-maintenance and his clashes with coach Doc Rivers remain an off-court distraction, sources told Broussard, and the front office is now actively pitching him to other teams. With the Celtics realizing they are no longer title contenders, they don't believe his point guard prowess is worth the headaches Rondo brings, sources say. And they do not want to build around him.
That doesn't speak too highly of the player, and it would certainly put many teams off from wanting to acquire. One team that likely wouldn't shy away from this type of player is the Lakers.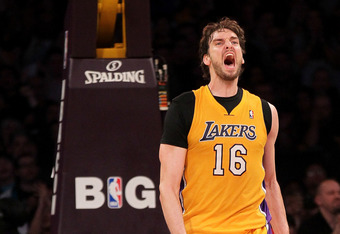 Stephen Dunn/Getty Images
They flirted with the idea of bringing in Gilbert Arenas early on in the season, as well as being linked to possibly trading for troubled Minnesota Timberwolves forward Michael Beasley. Both players have seen their fair share of drama and issues, so someone like Rondo certainly wouldn't put the Lakers off.
While many would assume that the deal would involve Lakers forward Pau Gasol, a straight-up trade doesn't work in the Celtics' favor. The team would have to depart with something else, but taking on that extra $8 million on a forward with players like Kevin Garnett already on the roster, just seems like an inefficient use of cash for the Celtics.
The Celtics, who don't have a whole lot to offer, would likely have to throw in some big contract, such as Jermaine O'Neal's, to even make this trade work. 
If the Lakers can land a decent replacement for Gasol while grabbing an elite talent like Rondo, there is no reason the Lakers should even think about passing on such a deal.
It won't come cheap, but it is what it is going to take to bring the Lakers back to life for a postseason run.
Jeff Chase is a Featured Columnist for the Chicago Cubs and Arizona State football.
Follow @Real_Jeff_Chase