2012 NFL Mock Draft: Setting the Ceiling for Every First-Round Pick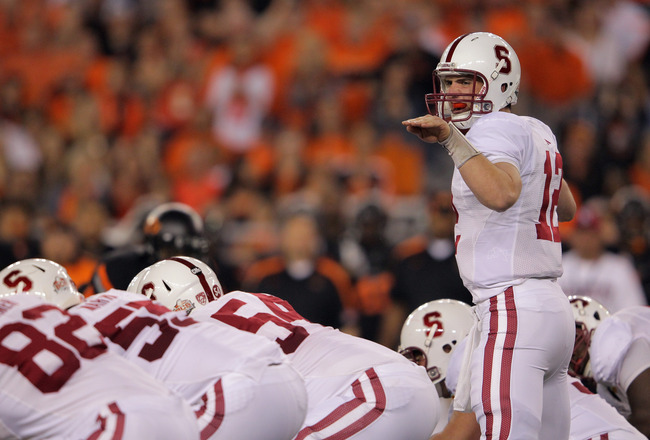 Doug Pensinger/Getty Images
The biggest question everyone wants to know about 2012 NFL draft prospects is what their ceiling is. In three to five years, what type of player will this be?
Instead of looking at the negative (floor), we'll only focus on the positive for the likely first-round prospects. I'm just that type of nice guy.
Here is a fresh 2012 NFL mock draft where we'll set the ceiling for every first-round pick.
1. Indianapolis Colts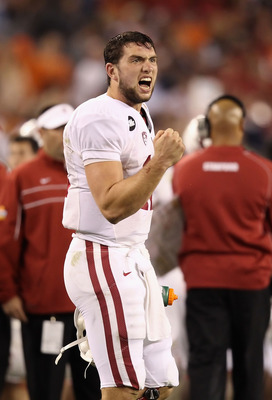 Christian Petersen/Getty Images
Selection: Andrew Luck, QB, Stanford
Ceiling: Tom Brady, New England Patriots
Even with Robert Griffin III's incredible combine performance, it will be very, very difficult to move Luck from the top overall selection.
This kid has everything you want in a quarterback and then some. What makes him so similar to a player like Brady is their intense passion to always improve and their desire to win at any cost.
Brady may not have the strongest arm or greatest athleticism, but he knows exactly what is necessary of him to win. The absolute same could, and should, be said about Luck.
2. Cleveland Browns (from St. Louis Rams)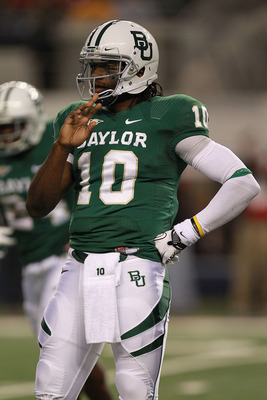 Ronald Martinez/Getty Images
Selection: Robert Griffin III, QB, Baylor
Ceiling: Michael Vick, Philadelphia Eagles
When giving Griffin the ceiling of Vick, I'm thinking more of when Vick just came out of Virginia Tech. Remember how he was supposed to completely change the game of football?
Griffin has a similar skill set to Vick. While he may not be quite as athletic and dynamic in the open field, he is a much better pocket passer. He has the opportunity to become what everyone thought Vick would become.
That's a pretty high ceiling, but Griffin could absolutely get there.
3. Minnesota Vikings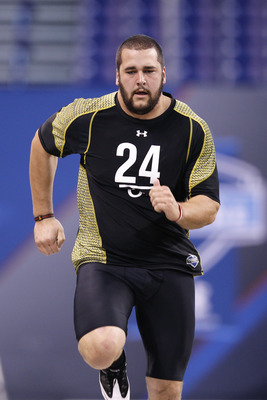 Joe Robbins/Getty Images
Selection: Matt Kalil, OT, USC
Ceiling: Joe Thomas, Cleveland Browns
After Kalil literally blew up the combine with his strength and athleticism, he cemented himself as a top-five pick in the draft, and it is extremely unlikely that he even makes it that far.
Since Thomas entered the league in 2007, he has been one of the most consistent and dominant left tackles in the league. He has been to five straight Pro Bowls and voted to four straight All-Pro teams. He's simply the best at his position.
Kalil could have a similar pedigree after five years in the league. He's definitely got the skill set to succeed as a left tackle in the NFL.
It wouldn't be surprising at all to see Kalil end up in the Pro Bowl after his rookie year and then continue to make it year in, year out.
4. St. Louis Rams (from Cleveland Browns)
Scott Cunningham/Getty Images
Selection: Morris Claiborne, CB, LSU
Ceiling: Joe Haden, Cleveland Browns
As the top defensive prospect in this year's draft, Claiborne could become a better defensive player than Patrick Peterson was last year. He may not be a more dynamic playmaker, but he is definitely a more fundamentally sound cornerback.
Haden has quietly established himself as one of the top cornerbacks in the entire league. He isn't overly physical or overly athletic, but he knows exactly how to play his position and win battles with receivers.
While Haden doesn't get the love like Darrelle Revis or Charles Woodson does, he is easily just as talented. Claiborne has that same type of demeanor where he quietly goes about his business of being a great cornerback.
5. Tampa Bay Buccaneers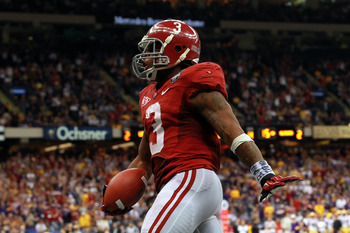 Ronald Martinez/Getty Images
Selection: Trent Richardson, RB, Alabama
Ceiling: Adrian Peterson, Minnesota Vikings
This one was really a no-brainer.
Peterson has been the elite running back in the NFL since he was a rookie. That was clear by his 296 rushing yards (an NFL record) in just his third month in the league.
While Richardson may not have as gigantic of an impact right off the bat, there is no doubt that he has the overall abilities to eventually get to the same level as Peterson. He's the best running back prospect anyone has seen in recent years and he'll be a special player for a long time.
6. Washington Redskins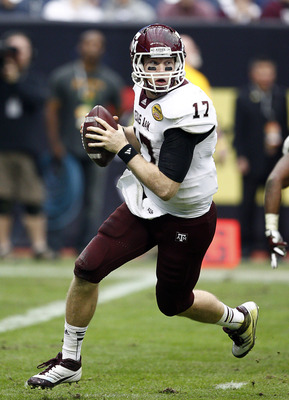 Bob Levey/Getty Images
Selection: Ryan Tannehill, QB, Texas A&M
Ceiling: Aaron Rodgers, Green Bay Packers
When we talk about a player's "ceiling," what we mean is the absolute best-case scenario for this prospect. So, when you look at Tannehill's ceiling being Rodgers, just remember that this will only happen if everything goes right for Tannehill.
With that said, the reality is that Tannehill has a rather similar skill set to Rodgers already. Both players are above-average athletes. Both have strong arms and the ability to make every throw.
Sure, Rodgers was more polished coming out of the University of California, but he sat behind Brett Favre and learned the game for a few years before being thrown out onto the field.
If Tannehill goes to the Washington Redskins, he won't have that same luxury, but he could still develop into quite the player with the right coaching and determination.
7. Jacksonville Jaguars
Streeter Lecka/Getty Images
Selection: Quinton Coples, DE, North Carolina
Ceiling: Julius Peppers, Chicago Bears
For years and years, and even to this day, Peppers was a force of nature at defensive end. His elite athleticism has allowed him to get after quarterbacks with ease since he entered the league from the University of North Carolina.
Now, another Tar Heel is looking to make a similar impact. While Coples has constantly been dogged for his effort level, there is no doubting the abilities that he brings to the table.
As long as a team can motivate Coples, he could become one of the best pure pass-rushers rather quickly.
8. Miami Dolphins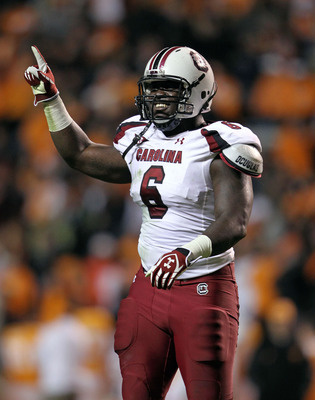 Andy Lyons/Getty Images
Selection: Melvin Ingram, DE/OLB, South Carolina
Ceiling: Mario Williams, Houston Texans
At the NFL Combine, Ingram proved to everyone that he could excel either as a 3-4 outside linebacker or a 4-3 defensive end. He has the athleticism to play outside linebacker, but also the pure strength and power to play defensive end.
For years, Williams made his living as a defensive end before switching to outside linebacker in 2011. Even though his season was cut short, he still showed that he could succeed at OLB in the few weeks he was on the field.
Ingram could very well be the second coming of Williams.
9. Carolina Panthers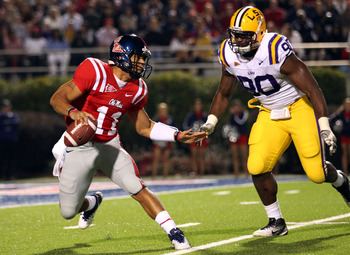 Joe Murphy/Getty Images
Selection: Michael Brockers, DT, LSU
Ceiling: Darnell Dockett, Arizona Cardinals
First, let me say that we're not talking about the ceiling of craziness that Brockers will reach. I don't expect Brockers to be adopting alligators or bringing guns to practice.
However, on the field, no one can say that Dockett isn't quite the defensive tackle for Arizona. He seems to summon all of his crazy into an intense and physical style of play on the field.
While Brockers won't use the same craziness to be effective, he should still develop into one of the top defensive tackles in the league. Yes, he is raw, but with the proper coaching, he will be an absolute stud.
10. Buffalo Bills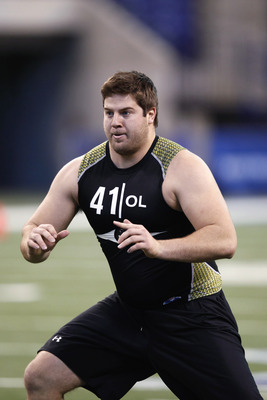 Joe Robbins/Getty Images
Selection: Riley Reiff, OT, Iowa
Ceiling: Duane Brown, Houston Texans
Brown came out of nowhere in 2011 to become of one the top offensive tackles in the NFL. In fact, our own Matt Miller believes that Brown is the third-best left tackle in the NFL.
Reiff has been slowly climbing up draft boards in recent weeks and could end up going even higher than this come April. He has a physical aspect to his game, but can also get out in the open field and block.
There is a possibility that Reiff switches to right tackle, but it is unlikely considering his overall ability.
11. Kansas City Chiefs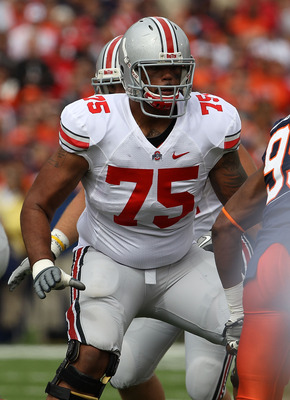 Jonathan Daniel/Getty Images
Selection: Mike Adams, OT, Ohio State
Ceiling: Bryan Bulaga, Green Bay Packers
Much like Riley Reiff, Adams could be making the switch to right tackle in the NFL. However, unlike Reiff, the possibility of Adams switching is much more likely.
If Adams does switch, look for him to have an impact much like Bulaga did. Even though Adams' strength is a concern (only 19 reps at 225 pounds), he is still a massive human being who can be physical when he needs to be.
Whatever position on the offensive line Adams does end up playing, he's likely to succeed.
12. Seattle Seahawks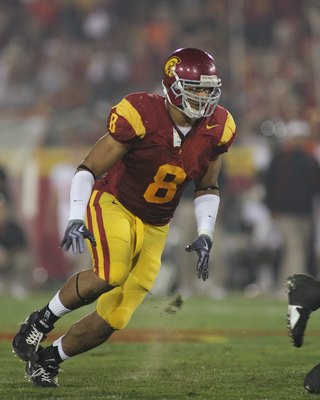 Jeff Golden/Getty Images
Selection: Nick Perry, OLB, USC
Ceiling: Clay Matthews, Green Bay Packers
It's eerie how similar Perry and Matthews were as prospects coming out of college. Both players played at USC. Both were pure pass-rushers with little to offer. And both are extremely athletic with a non-stop motor.
While Perry may be a little rawer of a prospect, you simply can't overlook the potential that he has to succeed. Matthews is currently one of the top outside linebackers in the league, and Perry could be joining him atop those rankings fairly soon.
13. Arizona Cardinals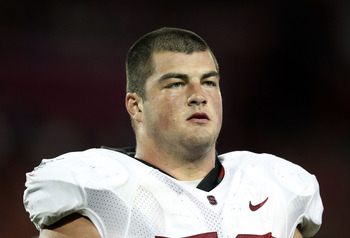 Christian Petersen/Getty Images
Selection: David DeCastro, OG, Stanford
Ceiling: Logan Mankins, New England Patriots
DeCastro is the best offensive guard prospect that we've seen in years. He's as elite as they come at his position and should battle for a Pro Bowl roster spot his first year in the league.
That is what makes putting a ceiling on DeCastro so difficult. The closest possible ceiling for him would be Mankins, who is one of the best guards in the league, but DeCastro could literally surpass Mankins in only a few years in the league.
For now, Mankins will have to work, but it is very likely that DeCastro could become the standard for elite offensive guards for years to come.
14. Dallas Cowboys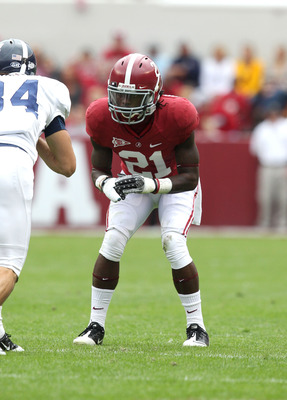 Mike Zarrilli/Getty Images
Selection: Dre Kirkpatrick, CB, Alabama
Ceiling: Darrelle Revis, New York Jets
This is a really high ceiling for Kirkpatrick. Revis literally has the ability to erase half the field from a quarterback, and Kirkpatrick has a far ways to go before he can even be considered close to having Revis' skills.
However, the abilities are all there for Kirkpatrick. He has the perfect size, strength, speed and technique to become an instant shutdown cornerback in the league.
As long as he can stay out of trouble, he has a good chance at becoming one of the best in the game.
15. Philadelphia Eagles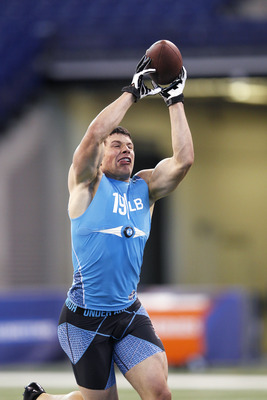 Joe Robbins/Getty Images
Selection: Luke Kuechly, ILB, Boston College
Ceiling: Brian Urlacher, Chicago Bears
The biggest concern for Kuechly heading into the draft was his lack of athleticism. After an extremely impressive combine performance, those concerns have been laid to rest.
To put it simply, Kuechly is a tackling machine. He has elite instincts and seems to know exactly where the ball is going to be before the offense does.
Much like Urlacher, Kuechly will be the defensive leader for a team for many, many years.
16. New York Jets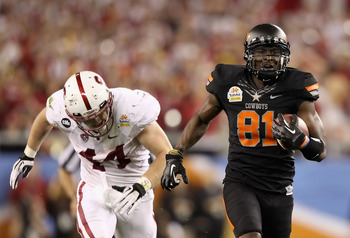 Christian Petersen/Getty Images
Selection: Justin Blackmon, WR, Oklahoma State
Ceiling: Andre Johnson, Houston Texans
It may seem crazy to see Blackmon this far down the list with his ceiling as Johnson, but the reality is that Blackmon is nowhere near his ceiling.
Sure, Blackmon is good at everything he does. He runs clean and crisp routes, plucks the ball off his frame and can make plays in the open field, but he doesn't do anything elite.
If Blackmon can still develop, he may eventually reach the high ceiling that Johnson has set.
17. Cincinnati Bengals (from Oakland Raiders)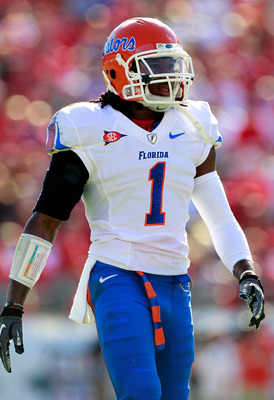 Sam Greenwood/Getty Images
Selection: Janoris Jenkins, CB, North Alabama
Ceiling: Aqib Talib, Tampa Bay Buccaneers
Both Jenkins and Talib have struggled with off-field problems, but it appears that Jenkins is ready to move on while Talib is really just getting started.
That is good news for the team that drafts Jenkins, because he is a top-notch player when on the field. Both he and Talib have great ball-hawking skills and can make plays after the ball is in their hands.
As long as Jenkins can stay out of trouble, he should make an extremely nice professional player.
18. San Diego Chargers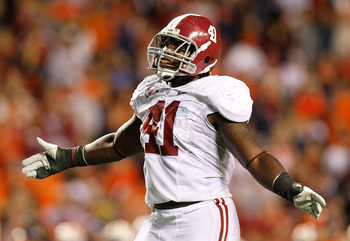 Kevin C. Cox/Getty Images
Selection: Courtney Upshaw, OLB, Alabama
Ceiling: Lawrence Timmons, Pittsburgh Steelers
Upshaw will be entering the league as one of the most well-rounded outside linebackers of the 2012 draft. He can rush the passer, drop back into coverage and play against the run.
His complete game is what makes Timmons such a reasonable ceiling for him. In the past few seasons, Timmons has quietly become one of the best defensive players on an extremely stout defensive unit for Pittsburgh.
Look for Upshaw to have a similar all-around impact in San Diego.
19. Chicago Bears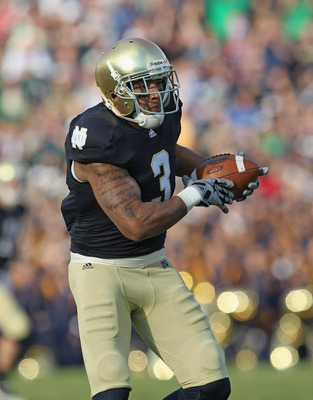 Jonathan Daniel/Getty Images
Selection: Michael Floyd, WR, Notre Dame
Ceiling: Larry Fitzgerald, Arizona Cardinals
As we get closer and closer to the draft, it's likely that we'll see Floyd skyrocket up draft boards. He's close to overtaking Justin Blackmon as the top receiver available, and an impressive performance at his pro day could nudge him past Blackmon.
However, as of right now, I've still got Floyd as the second-best receiver available. His size and ability to win jump balls is what could eventually make him a similar player to Fitzgerald.
While Fitzgerald may have a little more speed to his game, Floyd isn't too far behind.
20. Tennessee Titans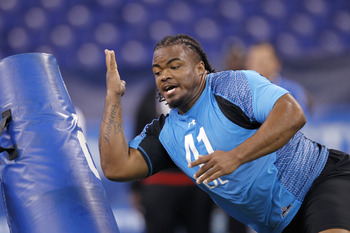 Joe Robbins/Getty Images
Selection: Dontari Poe, DT, Memphis
Ceiling: Haloti Ngata, Baltimore Ravens
There is one thing that you need to know about Poe as a prospect; he is extremely raw.
However, if he can put it all together, he could easily be the second coming of Ngata. He is a freak athlete with exception skills for a player of his size.
It may take him a year or two to develop, but once he does, the rest of the NFL needs to be afraid.
21. Cincinnati Bengals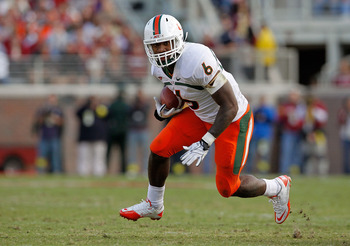 Mike Ehrmann/Getty Images
Selection: Lamar Miller, RB, Miami
Ceiling: LeSean McCoy, Philadelphia Eagles
Miller has a similar all-around game to McCoy, but he just looks a little less of a playmaker as of right now.
He can definitely break huge plays, make something out of nothing and beat defenders with his speed. He also has the ability to act as a receiver out of the backfield, which is something that McCoy really excels at.
Miller's experience is an issue, as he has just one year of starting responsibilities under his belt. However, he should become a potent offensive weapon quickly.
22. St. Louis Rams (from Cleveland Browns)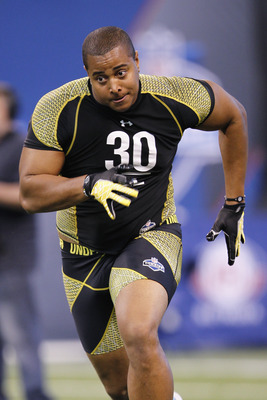 Joe Robbins/Getty Images
Selection: Jonathan Martin, OT, Stanford
Ceiling: Trent Williams, Washington Redskins
Martin has the potential to be a great starting offensive tackle, but isn't quite as far along in the developmental process as guys like Matt Kalil or Riley Reiff.
Still, Martin has an extremely high ceiling as a prospect and could eventually have a similar impact as Trent Williams. Of course, we'll hope that impact doesn't include a suspension for a failed drug test.
23. Detroit Lions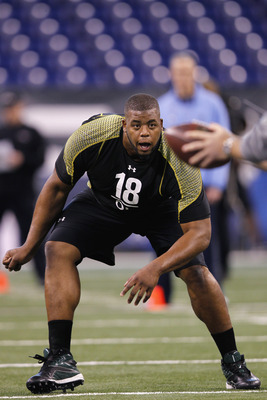 Joe Robbins/Getty Images
Selection: Cordy Glenn, OL, Georgia
Ceiling: Branden Albert, Kansas City Chiefs
Much like Albert, Glenn could be asked to make the move from offensive guard to offensive tackle in the NFL. If that happens, look for Glenn to struggle throughout his career.
However, if the team that drafts him develops him as a guard, he could become one of the top guards, much like Albert could if he played guard.
Hopefully the Lions will make the right decision and allow Glenn to play where he can truly dominate.
24. Pittsburgh Steelers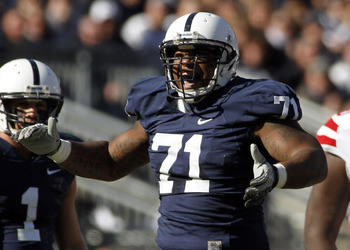 Justin K. Aller/Getty Images
Selection: Devon Still, DT, Penn State
Ceiling: Kevin Williams, Minnesota Vikings
There are still questions out there about Still's overall motor and passion for the game. At times, he appears to completely take plays off.
Still has the overall skills to be an extremely effective defensive tackle, as long as he can keep his mind focused on the game 100 percent. If that could happen, a career similar to that of Williams is likely.
25. Denver Broncos
Jonathan Daniel/Getty Images
Selection: Peter Konz, C, Wisconsin
Ceiling: Nick Mangold, New York Jets
As the top center available in this year's draft, Konz will likely be able to make an impact from day one for the Denver Broncos. He comes from a run-happy offense in Wisconsin and his willingness to get out in the open field is a perfect fit for Denver.
Everyone knows that Mangold is one of the top centers in the league. Konz could soon join him atop the ranks. The only thing that Mangold really has over Konz is his awkwardness. Don't expect to see Konz start PhotoBombing teammates anytime soon.
26. Houston Texans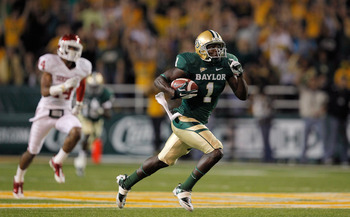 Sarah Glenn/Getty Images
Selection: Kendall Wright, WR, Baylor
Ceiling: Steve Smith, Carolina Panthers
Everyone expected Wright to run a much faster 40 time at the combine a few weeks back, but don't look too much into his slower-than-expected time. One look at Wright during a game will show just how quick he is on the field.
Wright and Smith are both potent vertical threats who aren't afraid to take a hit when necessary. They are dynamic with the ball in their hands, and both have the ability to make aerobatic plays.
It wouldn't be too surprising to see Wright have a similar career to Smith.
27. New England Patriots (from New Orleans Saints)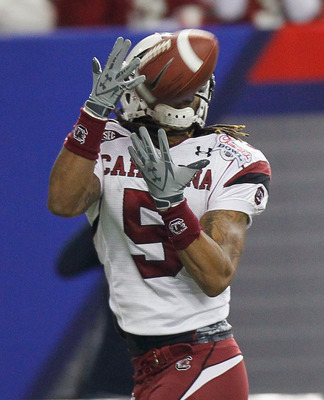 Kevin C. Cox/Getty Images
Selection: Stephon Gilmore, CB, South Carolina
Ceiling: Nnamdi Asomugha, Philadelphia Eagles
What makes Gilmore such a tantalizing prospect is his size, quickness and ability to change directions on a dime. While living up to the expectations of Asomugha may seem like a little much, it may not be too far off.
Gilmore still has some work to do in pure man coverage, but that should come with the superior teaching that the NFL has to offer. Once he can learn to excel in man-to-man coverage, he could become quite the player.
28. Green Bay Packers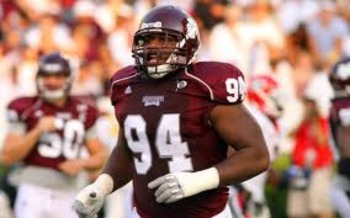 Selection: Fletcher Cox, DE/DT, Mississippi State
Ceiling: Cullen Jenkins, Philadelphia Eagles
Cox is a relatively new name in recent months to draft boards, but the truth is that this kid can absolutely play.
He's still a little raw around the edges, but he has a huge frame, great strength and quality athleticism. It will only be a matter of time before Cox is dominating offensive lines.
His ceiling comparison to Jenkins would be a healthy Jenkins when he was playing in a 3-4 defense for the Green Bay Packers. In fact, Green Bay is likely to draft Cox for that exact reason.
29. Baltimore Ravens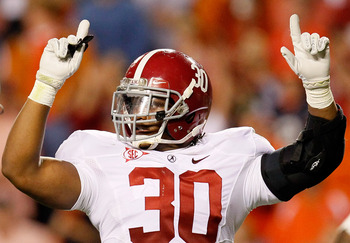 Kevin C. Cox/Getty Images
Selection: Dont'a Hightower, ILB, Alabama
Ceiling: David Harris, New York Jets
The one thing that makes Hightower likely to have a similar career to Harris is the fact that both are extremely hard-hitting players. Give them space and a target and both players will likely knock the lights out of their opponents.
Other than their hitting style, both Hightower and Harris can make plays across the entire field. They both have pure pass-rushing abilities, along with the skills to drop back into coverage.
The Ravens are likely looking for a eventual replacement for Ray Lewis. Hightower could be that player.
30. San Francisco 49ers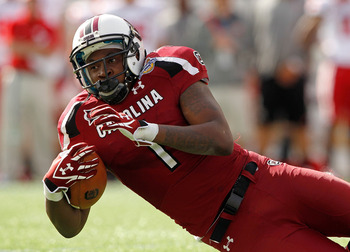 Mike Ehrmann/Getty Images
Selection: Alshon Jeffery, WR, South Carolina
Ceiling: Calvin Johnson, Detroit Lions
Early in the year, the comparisons between Jeffery and Johnson seemed much closer than they currently are.
There were questions about his weight, and although he came in much thinner at the combine, it still didn't answer all the questions. There are still questions about his hands and his ability to separate.
However, if Jeffery can prove that his problem at South Carolina was the lack of a quality quarterback, he could turn into quite the player.
31. New England Patriots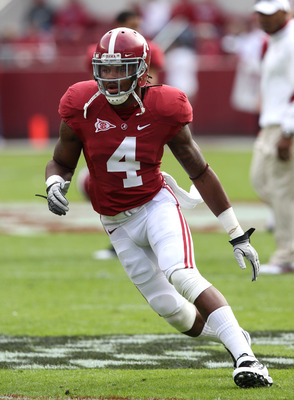 Mike Zarrilli/Getty Images
Selection: Mark Barron, S, Alabama
Ceiling: Ryan Clark, Pittsburgh Steelers
Both Barron and Clark are hard-hitting safeties. While they don't have elite instincts or ball skills, they can definitely lay a player out.
Putting Barron in a defense like the New England Patriots run makes sense because he does have the ability to play a few different positions across the secondary. He could eventually develop the instincts to become a threat turning and tracking the football, but right now he would be better used as a tackling machine, keeping everything in front of him.
32. New York Giants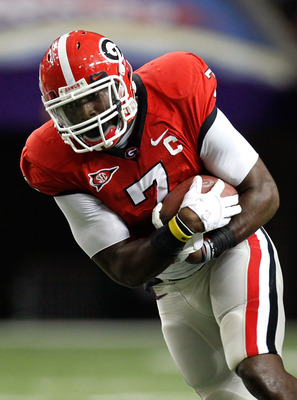 Kevin C. Cox/Getty Images
Selection: Orson Charles, TE, Georgia
Ceiling: Aaron Hernandez, New England Patriots
Charles is easily the most athletic of the tight ends available in this year's draft. As long as he can put it all together, he could end up being as versatile as Hernandez is for the Patriots.
Charles is going to be a mismatch for defenses from the second he steps onto the field. He is too quick and athletic for most linebackers, but too big and strong for safeties to contain.
With the Giants losing both their tight ends for the foreseeable future, Charles is the perfect selection for them at the end of the first round.
Keep Reading