5 Reasons Kevin Durant Will Be the Next Kobe Bryant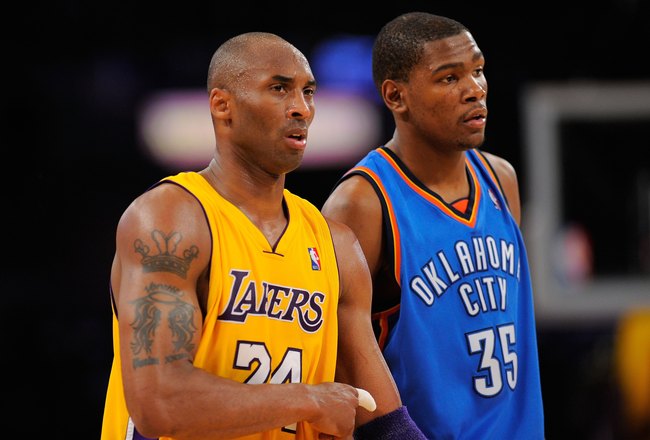 Kevork Djansezian/Getty Images
2008 Rookie of the Year. Three-time NBA All-Star. Two time All-NBA first team. Two time NBA scoring champion. MVP of both the 2012 All-Star Game and the 2010 FIBA World Championship.
At only 23 years old, Kevin Durant is already building quite the resume. And being 10 years younger than Kobe Bryant, Durant is well positioned to assault his legacy and records.
The Black Mamba is perhaps the only player in the league who is worthy of comparisons to Michael Jordan. It's hard to say that another player will ever have Kobe's combination of scoring versatility, defensive prowess and killer instinct.
But KD35 already has some striking similarities to Kobe, and in the future, he will assume Kobe's role in all things basketball. Here are a few reasons why.
The Scoring Versatility
Whatever Kobe Bryant can do on the offensive end, Kevin Durant can also do.
Durant can shoot the three. He can knock down the pull up jumper. He can create opportunities for his teammates off the dribble. He can slash to the basket and convert. He is also an excellent free throw shooter at 84 percent. And where Kobe didn't develop a post game until later in his career, Durant already has some good moves down low.
Another similarity that the two have is Durant can make the tough, some would say impossible, shots that Kobe is well known for. A good example being the play at 2:30 in the video.
Inside, outside, mid-range—KD35 can score anywhere.
The Defensive Prowess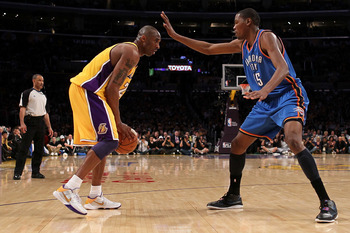 Stephen Dunn/Getty Images
In addition to his scoring ability, Kobe Bryant is a nine-time All-Defensive first team player, as well as making the All-Defensive second team twice. He will get extremely aggressive and hound his assignment into bad shots, and is one of the best solo defenders on the league.
On the other hand, Durant has developed into a good defender. He could afford to improve with his muscle mass, and he still has a ways to go before he is on Kobe's level here. But overall, his combination of length and quickness will eventually translate into top notch defensive work.
The Clutch Plays
Perhaps the biggest positive or what people love most about Kobe Bryant is his killer instinct and clutch plays. He has numerous and ridiculous game winning shots, and when the game is on the line, players and general managers are most comfortable with the ball in his hands for the last shot.
Ever since the annual NBA.com GM Survey has been around, Kobe has been overwhelmingly picked every year as the player who managers would want taking the last shot with the game on the line.
On the other hand, Kevin Durant does not yet have a gunslinger mentality that is widely admired, but he is developing a penchant for scoring and carrying his team at the end of games. His latest effort was scoring 18 in the fourth quarter to spark a rally and beat the Magic, and from earlier this season, this shot is just one of many more to come.
The Supporting Cast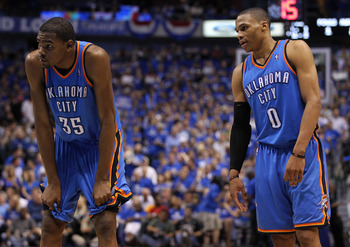 Ronald Martinez/Getty Images
It is an accepted fact by fans, players and everyone else with an interest in the NBA that "you can't win it all by yourself." This is true since basketball is a team sport, and LeBron James' Cleveland stint only demonstrates the undeniable truth in this statement.
Kobe Bryant began his career with the dominant post presence of Shaquille O'Neal. After that, Pau Gasol and Andrew Bynum came in to help shoulder the load. Without those three players, Bryant would probably not have any of his five NBA championships.
Kevin Durant already has an awesome point guard in Russell Westbrook to feed him the ball and score when needed. And although he hasn't had quite the supporting cast that Bryant has had, Thunder fans can rest assured that GM Sam Presti is working constantly to put the best team possible around Durant.
Eventually, Westbrook&Co. will be more than enough to get Durant to five championships—maybe more.
Durant Has a Complete Skill Set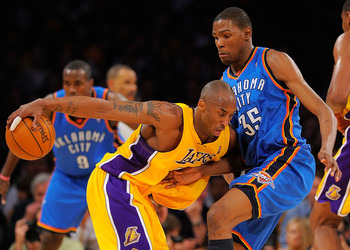 Kevork Djansezian/Getty Images
Kobe Bryant is considered to be one of the most complete and best all-around players in the NBA today. He does everything from lockdown defense to rebounding and assists to carrying the scoring load for long periods of time. He plays shooting guard, but also has the versatility to play small forward.
Everything just said for Bryant will also eventually be true for Kevin Durant. The playing field when comparing the two is more or less level, since Durant can already do everything that Bryant can. And KD35's complete skill set along with the fact that he is 10 years younger, forms the basis for his case to succeed Bryant as the preeminent best player in the NBA.
Keep Reading

Oklahoma City Thunder: Like this team?