Baltimore Ravens Use Franchise Tag on Ray Rice; What's Next for Ben Grubbs?
March 2, 2012

Andy Lyons/Getty Images
The Baltimore Ravens have officially franchised running back Ray Rice, meaning that, barring a deal being struck later this year, he will make $7.7 million in 2012.
This means the futures of a number of the team's free agents still hang in the balance, including offensive guard Ben Grubbs, thought to be the team's top priority after Rice.
Baltimore has begun cutting some of their players, perhaps in hopes of re-signing Grubbs and some of their other free agents, like cornerback Lardarius Webb. Wide receiver Lee Evans and cornerback Chris Carr were both released Friday, saving the team around $6 million in cap space.
Rumors have been swirling that the Ravens will also be parting ways with another cornerback, Domonique Foxworth, but no move has been made yet.
Foxworth tore his ACL in the 2010 offseason and spent that entire year on injured reserve. He ended up on injured reserve again in 2011 after playing in just two games, as his knee was still bothering him.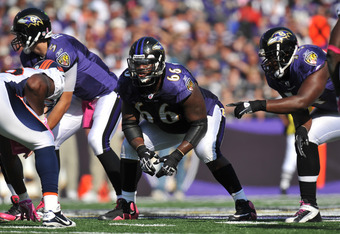 Larry French/Getty Images
The cornerback is owed $7 million in 2012; considering that payday and the injuries he's been dealing with lately, it won't be surprising when—and not if—they let him go.
Earlier this week, Grubbs and the Ravens were still quite far apart in negotiations, despite the team being apparently willing to pay him a great deal of money, if head coach John Harbaugh's comments last week are to be believed.
Already, teams are lining up for Grubbs' services should he become a free agent on March 13, with the Dallas Cowboys and Chicago Bears two potential landing spots.
Expect talks between Grubbs' representatives and the Ravens to continue up until the final moment in an attempt to secure the Pro Bowler to what might be his last lucrative contract of his career.
However, with so many free agents and limited funds to work with, Grubbs may have ultimately played his last snap with the Ravens.