Kentucky vs. Florida: TV Schedule, Live Stream, Spread Info and More
March 2, 2012

Andy Lyons/Getty Images
The Kentucky Wildcats hit the road for the final game of the year, hoping to keep the win streak alive when they take on the Florida Gators. 
It's been a remarkable season for the Wildcats, as they have only lost one game on the year. That was back on Dec. 10, and it was just a one-point loss. 
Kentucky is surging right now, and it's highly unlikely the Wildcats stop performing at such a high level.
As for the Gators, they're just hoping to avoid their third straight loss.
A shocking loss to the Georgia Bulldogs, whom Kentucky just thrashed 79-49, and a rough loss to the Vanderbilt Commodores has put the Gators a step back from where they envisioned themselves at this point in the season. 
With that said, let's take a look at some specifics of this SEC showdown. 
When: Sunday, March 4 at 12:00 p.m. ET 
Where: Stephen C. O'Connell Center, Gainesville, FL
Watch: CBS
Live Steam: CBSSports.com 
Betting Line: TBD
What's At Stake? 
For the Wildcats, their epic win streak is on the line. Plus, losing a game right before the SEC Tournament would be a crushing blow. 
Kentucky is No. 1 in the country right now, and closing out the season with a loss would be extremely detrimental. Of course, if it does happen it could motivate them to play even better come tournament time. 
For the Gators, they desperately need a win heading in to the SEC Tournament. This past week has been brutal for them, and a win would definitely lift their spirits. It would also give them a better seed in the SEC tourney. 
It's not going to be easy, but playing at home should help. Florida has to fight strong to get its confidence back in full swing. 
Kentucky Injury Report (According to the Chicago Tribune)
No new injuries to report.
Florida Injury Report (According to the Chicago Tribune)
F Will Yeguete (foot): Out 
What They're Saying 
Jerry Tipton covers the Wildcats for Kentucky.com, and he tweeted a great stat about Kentucky's history when it comes from shooting downtown, something they did very well on Thursday night.
The last time UK made more than the 15 3s vs. Georgia? A 16-for-32 performance against Tulane on Jan. 2, 2002.

— Jerry Tipton (@JerryTipton) March 2, 2012
Kentucky was firing from all cylinders against Georgia, and it will be interesting to see if they can keep it up or if they come out flat. 
The last thing the Wildcats need right now is to flop in the final game of the year. It's been a great season, so expect Kentucky to continue shooting well this Sunday. 
Rachel Georgia covers the Gators for the Orlando Sentinel, and she tweeted recent NCAA projections for Florida.
Jerry Palm's latest bracket projections have the #Gators as the No. 5 seed in Louisville.

— Rachel George (@OS_RachelGeorge) March 1, 2012
No team really wants to be a No. 5 seed given the history of upsets by the No. 12 seed. This is why Florida has to beat Kentucky or at least thrive in the SEC Tournament. 
Beating the top team in the country will do wonders for Florida's stock come selection Sunday, so the pressure is on for the Gators to beat Kentucky.
Kentucky Player to Watch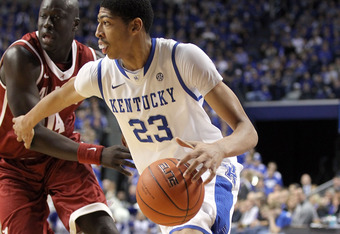 Andy Lyons/Getty Images
Freshman sensation Anthony Davis has been tearing it up for the Wildcats this year, and Sunday all eyes need to be on him.
The first time these two teams met, Davis scored 16 points, grabbed six rebounds and recorded four blocks.
Davis is a beast, and his performance was a big reason why Kentucky annihilated Florida earlier this month. Look for him to keep playing at such a high level.
Florida Player to Watch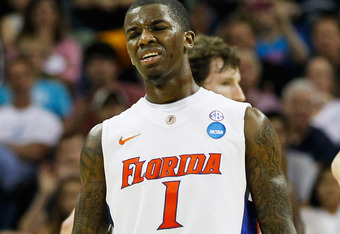 Kevin C. Cox/Getty Images
Junior guard Kenny Boynton dropped 18 points on the Wildcats earlier this month, and he's certainly capable of going off for more.
Boynton averages 17 points on the year, and the Gators will need his leadership skills in addition to his basketball skills in order to win.
He didn't have a whole lot of help the first time around, so hopefully his teammates contribute more on Sunday. Still, Boynton has to be lights-out from beyond the arc, a place he is incredibly dangerous at. 
Key Matchup 
The battle down low will be crucial on Sunday. Kentucky's bigs are very good at what they do, so it's up to the Gators to deny them. 
Should the Wildcats dominate in the post and crash the boards with ease, this will be another blowout victory.
This is why Florida has to step up and control the paint, eliminate Kentucky's second-chance opportunities and just plain out-hustle the Wildcats. It won't be easy, but it has to be done in order to win.
Prediction 
Playing at home will greatly help the Gators, but stopping Kentucky's hot streak might be near impossible at this point. 
I expect Florida to fare better than they did in the first meeting. But in the end, the Wildcats will come out on top because they're just simply better than the Gators and that's all there is to it. 
Kentucky 77, Florida 67