UFC on FX 2: 5 Reasons to Watch
UFC flyweight Joseph Benavidez
Tonight's UFC on FX 2 card is flying under the radar, isn't it?
I can't blame MMA fans for looking ahead to tomorrow night's big Strikeforce main event between Miesha Tate and Ronda Rousey. Both fighters spent months hurling insults towards each other. It's the biggest female fight since the last time Gina Carano stepped in the cage.
Oh, and both Tate and Rousey are pretty easy on the eyes.
Yeah, I get it. But that doesn't mean I'm overlooking tonight's event, and in the following slideshow I'll tell you exactly why you need to be in front of your computer and/or television at roughly 5:30 p.m. ET today.
Begin Slideshow

»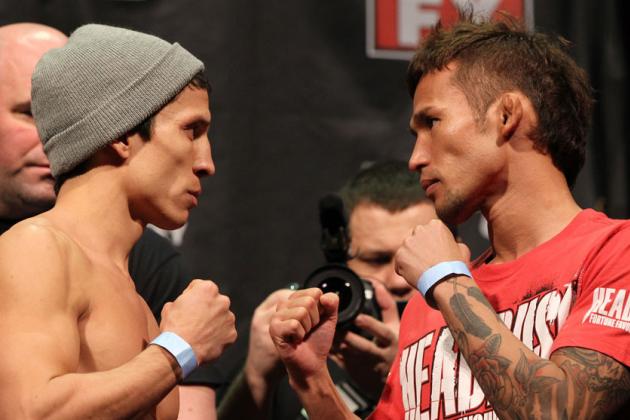 Joseph Benavidez vs. Yasuhiro Urushitani
I've spent plenty of time writing about the impending debut of the 125-pound weight class this week, and for good reason.
If you've never seen a flyweight battle before today, you're in for a real treat.
Imagine, if you will, the absolute fastest guys at bantamweight, fighters who move like a blur while still retaining all of the technical striking and wrestling ability of their larger peers.
Now imagine that you've taken all of those speedy bantamweights, boosted their motor by about 20 percent and paired them up with opponents that are equally as skilled and exciting as they are.
Get the picture? Good. Because you should absolutely tune in to see the opening round of tonight's flyweight tournament. I can't say it enough.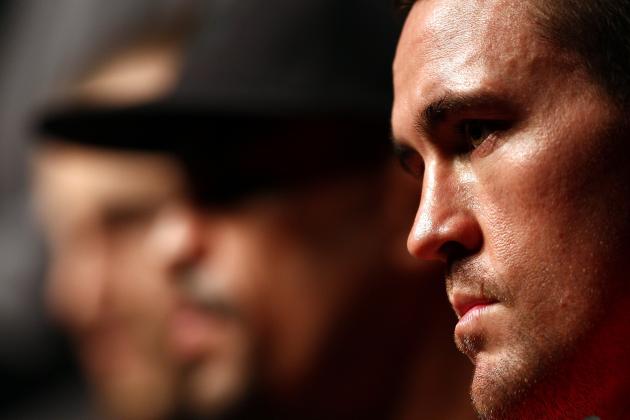 Ryan Pierse/Getty Images
Aussie native Kyle Noke
The UFC constantly references Canada and Brazil as the hottest MMA areas in the world, but the Australian comes mighty close to matching the kind of fandom and fervor found in Montreal and Rio de Janeiro.
You can expect middleweight Kyle Noke to receive the kind of hero's welcome typically reserved for returning stars like Georges St-Pierre or Anderson Silva.
Sure, Noke is nowhere near the level of stardom that either of those guys have attained, and he's actually fighting on the preliminary card. But he'll be treated as a superstar all the same.
Tasos Katopodis/Getty Images
Thiago Alves
Thiago Alves made the welterweight limit during yesterday's official weigh-in, coming in at 170.5 pounds.
Three hours later, Alves stepped on a scale in his hotel room and clocked in at 197.6
Today? He'll likely be 205 pounds. Maybe more.
Does it seem a little bit ridiculous to anyone else that a guy who is allegedly a welterweight, will be stepping into the cage at least thirty five pounds heavier than the actual welterweight limit? With the aid of Mike Dolce, Alves has apparently become quite proficient with the weight-cutting process, and it allows him to go into the cage on fight night with an absolutely massive size advantage on his opponent.
Poor Martin Kampmann. It almost doesn't seem fair.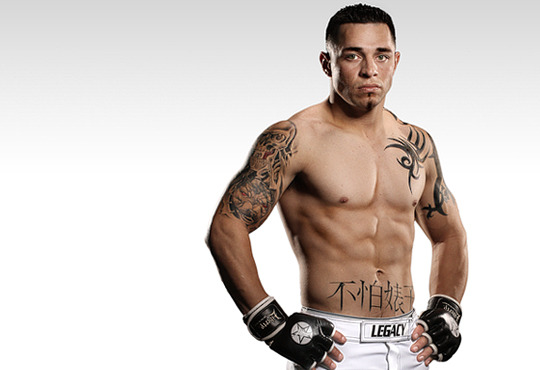 Daniel "Pit" Pineda
A television deal with HDNet has allowed Houston-based Legacy Fighting Championships to establish itself as one of the bigger independent MMA promotions in the United States.
Tonight, two of the best fighters in Legacy's history will be featured on the UFC on FX 2 preliminary card.
Daniel Pineda is a former two-division Legacy champion. He made his UFC debut in January with an easy submission win over Pat Schilling at the previous UFC on FX show. Mackens Semerzier is a far more capable opponent than Schilling, but Pineda is skilled enough to get the job done.
Former Legacy middleweight titlist Andrew Craig is also up against stiff competition in his UFC debut when he steps in the cage with hometown favorite Kyle Noke.
Both fights are a good chance for MMA fans to catch a look at two of the latest prospects unearthed by Joe Silva and Sean Shelby.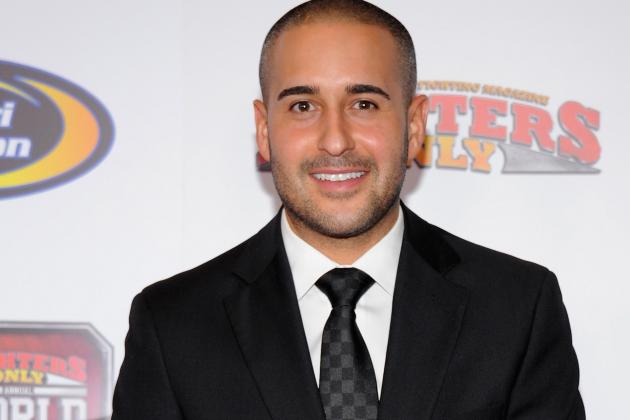 Ethan Miller/Getty Images
UFC broadcaster Jon Anik
This is not a knock on Mike Goldberg and Joe Rogan. Both are perfectly acceptable at their jobs, and Rogan still has moments of absolute greatness.
Goldberg? Not so much. He's long since fallen into a rut and makes every fight on every event sound the same. How many times do we need to hear "the (insert adjective)(insert ring card girl name)" before we're completely tired of it?
That's why it's so refreshing to hear Jon Anik and Kenny Florian in the booth for the UFC on FX and UFC on Fuel events. Anik is a highly skilled broadcaster with a smooth delivery, and Florian has the ability to break down the technical details of each fight while also providing the viewer with a glimpse into the mind of the fighter.
It's a good setup. And when you throw in Ariel Helwani — the absolute best interviewer in the business, in my opinion — you've got a broadcast experience that surpasses the one you find on pay-per-view events.