Report: Drew Brees Previously Turned Down NO's Offer to Be NFL's Top-Paid Player
March 2, 2012

Ezra Shaw/Getty Images
The New Orleans Saints and quarterback Drew Brees have been reported to be far apart in their contract talks, but word has come out that the Saints already made Brees an impressive offer.
According to Larry Holder of CBSSports.com, this was before the 2011 season even began and Brees turned it down:
#Saints offered Brees a contract before '11 season to make him highest paid player in NFL and Brees turned it down, via a league source.

— Larry Holder (@LHolderCBS) March 2, 2012
ESPN's Adam Schefter shed further light on the negotiations in an extended report on ESPN.com. He claims that the two sides are still "millions of dollars" apart.
Per Schefter's sources, Brees and the Saints are trying to bridge a gap of $5 million per season over the first three seasons of Brees' prospective new deal. Brees wants a contract that will pay him $23 million a year over the first three years of his new deal, which would mirror the first three years of Peyton Manning's most recent contract with the Indianapolis Colts.
All told, the Saints are offering Brees a five-year deal worth $18 million a season. A contract like that would be on par with Tom Brady's contract with the New England Patriots and Manning's per-season salary over the life of his contract.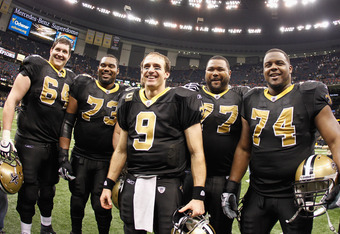 Chris Graythen/Getty Images
The negotiations between Brees and the Saints have reached crunch time. The deadline for teams to use their franchise tag is on Monday, and the Saints will have no choice but to use theirs on Brees if the two sides can't agree to a long-term contract.
Brees, who turned 33 in January, had a record-setting season in 2011, throwing for 5,476 yards with a career-best 46 touchdown passes. He led the Saints to a 13-3 record in the regular season.
According to Jason Cole of Yahoo! Sports, Saints general manager Mickey Loomis was calling Brees a "very good" quarterback at the NFL Scouting Combine, while everyone around him was referring to Brees as a "great" quarterback.
Brees led the Saints to their only Super Bowl victory in 2009, and the Saints have won at least 10 games in four of his six seasons with the team.