NBA Trade Rumors: Why Golden State Warriors Won't Be Able to Move Monta Ellis
March 2, 2012

Ezra Shaw/Getty Images
As another NBA trade deadline nears, the inevitable batch Monta Ellis trade rumors have come raging to the forefront of public attention.
It seems Ellis' name is one that always comes up in a litany of rumors on a yearly basis, but he's still wearing a Warriors jersey.
The question remains: For how much longer will Ellis be playing his home games in the Bay Area?
An explosive talent having another solid season, Ellis is averaging 22.2 points, 3.4 rebounds, 5.8 assists and 1.4 steals per game. Make no mistake about it—that kind of production is sure to elicit interest in his services.
Signed through 2012-13 for $11 million (with a player option for $11 million in 2013-14 as well), Ellis' salary is a reasonable one given his scoring ability and the long list of players who are drastically overpaid.
So what would it take to lure Ellis away? Quite a bit, according to the Mercury News.

The Warriors, as has been their stance for years, want a star in return for Ellis, who they consider a premium value because of his rare scoring ability and the dearth of scoring shooting guards in the league.
That's quite a lofty asking price, but it's the right stance for the team to take.
Golden State should not be looking to move Ellis for less than he's worth.
Who qualifies as a star to the Warriors' front office? Dwight Howard.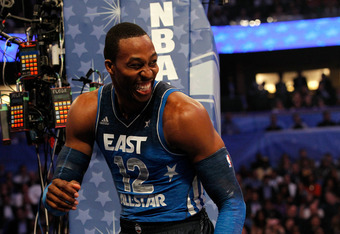 Ronald Martinez/Getty Images
Despite the Warriors reportedly still hoping to trade for Howard and convince him that his long-term future can play out in Northern California, that scenario is the longest of long shots.
Golden State's chances of landing Howard via trade can be described in a single word: remote.
Orlando doesn't want to trade its franchise center.
Instead, the Orlando Magic have eyes for Ellis in the hopes of adding him to create a dynamic duo alongside Howard, according to ESPN.
No deal is imminent, but Orlando is trying to add Ellis to its roster in hopes of appeasing Dwight Howard. Rather than aggressively pursuing a trade of Howard before the March 15 deadline, the Magic are desperately seeking a move that will convince Howard he can stay in Orlando.
Ellis is a phenomenal target for General Manager Otis Smith, but there is one major problem.
Orlando doesn't have much to offer Golden State in exchange for Ellis.
Ryan Anderson is having a breakout season and has some appeal, but he'll be a restricted free agent at the end of the season and seeking a major raise.
J.J. Redick has established himself as a reliable reserve and capable three-point shooter, but a package headlined by Anderson and Redick is not very appealing in exchange for a player like Ellis.
Any deal for Ellis would likely have to involve at least three teams, and those are incredibly difficult to construct.
With the Warriors seemingly unsure of the future and no team willingly ready to deal a star in exchange for Ellis, it's hard to imagine a scenario where the shooting guard winds up elsewhere.
The asking price is simply too high for other teams to bite.