Heat vs. Jazz: TV Schedule, Live Stream, Spread Info and More
March 2, 2012

Mike Ehrmann/Getty Images
The Miami Heat head to Salt Lake City to take on a hungry basketball team in the Utah Jazz. 
The Heat will be without Chris Bosh, who is out due to a death in the family. The doesn't mean the Jazz are getting off lightly, though. The dynamic duo of LeBron James and Dwyane Wade is quite capable of carrying Miami all on their own. 
Let's dig deeper into this game and the chances of us seeing a tremendous upset. 
Where: EnergySolutions Arena, Salt Lake City, Utah
When: Friday, March 2nd, 9:00 p.m. EST
Watch: Sun Sports, ROOT Sports, NBA League Pass
Listen: Miami Area: 790AM and 1140AM, Utah Area Affiliates Here. 
Betting Line: Miami Heat -5, according to Betonline.com.
Key Injuries: According to ESPN
Jazz: Raja Bell, Groin (Day-to-Day) Hopeful for Friday; Paul Millsap, Heel (Day-to-Day) MRI Negative
Heat: Chris Bosh, Personal Leave (Out); LeBron James, Wrist (Day-to-Day) Injury described as "mild"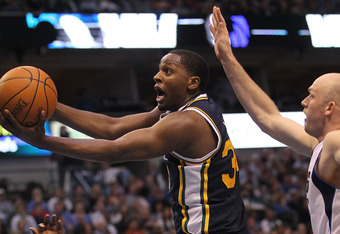 Ronald Martinez/Getty Images
What They're Saying
The Miami Herald's Joseph Goodman writes on the growing chemistry between the Heat's best:
The first thing to hit Dwyane Wade, an empty paper cup, bounced off his head. Undeterred, Wade ignored the distraction and kept right on talking with reporters. But LeBron James upped the ante. The next thing to bounce off of Wade's body was an empty plastic bottle. Wade looked over at his teammate. "What you looking at?
The Salt Lake Tribune's Steve Luhm writes on an emerging CJ Miles:
The Jazz's C.J. Miles had a little talk with himself over the All-Star break. After a difficult six-game stretch when he scored only 34 total points on 11-of-38 shooting, Miles decided to slow down and play with renewed confidence. It's working.
Most Important Player to Watch: I wish I could say Dwyane Wade, but LeBron James continues to put together a truly special season. Not that it matters, as you will see a great deal of magic from both of them. 
For the Jazz, Devin Harris has been playing much more productive ball lately. The Heat guard the point very well, so it will be a tremendous test facing him tonight. 
Key Matchup: This will come down to the Heat guarding the backcourt—something they do very well. If the Jazz are going to pull off an upset, they will have to survive that swarming attack. 
Prediction: Heat 103, Jazz 98