Royce Gracie: The Most Unassuming Fighter of All Time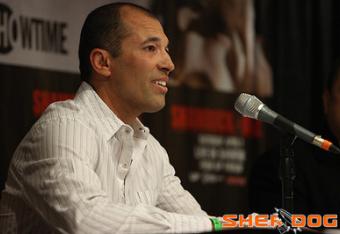 Royce Gracie/ Sherdog.com

The sudden rise in popularity of mixed martial arts can be credited to the ingenious effort of the UFC, which is headed by President Dana White, CEO Lorenzo Fertitta and matchmaker Joe Silva, among others.
However, long before the Zuffa crew rolled into town, Art Davie, the co-creator of the UFC, had a vision that would set off a chain of events unbeknownst to him at the time.
Davie's quest was to create a tournament of epic proportions, pitting the world's best athletes from varying disciplines against one another to determine the most effective styles and, more importantly, the greatest fighters in the world.
Towering behemoths who hailed from sumo, boxing, kickboxing and wrestling were the consummate favorites leading into their bouts, especially when matched up against a scrawny 20-something Brazilian named Royce Gracie.
The jiu-jitsu whiz weighed no more than 176 pounds and was easily the smallest guy in the talent-laden field.
Donning a gi no less, Gracie was the epitome of those cliche action movies, with many likening the mild-mannered fighter to a wannabe "Karate Kid."
Royce made the pubic recognize his talents, as he went from a pretender to contender very quickly. At UFC 1, Gracie blew through his competition, submitting all three of his opponents, including "The World's Most Dangerous Man," Ken Shamrock.
A skilled submission fighter in his own right, the powerful Shamrock thought very little of the gi-wearing Gracie, though Shamrock soon learned to respect the grappling acumen of the Rio de Janeiro native, as he was deftly submitted in just 57 seconds.
Royce continued his run of dominance in subsequent tournaments, winning three of the UFC's first-four tournaments ever held.
Gracie remains in rarefied air and is widely regarded as "the father" of the mixed martial arts, having birthed the motivation for many of the sport's best to develop a strong base in jiu-jitsu, which has become a cornerstone of all things MMA.
Royce, arguably the world's most unassuming fighter of all time, may very well be its greatest leading figure as well.
This article is
What is the duplicate article?
Why is this article offensive?
Where is this article plagiarized from?
Why is this article poorly edited?