2012 NFL Draft: How the Combine Will Affect Mel Kiper Jr.'s Big Board
March 2, 2012

Joe Robbins/Getty Images
Mel Kiper Jr., ESPN draft analyst and resident guru, has yet to release an updated mock draft following the 2012 NFL Scouting Combine.
It's expected he'll have his "Mock 3.0" out within the next week, but for now draft junkies are stuck with his 2.0 version that has not been updated since February 15.
Let's take a look at some changes we are bound to see from Kiper.
Dontari Poe Leaps Up From No. 24
There is no question that Poe was one of the winners at the combine because of his incredible workout (sub-5.0 40-yard dash time) and measurements (6'3.75", 330 pounds).
He's a massive interior defensive tackle and will without a doubt eat up O-linemen in the NFL.
The kid out of Memphis is going to be a top-10 pick and possibly even a top-five now because of his incredible upside and athleticism for his size and position.
Robert Griffin III Goes No. 2, No Matter What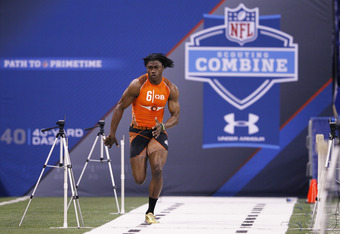 Joe Robbins/Getty Images
The Heisman winner solidified his status as the No. 2 draft pick with an incredible display of athleticism in Indianapolis.
He left no doubt in anyone's mind that he is not going to fall past the second pick, and some scouts even believe he has a chance to surpass Andrew Luck as the No. 1 overall selection.
That isn't likely, but it will be interesting to see who offers the St. Louis Rams the best package in exchange for the right to draft the Baylor star.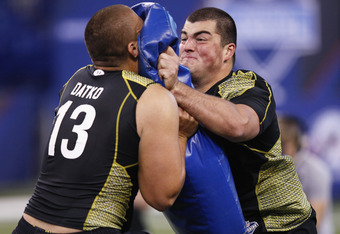 Joe Robbins/Getty Images
David DeCastro Goes Earlier Than Expected
Castro is listed by Mel as the No. 21 pick, but he's better than that.
He's easily the best offensive lineman in the class and will immediately help any NFL team that selects him.
The only thing that can hurt his top-10 status is the fact that his position is guard, and many teams drafting that early need much more help than an interior lineman.