PGA: Tiger Woods Should Take Public Relations Lesson from Rory McIlroy
March 2, 2012

Scott Halleran/Getty Images
Maybe Tiger Woods should take a public relations lesson from Rory McIlroy. It seems that McIlroy understands how to handle the press, even in less-than-ideal situations. After all these years, Woods still wants to control and dictate his press coverage.
In 2011, McIlroy had an all-time meltdown, suffering one of the most drastic losses that the Masters has ever seen. He went into the media center after his disastrous round and answered questions calmly, with as much honesty as he could muster. He impressed not only golf fans but hardened media types, as well.
McIlroy is continuously open, honest and forthcoming with press. He has made some occasional comments to the press that should have been left unsaid; but on the whole has handled his media duties with a wisdom beyond his 22 years.
Woods, on the other hand, has always maintained his distance and has illustrated an adversarial attitude with the press. He is a total control freak and would censure every word that is said or written about him.
Woods was able to retain his regal stature prior to his November 27, 2009 mishap with an irate wife and a pesky fire hydrant. Public airing of his personal life, injuries and professional struggles are not easy or comfortable for the former world No. 1.
His trials with the media continue, and they even took a turn for the worse this week at the Honda during a press conference. 
Woods' agent, Mark Steinberg, made disparaging comments concerning excerpts from Hank Haney's new book, The Big Miss, that details Haney's six years as Woods' swing coach. It was Steinberg's mistake to even bring the book up to media attention. The only outcomes from that will be increased sales for the book; plus, it allowed the press to ask Woods questions about the excerpts from the book.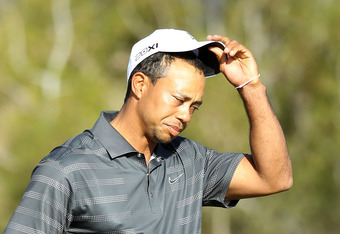 Christian Petersen/Getty Images
In the book, Haney recalls a time when Woods evidently considered enlisting into the Navy with the intent of joining the SEALs. 
When Alex Miceli from the Golf Channel tried to ask Woods some questions about that particular excerpt, regarding Woods' interest in SEAL training and enlistment, Woods refused to answer and became very testy and confrontational with Miceli.
Why couldn't Woods just openly explain his respect for the U.S. Military and the Navy SEALs in particular? Why couldn't he just talk about how proud he is of his father's career in the military? Why couldn't he outline the difficult training that the Navy SEALs experience and his desire to add that type of training regimen to his routine?
If Steinberg made his comments to the press on his own, then Woods should be angry with the agent. When Woods left that press conference, he should have asked him what he was thinking.
Woods' own people opened up discussion and reporters are required to ask the questions. Woods is news, good or bad, like him or hate him.
The 36-year-old Woods needs to take a lesson from the 22-year-old McIlroy and loosen up a little. 
Woods was trained from birth to see everything as a competition and be protective and completely closed off from everyone else.
He has changed his swing three times, so maybe its time to change his public relations approach just once.
I wonder if Sean Foley can handle that, too?
Get more golf tips, video and articles at: www.toledoohiogolflessons.com
Follow on Twitter: @tolohgolfr