NFL Scouting Combine 2012: 5 Prospects Who Rocked Our Socks off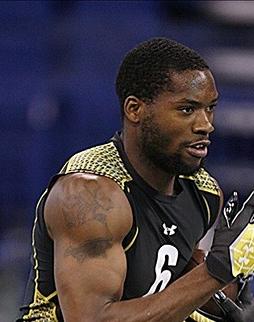 With the unprecedented rise of Jimmy Graham and the Gronk, tight ends are being valued in a way they never have been before. What else would you expect when the top two passing attacks in the NFL featured 1,000-plus-yard, double-digit touchdown tight ends?
Ladarius Green out of Louisiana-Lafayette has risen from relative unknown to at the very least a project player by merit of his workouts.
The second-fastest tight end at the NFL Combine, Green might very well have shown himself to be the best route runner in the group, with a 6'6'' frame and 34.5-inch vertical to go with it.
Was his combine earth-shattering? Not exactly, but who cares about that when his workouts were enough to get him ranked as one of the top-five tight ends?
In the new world where good pass catchers are the size of NBA players, that's good enough for me.
Robert Griffin III was already going to be a top-five pick. This sharp young man from Baylor did nothing but turn heads all season long in his final year, and now thanks to his combine and the new rookie wage scale, there is no way RG3 drops to the No. 3 pick (despite the obvious poetic scenario).
Despite craftily opting not to throw at the combine with receivers he doesn't know, RG3 found other ways to impress.
After wowing scouts with a 4.41 40-yard dash time, he dazzled at his press conference, his most masterful showing of the weekend.
Showing uncanny poise, wit and terrific character, Griffin is an absolute gift for any team needing a face for their franchise. This is a rare role model and leader.
He's going to make the St. Louis Rams (and whatever team trades to get that No. 2 pick for him) very happy.
Dontari Poe is the size of a Mack truck, and is has the agility and footwork of a guy half his size.
Imagine a bear running at you with the speed of a horse, and maybe you'll feel the way Poe's opposing quarterbacks do.
After running an impressive 4.98 40 at his size, Poe registered a combine-best 44 straight reps in the bench press. This is all without even touching on his very impressive drills. For a young player, Poe has a fairly substantial repertoire of moves.
For a big boy, he's smooth out on the field.
Stephen Hill just catapulted himself from a relative unknown who caught just 28 passes in an option offense to a sleeper pick in the first or second round.
Chalk up his WR-best 4.36 40-yard dash, 39.5-inch vertical and 6'4'' frame as some big reasons why this guy is suddenly on every needy team's draft board. The recent success of fellow Georgia Tech wideouts Calvin Johnson and Demariyus Thomas can't really be hurting his cause either.
Hill showed some good route running and spectacular deep threat potential. He has suddenly become a not-so-hidden gem in the 2012 NFL draft.
The combine is a place where unknown guys like Hill come to shine, and that is exactly what he did.
When you are a 6'3'', 245 pound DE/OLB who runs a 4.43 unofficial 40-yard dash, you can bet that some heads are going to turn your way. Even though his official time clocks at an eye-opening 4.50 (best among D-linemen), we already know he is faster than that.
Irvin was a total workout warrior, finishing in the top five at his position in the standing broad jump (123 inches), and was the top DL at the three-cone drill (6.70 seconds), and 20-yard shuttle (4.03 seconds).
Irvin was already on everyone's radar as a pass-rushing prospect, but his incredible combine should elevate him to a new level. Unparalleled athleticism is invaluable when you need to get to the quarterback.