New York Giants Draft 2012: 5 Prospects That Could Replace Brandon Jacobs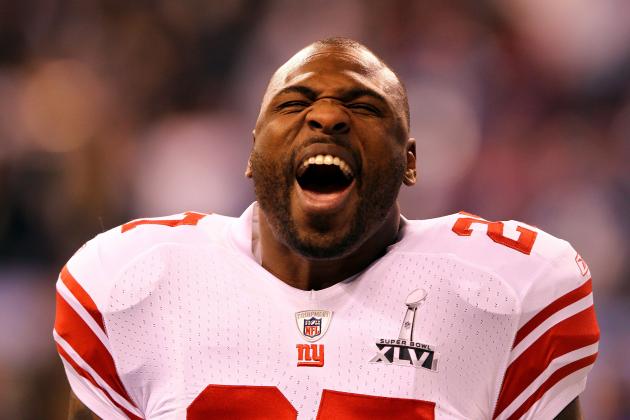 Al Bello/Getty Images

Brandon Jacobs' days in a New York Giants uniform are numbered.
The NFL's free-agency period opens on March 13th and the Giants' seven-year veteran running back is due a $500,000 roster bonus on March 17th. Thus far, the Giants and Jacobs' camp have been unable to reach a deal on a restructured contract.
While Jacobs is more than happy to take a cut in his salary for 2012, his unwillingness to "sell his soul" will likely result in the burly back's exit from New York.
After a dismal 2011 campaign for Jacobs and the wrong side of 30 quickly approaching, perhaps the split is due. The loose-lipped Jacobs has caused his fair share of problems in the past for the Giants. With his poor play joining the mix, his presence might do little to benefit the defending Super Bowl champions in the long run.
Fortunately for the Giants, there is a heap of talent in this year's draft class at the running back position that could pair well with their starter Ahmad Bradshaw. Here's a look at five players that could replace Jacobs in the 2012 NFL Draft.
Begin Slideshow

»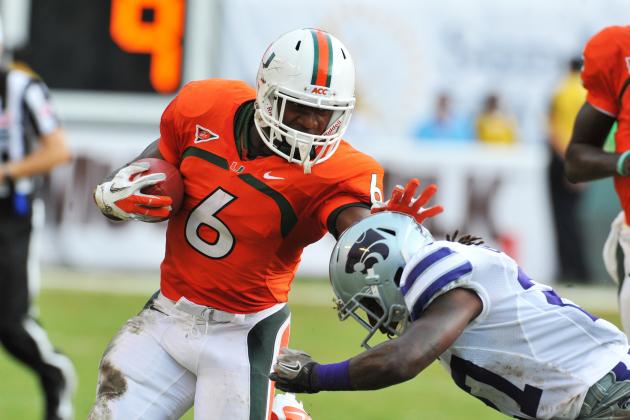 Al Messerschmidt/Getty Images

Unquestionably the easiest decision if he is still available for the New York Giants in the second round, Lamar Miller has all the tools to be a feature back in the NFL.
Boasting the best 40-yard dash time at the NFL Combine with a 4.4 mark, Miller has top-notch speed and stellar change-of-direction skills to succeed at the next level. He's not a big back like Brandon Jacobs, nor will he break many tackles, but he has the vision and agility to make defenders miss.
The former Hurricane shows good receiving skills, something of value for the Giants, and also has good history returning kicks. For a team that has struggled in that department for some time, that has to be a positive.
Combined with Bradshaw, Miller would be a solid partner to help wear down opposing defenses with their shifty running styles.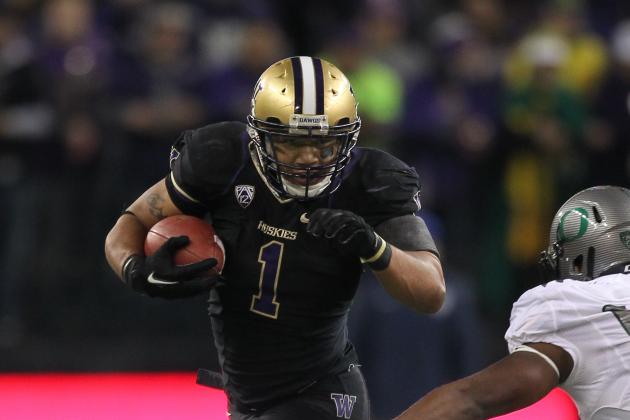 Otto Greule Jr/Getty Images

A rising star on many draft boards, Chris Polk is one of the prospects in this year's draft class that's most comparable to Brandon Jacobs.
Polk is a stout back at 5'11" and 215 pounds, presenting a bulky stature much like former Baltimore Ravens running back Jamal Lewis. The former Washington Husky is a well-balanced prospect whom excels at nearly everything asked of him.
The Incredible Polk prefers to run outside the edges, but has produced between the tackles as well. His size and strength makes him tough to take down, while his legs can make him even tougher to keep up with.
Nobody in this class breaks tackles like Polk can. With his vision, patience and surprising quickness, he becomes a lethal weapon against opposing defenses.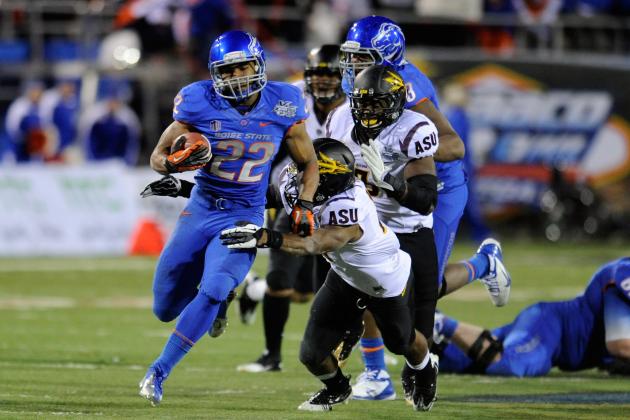 Ethan Miller/Getty Images

Doug Martin is another running back in this year's draft class that doesn't have any outstanding traits, but does everything at a really high level. For the New York Giants, there isn't much else they can ask for in a draft prospect.
Martin is a balanced runner who enjoyed a lot of success during his time with Boise State. He capped off a solid collegiate career with 1,299 rushing yards and 16 touchdowns in 2011.
The former Bronco is an able-bodied prospect with good NFL size in the mold of Maurice Jones-Drew. Martin excels in all facets of the running game and can run defenders over with the best of them.
He doesn't have explosive speed, but he plays like a much more traditional back with a combination of all the intangibles desired in an NFL running back.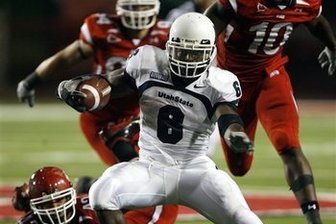 Robert Turbin is a late-round prospect worth keeping your eye on. After an exceptional career for the Utah State Aggies in which he rushed for 3,315 yards and 40 touchdowns in three seasons as a starter, he hasn't garnered the attention he should for what he is capable of doing at the NFL level.
At 5'10" and 222 pounds, Turbin has great size for an NFL back. He displays good speed—4.5 in the 40-yard dash—and dangerous quickness when the ball is in his hands.
Turbin actually plays very similarly to current New York Giants starter Ahmad Bradshaw, showcasing a shifty running style with the burst to bowl defenders over. He has the durability and athleticism to outlast an opposing defense while carrying the load for an entire game.
The only mark on Turbin's game appears to be his pass-block ability—or lack thereof. It could be as simply as a tough task for the coach to make it work, but it's nothing that should keep a team, especially the Giants, from taking a shot on him.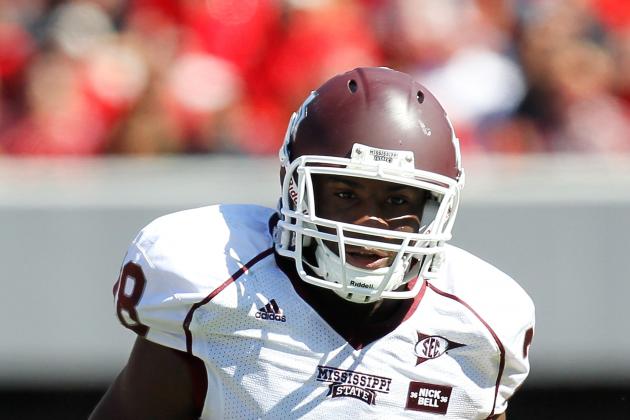 Kevin C. Cox/Getty Images

Mississippi State's Vick Ballard was highly productive during his collegiate career, rushing 2,157 and 29 touchdowns in two seasons for the Bulldogs. Despite his performance, Ballard is currently projected to be nothing more than a third-down back and solid backup in the NFL.
Ballard is a skillful inside runner with great vision and patience behind the line of scrimmage. He lacks good NFL speed, but does have great initial burst to break into the second level.
Ballard is a very similar runner, relying much more on his ability to lower the boom on incoming defenders to pick up yards rather than his lacking agility and quickness on the run.
At this time, the Mississippi State product is a late-round prospect that could be turn out to be a major sleeper based on his production in college against an SEC schedule stacked with top-ranked defenses.