Liverpool vs. Arsenal Preview: 6 Key Battles in This High Stakes Game
Stanley Chou/Getty Images

Liverpool and Arsenal are two of the greatest teams in English football, and though both are still big clubs, they are not challenging for the Premiership title and a fourth-place finish would satisfy both clubs this season.
The Gunners had a terrible start earlier in the season after losing to the Reds at the Emirates in the second league game of the season but have since done decently to currently stand in fourth place. Reds have been inconsistent this season but have shown glimpses of their quality and have the ammunition required to string a set of good results from now till the end of the season.
Both teams are coming on a high after winning their previous games, both of which were significant for either club. Liverpool beat Cardiff City on penalties to end their trophy drought, which will provide them great impetus as they push on to secure a Champions League berth.
Arsenal, on the other hand, handed out a memorable thrashing to their arch-rivals Tottenham and will be on top of their game as they look to build on that crucial win. This game is crucial for both teams, and a bad result could shatter their confidence, stressing the importance for either team to continue their good form.
Liverpool would have been worried by the substitution of Steven Gerrard after around 30 minutes in the game between England and Netherlands. Their inspirational captain was substituted due to a knock but could still take part in this important game against the Gunners. However, Daniel Agger is likely to miss out, which is a worry for the Reds as he has been very solid alongside Martin Skrtel this season. The good news for Liverpool is that they do have Jamie Carragher who can provide immense leadership at the back in the absence of the Dane, and Liverpool will be confident of securing all three points at home against the Gunners.
Arsenal are also likely to be confident of their own quality going into this match. They were not at their best in the first half hour of the game against Spurs but were rampant after that, and it was the sort of performance which could reignite their season after the disappointments in the Champions League and the FA Cup. With Robin van Persie spearheading the team, they can be sublime at their best and do have the quality to trouble Liverpool's defense, which is why they will relish the challenge of meeting the Reds at this time in the season.
It should be an enthralling contest with two quality teams focused on winning the game, which is crucial to both clubs. The Gunners and the Reds are currently separated by seven points (though Liverpool have a game in hand) and this result could prove to be pivotal as to where these two teams will finish at the end of the season.
There will be many individual battles that could play a major part in deciding the outcome of the game, and here are six contests which are very important in this fixture.
Begin Slideshow

»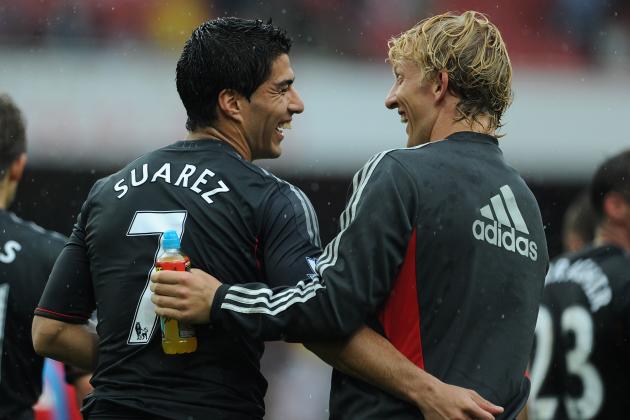 Michael Regan/Getty Images

Suarez has had his controversies since being signed by Liverpool, but there is no denying his quality as he is Liverpool's most important attacking threat against the Gunners. His movement and skill in front of goal makes it difficult for defenders to mark him. Though he could further improve regarding his clinicality in front of goal, he has the quality to threaten Arsenal and could be the key to opening up this Arsenal defence, which has not looked very solid this season.
Though the Gunners have leaked goals in this season, Laurent Koscielny has been outstanding and has arguably been Arsenal's best defender. The Frenchman did need time to adjust to the physicality of the league but has the makings of a world-class defender and has been superb this season. He will be entrusted to cope with the movement of Suarez, and it will be an interesting battle between those two.
Suarez is very important for the Reds and if Koscielny can shackle him, then Arsenal do have a much better chance of winning the game.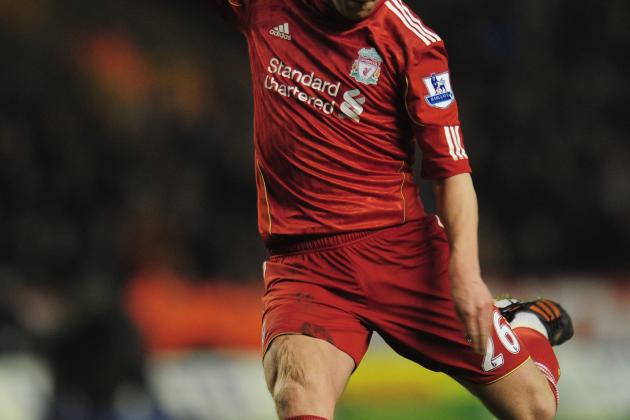 Shaun Botterill/Getty Images

Alex Song has shown great improvement in the last couple of seasons and has established himself as a regular in this current Arsenal side. Though he is primarily a defensive midfielder, he has worked a lot on his passing and the creative side of the game, and it is no surprise that he has been one of the key midfielders when it comes to producing defence-splitting passes. However, he will come up against a tough midfield in Charlie Adam, Jordan Henderson and Steven Gerrard (if fit) which is why he has to be on top of his game.
Charlie Adam in particular could be a major threat for the Gunners because of his ability to strike venomously from distance if given the space to do so. Song and Mikel Arteta need to ensure that the Liverpool midfielders do not get space on the ball and need to constantly fight for the ball. For Liverpool, it is important that Adam makes good runs because his movement will make it difficult for the Gunners. He also has the ability to score goals from distance, which can be used to good effect by the Reds.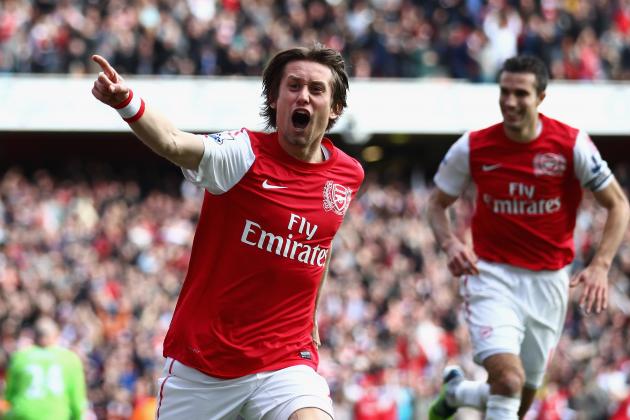 Clive Mason/Getty Images

Tomas Rosicky has come under plenty of criticism this season but proved that he still has the quality by performing brilliantly against Spurs. It has been a difficult couple of years for the Czech international because of injuries as he has struggled to hold on to a place regularly. Also, he has been bereft of confidence in front of goal, but that performance and goal against Spurs could be just what he needs to get back to his best. It was as good a performance from Rosicky in the last two years, and it could be the perfect springboard for him to regain his best form.
Brazilian international Lucas Leiva has been a huge miss for the Reds which is why the task of stopping Arsenal's midfield falls to the young Jay Spearing or Jordan Henderson, depending on whom the manager selects for the game. Rosicky, Arteta and Song are all capable of providing good supply to the forward line which is why Liverpool's midfielders will be on their guard throughout the game.
The game could be decided by who wins the midfield battle, and for Arsenal to win the game, the likes of Rosicky and Arteta need to be at their best to dominate possession at Anfield.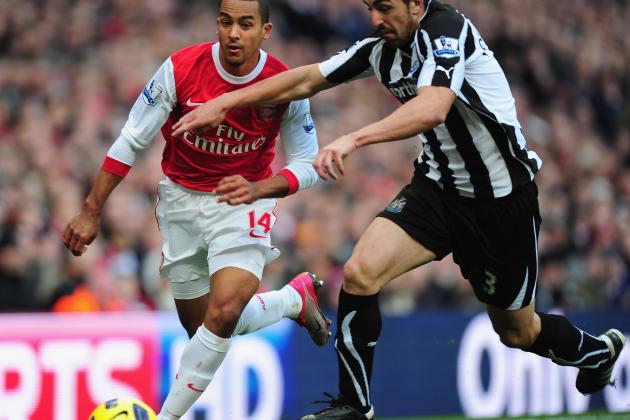 Mike Hewitt/Getty Images

Theo Walcott has also come under plenty of criticism for his inconsistent performances, and he also did get some flak for his indifferent performance in the first half of the Spurs game. However, he was brilliant in the second half, showing the Emirates crowd what he is capable of when he is at his best. He got the better of Benoit Assou-Ekotto on more than one occasion and showed great composure in front of goal, beating Brad Friedel twice. Walcott will need to be at his best in order to trouble Jose Enrique and the Liverpool defense, and he is very important in ensuring that Robin van Persie is not isolated up front.
Enrique has been one of the best signings of the season, and the former Newcastle left-back has been extremely consistently for the Reds. He will need to be sharp against Walcott because the England international has the pace to get behind the defense and cause problems. It is clear that Walcott and Van Persie do have a good rapport on the pitch which is why it is even more important to frustrate the English winger. Also, if Enrique can shackle Walcott and support the left winger, Arsenal could struggle to contain the crosses coming in from the wings especially if Thomas Vermaelen is ruled out due to injury.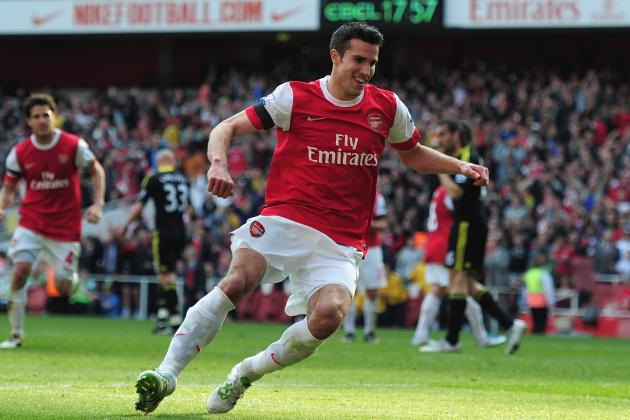 Shaun Botterill/Getty Images

Arsenal captain Robin van Persie has been in sensational form in the last year, and he has already scored 29 goals this season. The Dutch international is considered to be a doubt for the game but could yet start if he passes the fitness test. Van Persie has scored all types of goals this season and has caused problems to every single defence in the Premiership. He has demonstrated great clinicality in front of goal and any error from the Liverpool defense could prove to be costly with Van Persie ready to pounce on any loose ball.
Jamie Carragher is likely to start and will be faced with the tough task of stopping the in-form Dutchman. He will need to use all his experience to shackle Van Persie, who will drag defenders out of their comfort zone using his superb movement off the ball. Carragher's lack of pace will most likely be targeted by the Arsenal frontline, but the Liverpool centre back is immensely experienced, and his understanding of the game will help him greatly in coping with Van Persie and his fellow forwards.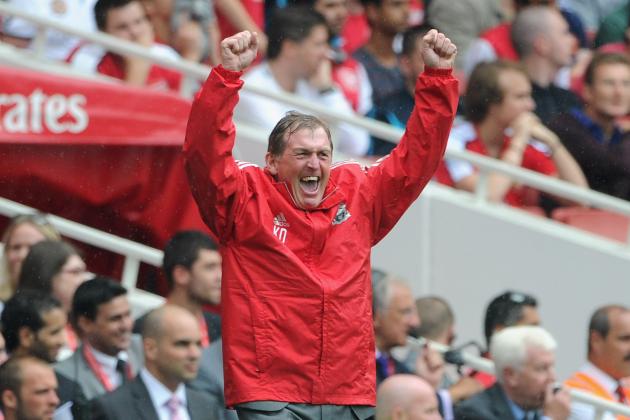 Michael Regan/Getty Images

Wenger selected a rather different team from what supporters anticipated against Liverpool, and it will be interesting to see if he selects the same team again at Anfield. Neither Alex Oxlade-Chamberlain nor Gervinho made it into the starting lineup while Yossi Benayoun was given a rare league start. The combination of Rosicky and Benayoun in the Spurs game was excellent, which is why Wenger will have to think whether to retain the duo or change it up to add more pace to the side by bringing in either of Gervinho or Chamberlain. The way that Arsenal play is not going to change much as they will look to dominate possession and create problems for the Liverpool defense.
However, tactics could be very important for Dalglish because he needs to decide whether his team needs to attack Arsenal from the start of the game or be content to play on the counter-attack, employing a more defensive formation. The Reds have the quality to secure all the three points, though it will not be easy, and tactical decisions by both managers could have a huge role to play in deciding the result of this game.
This article is also featured on The Invincible Gunners, a blog on Arsenal.