Ahmad Brooks: Why the San Francisco 49ers Linebacker Improves His Stats in 2012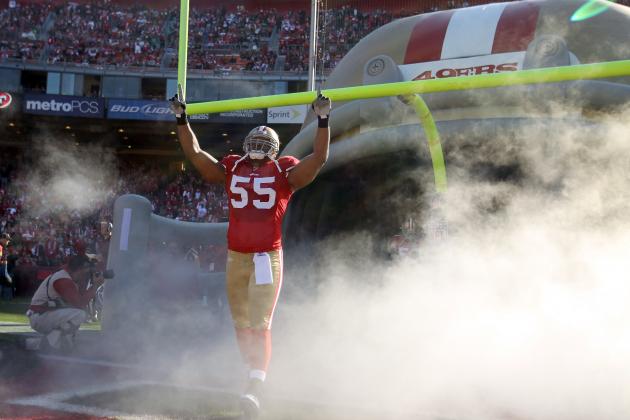 Ezra Shaw/Getty Images
49er fans can expect spectacular entrances from Brooks for a few more years.
San Francisco 49ers linebacker Ahmad Brooks enjoyed career highs in all statistical categories in 2011.
Rumors abound that a bevy of NFL suitors would request the former free agent's services. Those same whispers also indicated other teams' willingness to offer Brooks a sizable contract. One that would exceed the 49ers' budget—or at least an amount beyond General Manager Trent Baalke's fiscally conservative approach to free agents.
Many expected Baalke to first address the contractual issues of cornerback Carlos Rogers and safety Dashon Goldson.
Brooks was a goner, and the 49ers' draft-day needs suddenly intensified in the mid- to late-rounds.
As it turned out, numerous NFL pundits were proven wrong—including many of our very own at BR (I plead the Fifth).
On Tuesday, the 49ers signed Brooks to a six-year, $37 million contract with $17.5 million in guarantees.
After landing stateside from a trip to Mexico (still recovering), I was taken aback upon seeing those modest numbers. Not that they came from Baalke, but that Brooks signed off on the deal. I was sure he would sign for top-dollar elsewhere.
For Brooks, that was never the case. He intended to stay in San Francisco all along. The brotherhood he experienced with his 49er teammates and the success they had was not lost on him.
It's that staunch commitment and love for this team that has me fully confident Brooks will produce career highs for a second-consecutive year in 2012.
Here are the four reasons how I see it playing out.
Begin Slideshow

»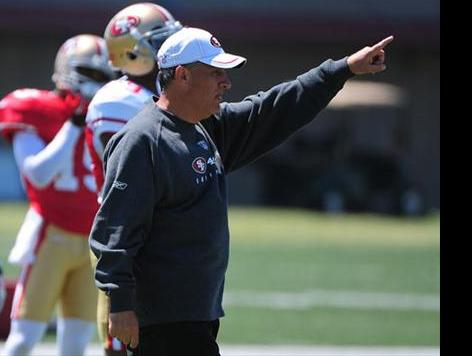 What else will Fangio have up his sleeves for Brooks and Co.?
If NFL playbooks ever overwhelmed Brooks' capacity (Cincinnati?), it certainly didn't show in 2011.
Brooks mastered defensive coordinator Vic Fangio's sophisticated schemes playing on the strong side of the formation. He did so to the tune of 50 tackles, seven sacks and three deflected passes.
Those statistics portray his ability to get to the quarterback, control the run game and play effectively in coverage. All-around, intelligent, every-down linebacker on display.
Continuity within a particular system is paramount to learning a playbook. With another year of studying and practicing under Fangio's system—not to mention a proper offseason—there aren't many reasons why his numbers won't improve.
His yearly statistical increases since suiting up for the Red and Gold should provide some indication of his propensity for improvement.
More so, let's not neglect that Fangio himself has the benefit of another offseason to diversify his defensive schematics.
Seems to me like an opportunity for more sack-inducing blitzes, running-back takedowns, and say, picking off a pass or two thrown to a RB in the flat.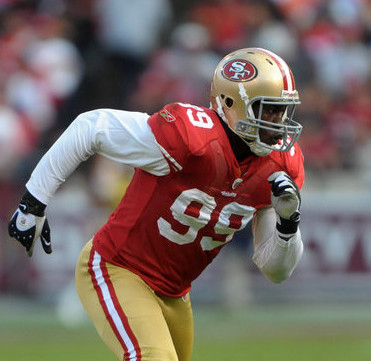 Aldon as an every-down linebacker will boost Brooks' productivity.
The theme of continuity is once again the reasoning behind Brooks' ascendancy.
Brooks drove the quarterback into the turf in six separate games. Of those six, three featured Aldon Smith on the right side doing the same.
Brooks and his partner in crime formed a merciless quarterback-sacking-attack, a truly formidable tandem. Just ask Matthew Stafford, Colt McCoy and John Skelton.
(The duo combined for 17 tackles and two forced fumbles to boot.)
Another year of these two hunters patrolling the gridiron—and Aldon playing every down—and opportunities for QB and general opponent-demise increase.
I expect Fangio to dial up some nasty schemes, filled with stunts, misdirection and the like. Opposing ball-carriers beware. These two are coming.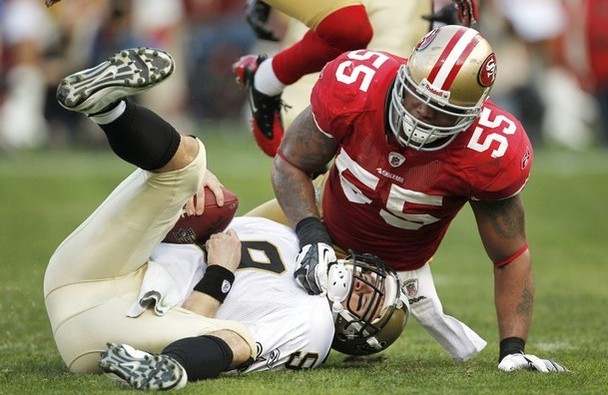 Brooks' droppin' elite quarterbacks like a bad habit.
The 49ers face a daunting schedule in 2012. The likes of the Packers, Saints, Patriots, Giants, Lions and Bears feature prominently.
What do all these teams have in common? You guessed it: prolific quarterbacks…who like to pass…a lot.
With all that passing comes deep-step drops (sacks) and quick underneath routes (tackles, interceptions).
It's also worth mentioning that two fairly imposing rushing teams appear on the schedule. The Niners play the Seahawks (twice) with Beast Mode running amok and the Dolphins with a revitalized Reggie Bush.
Brooks and the rest of his defensive compatriots will certainly look to show off their shutdown-tackling prowess in a similar fashion to 2011. Just another potential boost to his stats.
Now, I am not anointing Brooks as some reincarnation of an NFL Blitz (N-64 anyone?), DeMarcus Ware-Patrick Willis-sack-tackling-mega-beast or anything.
I will say that if the 49ers defense is anything like it was last year, combined with opportunities presented by the schedule and Brooks' continued progression, he's poised to showcase his best year to date.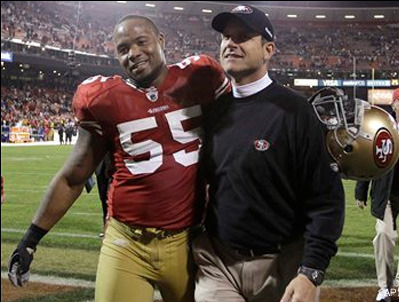 Brooks and Harbaugh: Niner brotherly love for years to come.
As we know, in the business realm of the NFL, contracts are not guaranteed.
This is not Major League Baseball where Scott Boras convinces franchises to rob their own banks in order to overpay for overrated players. No, the NFL is not a place where pitchers "earn" guaranteed trillions only to get fat and happy, or surf and meditate (*cough, Barry Zito, *cough).
NFL players don't have that luxury. If they underperform and fall short of certain benchmarks, they're lucky to make half. It's not like they'll risk falling below the poverty line, but they need to stay motivated to earn their paychecks.
Ahmad Brooks will be very motivated in 2012.
We're already fully cognizant of his humble demeanor. We know his willingness to sign for less than what he probably would have accrued from another franchise to stay with his 49er brothers.
That just speaks to his loyal blue-collar attitude. He'll continue to want to show that he plays with heart and not for dollar signs. No lazy mercenary tendencies here.
No, Brooks will play with a continued fire. He'll prove to Niner Nation why he's worthy of the first generous contract doled out by the 49er front office.
He'll do so to the amount of 51-plus tackles, eight-plus sacks and any other statistical escalation worth mentioning.
Ahmad Brooks: man on a mission in 2012.