Should John Laurinaitis or Teddy Long Win War for Raw and Smackdown GM?
March 2, 2012

Both Smackdown's general manager Teddy Long and interim RAW general manager John Laurinaitis have been feuding with each other over who should run both shows.
Laurinaitis came out at the Elimination Chamber stating his intent to try and run both shows. It has met resistance from Teddy Long and has lead both men to using their wrestlers to one up each other.
The feud doesn't show any signs of slowing down, but in the end only one man can win.
So who should end up victorious?
Neither of them should end up winning.
Teddy Long wore out his welcome some time ago and unless he gets a new character, he is going to continue to wear thin as time goes on. He isn't going to change this late in his wrestling career so he needs to either go away or fill some other capacity in the company.
Laurinaitis faces a different problem.
He is certainly a new character for those watching, but there is only so far he can go. He has made enemies of the wrestlers as well as figures of authority like Triple H. He can't do much more without either finalizing his grab for power or getting removed from the company.
Both of them work as secondary characters and antagonists, but not as power players in the WWE.
There is another option though, and one that has been forgotten after she made a cameo appearance months ago.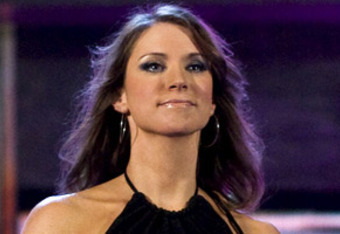 Stephanie McMahon.
As the two men fight over their shows, she could swoop down and make the case that both are being unprofessional and that she would do a better job then they could. It would be a great story twist, but it could also serve a practical purpose.
Laurinaitis and Long are two-dimensional characters who function best as a corrupt or law abiding authority figure; that is all they can do.
McMahon is capable of playing a persona that has their own convictions and reasons for doing things. She can backstab wrestlers and play politics well enough to enhance the product and grow storylines in way that neither current general manager can.
Both RAW and Smackdown are starting to evolve and might even end up merging together. Having one general manager would help that transition, but the shows need someone who could weave angles together and play a more fleshed out character.
McMahon has the experience and the ability to be the GM of both shows. She also has the perfect segue.
Between the mysterious puppeteer pulling the strings for the last few months and her sudden return to RAW, there are a few different ways that the story could be fit in to make sense. It would also twist the story in a way that fans aren't expecting and give the wrestlers and the shows a new direction to go in.
In this case, the best choice isn't from any of the options offered, but it is one fans should get to see.